Japanese artist fined for virtual vagina files
Distributed printable manko data to fund ladyparts kayak
---
Artist Megumi Igarashi - aka "Rokudenashi-ko" - has been fined ¥400,000 (roughly £2,560) for distributing 3D printable files of her genitalia - an offence under Japan's obscenity laws which prohibit the depiction of reproductive parts.
Igarashi was cuffed back in July 2014 for supplying virtual ladyparts via email to a "30-year-old man in Kagawa Prefecture" and "many others" earlier that year.
The files, as well as moulded labial dioramas and other works featuring Igarashi's "manko" were sold to raise funds for a full-blown kayak, dubbed "pussy boat".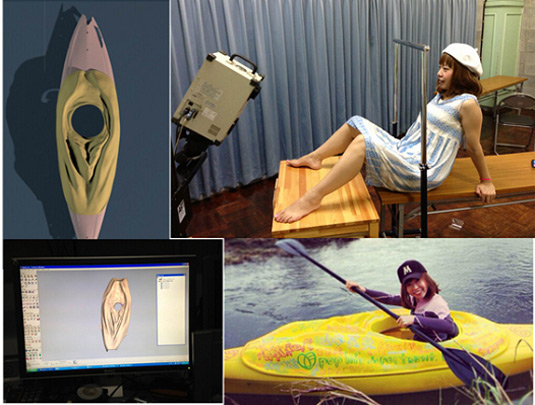 Collage by Rokudenashi-ko aka Megumi Igarashi
In December 2014, Igarashi was arrested again for allegedly disseminating a link "that shows her plan to create a boat using three-dimensional obscene data to a large number of people", as a Tokyo police spokeswoman explained.
Earlier today, the artist was found guilty of distributing obscene images at Tokyo district court, after judge Mihoko Tanabe ruled that while the offending data was "flat and inorganic", it did have the power to "sexually arouse viewers".
However, Tanabe cleared Igarashi on "another charge relating to the display of plaster versions of the kayak at a shop selling adult goods in Tokyo", as the Guardian puts it. This was on the on the grounds that the vessel "did not obviously resemble female genitalia and could not be considered obscene".
Igarashi is on a crusade to get her fellow Japanese to lighten up about women's bits, which are are a taboo subject in the Land of the Rising Sun, as this video (NSFW) shows:
The Guardian notes that unsurprisingly, Igarashi's trial has prompted some to accuse the powers that be of "hypocrisy", since it "began after Japanese authorities resisted pressure to ban pornographic images of children in manga and animated films, citing concerns over restricting freedom of artistic expression". ®