Italians rattle little tin for smartmobe mini lenses
Your phone becomes a microscope down at Kickstarter
---
An Italian "microscopy, consumer electronics and micro-optics" outfit is offering smartphone and tablet owners the chance to get up-close and personal with the world via "an ultra portable and very affordable set of 2 mini lenses which turns your smartphone or tablet into a digital microscope".
Working with the Istituto Italiano di Tecnologia (IIT), Genoa-based SmartMicroOptics (SMO) has cooked up "BLIPS" - a couple of plastic resin lenses of macro (~10x magnification) and micro (up to 100x magnification with digital zoom) capability which attach to your device via a handy, reusable sticky strip.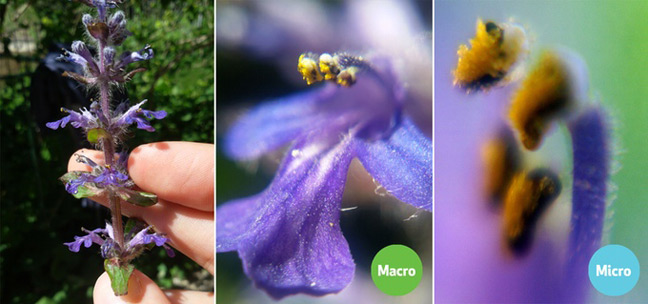 BLIPS is currently the subject of a comparatively modest, €15,000 target Kickstarter tin-rattle, where the blurb explains: "Each element is composed of a specifically designed objective lens, placed on a flexible film. The back side surface of the flexible film sticks on the glass of the mobile device (phone or tablet) covering the camera, by electrostatic forces. No glue is used behind the lenses, so there are no residues on the camera when the lens is removed.
"The film is long enough to ensure easy handling and correct lens alignment on the mobile device camera. Two sticky bands, made of specifically engineered material for multiple and clean use, help to keep the BLIPS firm on the device surface, on either glossy or matte device surface, without using unwieldy spring clips pressing against the touch screen of your device."
SMO can't currently say exactly what the BLIPS lenses are made of, other than they're hewn from "a plastic compound", "exploiting the materials and the methods used for the manufacturing of micro devices for the investigation of neuronal networks". IIT's Dr Andrea Antonini explained to El Reg: "It's currently patent pending and not due for public release for another 12 months, so unfortunately I cannot get into the minute details."
He added: "If it helps, it's easy to clean and quite resistant if treated properly (not with extreme violence). In general it should be able to go into a washing machine without damage."
BLIPS deals currently available down at Kickstarter include the "Basic Kit" with the two lenses (€20), a Basic Kit plus smartphone stand for €25, and a "Lab Kit", equalling a Basic Kit plus smartphone/slide housing, light source and five sample slides (€35). All of the packages include a free app for Android or iOS.
Of course, BLIPS isn't the only microscopo-mobe kit around. A quick trawl revealed the no-frills Micro Phone Lens, the Foldscope and the ill-fated Dotlens smartphone microscope lens - subject of a successful Kickstarter campaign, but which rather unfortunately fell victim to flooding in Texas. ®
Similar topics
Narrower topics