Imation's losses deepen 500%. CEO says things are 'successful'
Believe it or not, this is what the owners want
+Comment About turn! You never lack for excitement with Imation, which has turned the previous quarter's $94m in revenues and near $10m in losses into this quarter's $10.7m revenues and $91.1m losses.
Oy vey, where did the money go?
Let's try and sort this amazing black hole of red ink – excuse the tortured metaphors – into some kind of sense.
Revenues for Imation, the holding company, and its subsidiary Nexsan, were $10.7m in the first quarter of 2016, with a net loss of $91.1m.
Imation compares this to the year-ago quarter, saying revenues then were $15.7m, meaning a thumping great 31.8 per cent fall due to a decision to shutter underperforming regions and exit low-margin portions of the business.
However, this $15.7m is what Nexsan revenues were a year ago. Imation revenues were $155.4m and so have catastrophically fallen 93.1 per cent. Since then Imation, taken over by an activist investor, has got rid of every component product business except Nexsan and bought Connected Data The paltry $10.7m revenues are the result.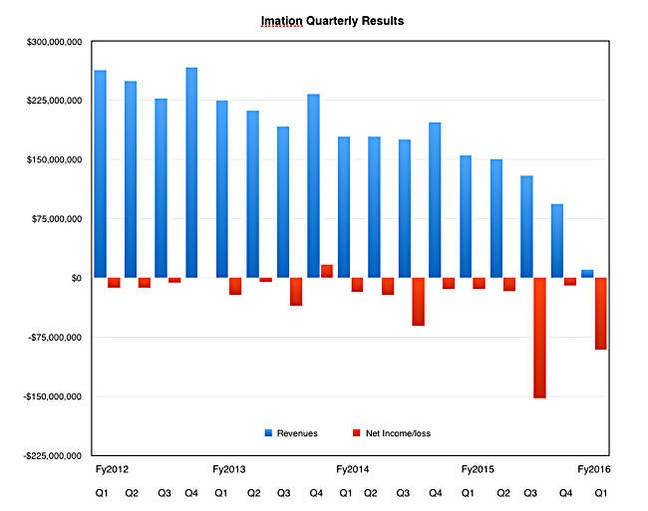 Just to remind ourselves of the full horror of the Imation story, let's list Q1 revenues since 2010:
2010 – $365.8m
2011 – $316.5m
2012 – $263.3m
2013 – $224.4m
2014 – $178.9m
2015 – $155.5m
2016 – $10.7m
And the share price? It's $1.68 today. In January 2007 it was $46.90. That is value destruction on a colossal scale. In August last year, when the Clinton Group got control of the company, it was between $3.00 and $4.00. Good job guys; the other investors won't think much of what you have done since then, if the share price is any judge.
A year ago the net loss was $14.4m, now it's $91.1m, a 532.6 per cent worsening. Lord save us. Interim CEO Bob Fernander said: "The quarter was successful on multiple fronts."
Umm, how so? Here's what Bob F said, in his own words:
"First, the wind down of our legacy businesses is complete and the financial results are aligned with our expectations."
"Second, the storage industry has reacted positively to the launch of our UNITY product."
"Third, our investment at Clinton Lighthouse Fund has yielded a $1.6m profit (net of fees) in less than two months, exceeding upside expectations."
"Fourth, we have come to an amicable settlement with Spearpoint Management LLC and have retired the shareholder lawsuit they brought against the prior Board of Directors and management team."
"Finally, we have started our investment and activist initiatives outside of Imation's core business areas, and we are fully engaged in executing our long-term strategy: helping investors in struggling businesses improve their returns."
+Comment
What the hell does "helping investors in struggling businesses improve their returns" have to do with Imation and its storage business?
Zip, nada, nil, nothing, zero.
It seems to El Reg that Imation sans Nexsan is nothing more than another arm of the activist investor Clinton Group, and that Nexsan has no logical connection with this group whatsoever. Still, with Geoff Barrall running Nexsan, at least there is someone with considerable storage smarts in charge.
Nexsan's annual run rate is now $43m. Can it grow its revenues? The newest Unity product has Connected Data sync and share added to its file and block storage. It's suing EMC to try and stop it using the Unity brand name and confusing customers. It has an E60 array supply deal with struggling X-IO which could bring in revenue this quarter, assuming X-IO doesn't fold. And the SATAbeast has been resurrected.
Let's be hopeful. The loss this quarter is a one-off write-off. Geoff Barrall will turn Nexsan around and revenues will climb past $20m/quarter by the end of the year. Costs will be curtailed and Nexsan will head towards profitability... or so they hope. ®