Marc Benioff apologizes as Salesforce NA14 instance goes TITSUP
Downtime approaches 12 hours and irate customers stop selling online and start satirising online
Workers across the US have been tearing their hair out after the Salesforce NA14 instance suffered a Total Inability To Support Usual Performance around 11 hours ago.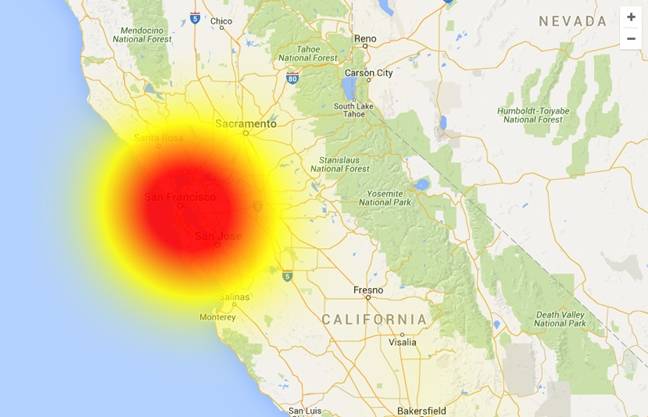 That's a lot of peeved Californians. Source: DownDetector.
Outages have been reported across the US, with the epicenter in the company's home turf of Silicon Valley. Marc Benioff has taken to Twitter to ask customer's forgiveness, ccing cofounder Parker Harris, but there's no sign of any service resumption as yet.
Salesforce's support team said the problems occurred after it performed a "successful site switch" on the instance from its primary data center after power supply problems caused nearly two hours of downtime in around 24 hours ago.
Sources online pinpoint the initial failure as occurring at Salesforce's data center in Herndon, Virginia, and the secondary failure occurring in its Washington DC facility. Other instances also took a hit around the same time, including NA 11 and 12, as well as the sandboxes CS 9, 10 and 11.
After NA 14 was moved to its new location it ran smoothly for around eight hours, then fell over. It's been dead ever since, and there are rumours that there has been a catastrophic failure that may have wiped out large chunks of data.
With so much time on their hands sales teams have naturally taken to the internet to express their displeasure. The lack of anything to do has unleashed some creative results.
Hope to be wearing this tomorrow @salesforce #NA14 #SalesforceRising pic.twitter.com/C2THcabCOl

— Dave DeMichele (@DaveDeMichele) May 10, 2016
The sales team while @salesforce is down #NA14 pic.twitter.com/JlKyEKO5I1

— Jeff Medley (@jeffdmedley) May 10, 2016
.
#na14 "the issue is the result of a database failure on the NA14 instance" pic.twitter.com/lgfPFB4B85

— Don Perro (@Don_Perro) May 10, 2016
Salesforce declined to comment on the cause of the outage to The Reg, simply saying: "Please visit trust.salesforce.com for updates on our system status (please see "current system status" on lefthand side)." ®