This article is more than 1 year old
Inside Electric Mountain: Britain's biggest rechargeable battery
Swallow massive lake, regurgitate, repeat
Geek's Guide to Britain From the outside, Elidir Mountain looks like an old industrial site that has returned to nature. The slopes facing the Llyn Peris reservoir have been hacked into terraces by slate quarrying – this was once the second-biggest quarry in the world, with 3,000 workers – but they are now peaceful.
Only a few buildings at ground level and a road leading into the mountain provide a clue that there is still something going on.
A longer look would reveal that Llyn Peris has a habit of rising all day, then falling back overnight. The smaller and higher Marchlyn Mawr reservoir up in the hills does the reverse, dropping as much as 121ft (37 metres) during the day.
This is because the two reservoirs are linked by one of Britain's biggest post-war industrial projects: the Dinorwig pumped storage power station, hidden within this mountain. It is effectively a monster battery: energy is stored by pumping water from Llyn Peris to Marchlyn Mawr at night, then generated by letting it flow back down at times of peak demand.
Dinorwig is designed to supplement Britain's national grid, but on its own, it could power Wales for five-and-a-half hours. The station, run by First Hydro Company (jointly owned by Engie and Mitsui), can go from stand-by to 1.32 gigawatts in 12 seconds, making it one of the fastest installations of its kind, with a peak output of 1.728GW.
This is a part of Wales that keeps a power station in the hillsides, a massive industrial equivalent to an uninterruptible power supply. And it is open to the public – although, unsurprisingly, tours are tightly organised.
Visitors get access to Dinorwig through a dedicated visitor centre, Electric Mountain, located in Llanberis on the other side of the valley. 70-minute tours take place at set times each day from Easter until the end of October, and are popular with school groups.
This is where I am and, on arriving, I'm told I will be accompanying a group of French students, one of the least impressible entities known to humanity.
The tour starts in a small cinema with a film featuring stirring music, computer graphics and sweeping aerial shots of the area. The views are great: as part of Snowdonia national park, Dinorwig had to be near-invisible, with all power lines underground as well as the power station. It was built between 1976 and 1982 by the publicly owned Central Electricity Generating Board by excavating three million tonnes of rock to build 10 miles of tunnels and a central hall that could swallow St Paul's Cathedral. Statistics swish by, such as the fact that each of the six valve units can handle water equivalent to 15 million cups of tea – every second.
Tea, or to be more precise the domestic production of Britain's signature hot beverage, is one of reasons for Dinorwig's existence. Staff at National Grid, the company that now runs Britain's power supply, analyse television schedules for breaks in popular television programmes, the Pavlovian signal for millions of Brits to flick on their kettles causing a "TV pick-up" in power demand.
Most power stations take many minutes or hours to increase output – and with solar, tidal and wind power, you get whatever Mother Nature is giving. Pumped storage stations like Dinorwig are designed specifically to cope with spikes in demand. It tells you how much Britain loves tea: we built a power station that power-flushes a lake through a Welsh mountain, just so we can all make a brew at the same time.
The idea of making millions of cuppas simultaneously doesn't seem to have fired the imagination of the French teenagers in my tour group, but things are about to get less theoretical. We troop down a ramp, putting on the cloth hairnets that are issued by reception and stowing bags and cameras into lockers, to meet our guide, Dave from Bradford. He has worked here for 13 years, after nearly three decades as a British Gas technician.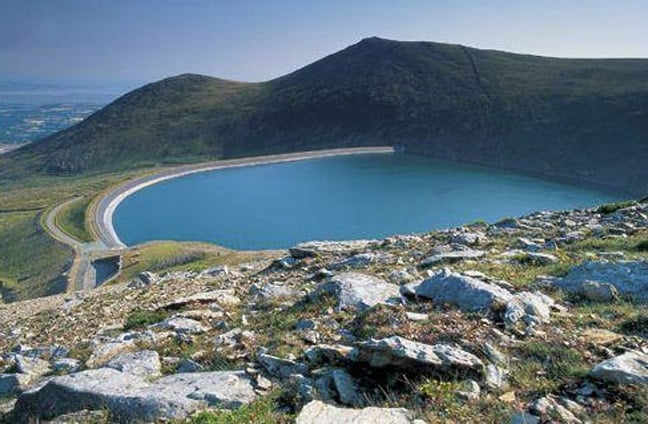 Not so still waters, and running deep: Machlyn Reservoir. Photo: First Hydro Company
Dave leads us on to a special bus where we don natty red helmets. The bus leaves the centre and travels across the valley to the power station site, passes a "Welcome to Dinorwig" sign and plunges into the mountain itself: the station features a road network, with green A-road style signs and traffic lights. We travel downhill, although in the tunnel it's hard to sense how steeply or quickly. The teenagers go rather quiet.
To liven things up, Dave produces a 6cm circular metal component used in central heating systems. Between two discs are little vertical bars, like the slats of a Venetian blind: a Francis reversible fixed-speed turbine. He gets one of the French lads to attempt to push two magnets together: "Each magnet weighs nine tonnes, so a bit bigger than these," Dave says, using a wind-up torch to show how such magnetic repulsion can generate electricity.
And now, we get to see this on an industrial scale. The bus parks in a long, tall but quite narrow cavern, 71m (232ft) below the top of the lower reservoir. It houses what look like sections of six enormous water slides, flowing in from the left. We step out into cold air: this is basically an artificial cave, with a similar temperature and stalactite equivalents in the form of white straws.
There is loud humming noise from the water slides, in reality the main inlet valves for Dinorwig's six turbine units – essentially, giant taps. Water from the upper reservoir flows along a gently sloping tunnel, then falls 450 metres (1,476ft) vertically, then goes into another sloping tunnel which narrows from 10 metres (32ft) to just 2.5m (8.2ft), speeding it up. It then splits into a manifold of six pipes, one for each turbine, regulated by the kit in front of us. They are opened and closed using two 16 tonne yellow counterweights: two are open when we visit.
The nearest, unit one, is closed but leaking a bit. Anything to worry about, someone asks? If it really failed, we'd be fast learning to swim uphill, says Dave, says sort of reassuringly. He adds that staff activate them without warning. Once, a group of more mature ladies were standing by unit one when this happened. Amazing how fast they went round the rest of the tour, he adds.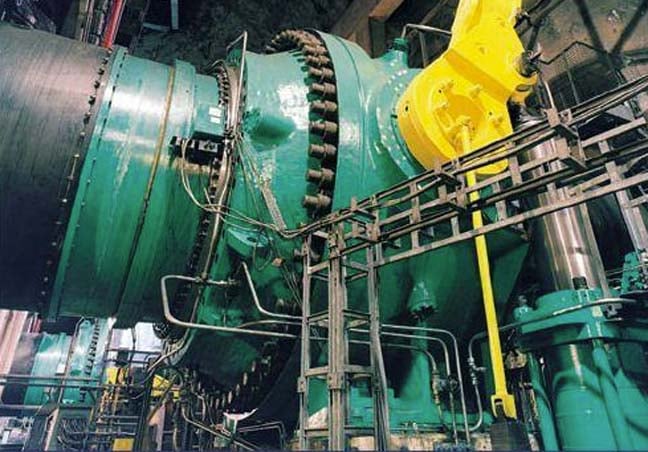 Part of the massive manifold for controlling the flow of water. Photo: First Hydro Company
We then climb a metal staircase to the turbine hall, the heart of the power station. In front of us is a line of Francis reversible fixed-speed turbines, a bit bigger than those Dave showed in the bus: each is four metres wide and 24 tonnes (24,000kg) in weight. They are embedded within casings, but a naked turbine is on display for us to see, made by Markhams of Chesterfield. "It's a housing estate now," says Dave of that particular piece of British industry.
After gawping for a bit we get back on the bus and travel to a viewing platform near the top of the turbine hall, which provides a full sense of its vast scale. We can only see the top 30 per cent of its 51m (167ft) height as there are internal floors, but the 180m length (590ft) and 23m (75ft) width are impressive enough. Dave points out the fossilised dragons' tails in the walls – actually metal bolts which help secure them. Then there's another video focusing on the history of Dinorwig, with entertainment value provided by footage of a youthful Prince Charles opening the station in May 1984.
Questions are welcomed throughout the tour – for those who have wondered, Dinorwig recovers 76 per cent of the energy it uses to pump the water up the pipes at night – and are likely to be answered in depth by expert guides such as Dave.
Then we're back on the bus, and soon into daylight for the ride back. Back at the visitor centre, there is a set of wall panels that explain Dinorwig's construction in much more detail, a centuries-old boat found in Marchlyn Mawr, a supervised children's play area, a gift shop and a café.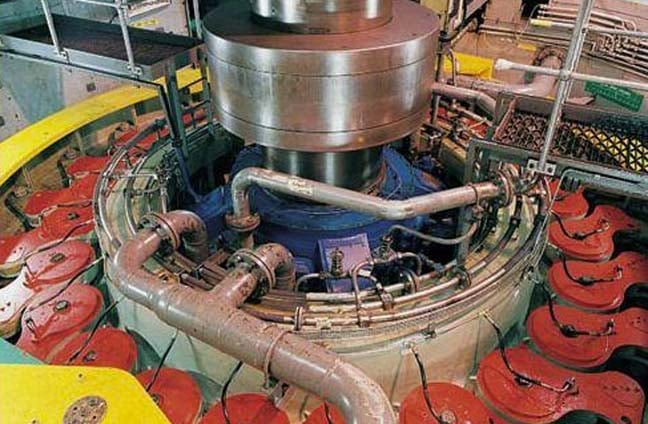 Reversible fixed-speed turbines weigh in at 24 tonnes. Photo: First Hydro Company
It is also possible to walk on the mountain above the power station by retracing the bus route to the power station's entrance then following a footpath sign to the left up the hill. It is a stiff hike, but a few minutes' walk uphill leads to majestic views down the valley, as well as across to the summit of Snowdon, the highest mountain in Wales.
Snowdon is what brings most visitors to the Llanberis area. The town is at the bottom of its mountain railway, while hikers tend to start from the Pass of Llanberis, a few miles south-east. There are plenty of other outdoor attractions – but a power station tour is ideal if the weather turns.
Some may find the Electric Mountain experience a bit heavily managed: you seem to spend more time watching videos than in industrial areas. However, this is a working power station and given that, visitors get decent access. It is worth taking the tour to see the station's caverns and machinery at close quarters, and to have them explained by experts who are proud of its achievements.
Dinorwig is a piece of British engineering history, but very far from being a museum. As long as Britons insist on practising synchronised tea making, we're going to need it. ®
GPS
53.1185, -4.1217
Postcode
LL55 4UR
Getting there
By car: Electric Mountain visitor centre is the only access point - not the power station. Use the A4086 14.5km (nine miles) from the A5. Car park next costs £2 for four hours or £4 all day. Public transport: Nearest mainline station is at Bangor, then Express Motors buses 85 and 86 with journey time of 50 minutes to Llanberis.
Entry
Easter - end of October, advanced booking essential. Tour times are 11am, 12pm, 2pm and 3pm with the centre open 10am - 4.30pm. Prices: £8.50 for adults, £7.65 senior citizens and students with ID and £4.35 for children. Visitors must be at least four years of age.
Online resources