Radiohead vid prompts Trumpton rumpus
'Paganism and sacrificial murder' in idyllic village
Brit band Radiohead have got the good burghers of Middle England choking on their breakfast cereal with the video for single Burn the Witch, which reinvents an idyllic English village as a dark rural enclave of "paganism and sacrificial murder".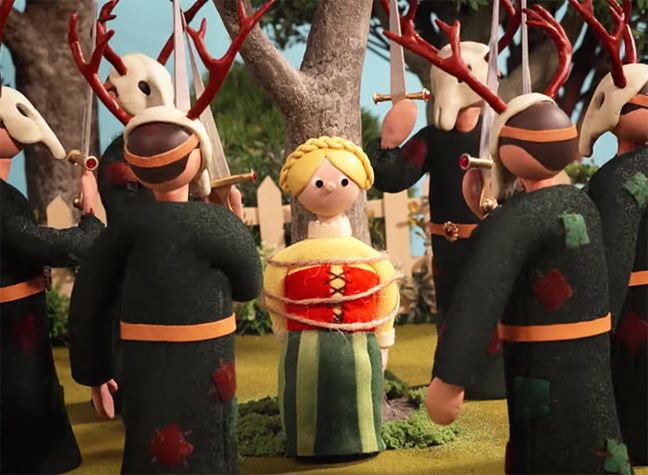 Burn The Witch: Paganism and sacrificial murder. Image: Radiohead
The vid, directed by Chris Hopewell, uses the same stop-motion animation seen in the celebrated 1960 series Trumpton, Chigley and Camberwick Green created by Gordon Murray, whose son-in-law William Mollett claims the similarities do not stop there.
Burn the Witch further features characters which the Daily Mail reports as bearing an "unmistakable resemblance" to the show's original puppets.
Regarding the plot of the work, look no further than 1973 film The Wicker Man, although mercifully Radiohead in this case spared the unwitting visitor the same fiery fate that befell Edward Woodward in that horror classic, though no one can say whether this was a result of the intervention of Trumpton firemen Pugh, Pugh, Barney McGrew, Cuthbert, Dibble and Grub.*
The family of 95-year-old Gordon Murray is apparently none too pleased with Burn the Witch. Mollett told the Mail: "Radiohead should have sought our consent as we consider this a tarnishing of the brand. It is not something we would have authorised. We consider that there is a breach of copyright and we are deciding what to do next." ®
Bootnote
*Speaking of whom, here are the lads in a local homage to Straight Outta Compton.