US schoolkids deploy Earth-watching CubeSat
Eye in the sky launched from International Space Station
---
The pupils of St Thomas More Cathedral School in Arlington, Virginia, watched yesterday as their diminutive STMSat-1 was ejected from the International Space Station (ISS), marking the first time an elementary school CubeSat has been deployed into space.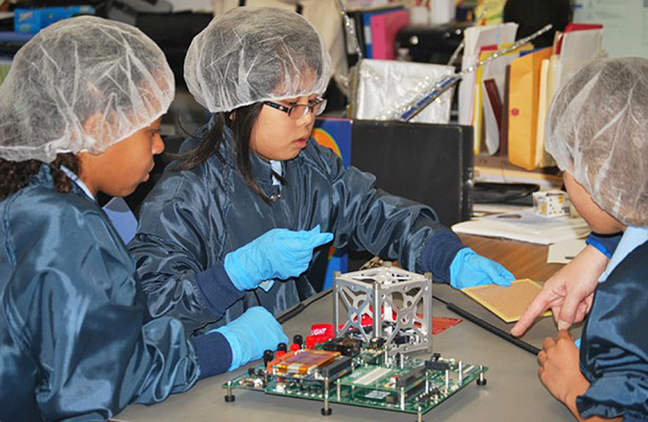 Pupils from St Thomas More Cathedral School working on their CubeSat. Pic: NASA
STMSat-1 packs "a medal blessed by the Pope", plus a secular "small electro optical visible camera" system, which will beam back Earth images to the school's ground station and "schools around the world for research and teaching purposes in math and science".
STMSat-1 was one of three CubeSats deployed yesterday. It, along with the University of Michigan's "CubeSat investigating Atmospheric Density Response to Extreme driving" (CADRE), and The University of Colorado Boulder "Miniature X-Ray Solar Spectrometer" (MinXSS), travelled to the orbiting outpost on an Orbital ATK Cygnus resupply space truck back in December, as part of NASA's Educational Launch of Nanosatellite (ELaNa) programme.
CADRE is designed to probe how fluctuations in solar activity influence the "density, winds and temperatures" of the thermosphere, which extends roughly between 100 and 600 km in altitude.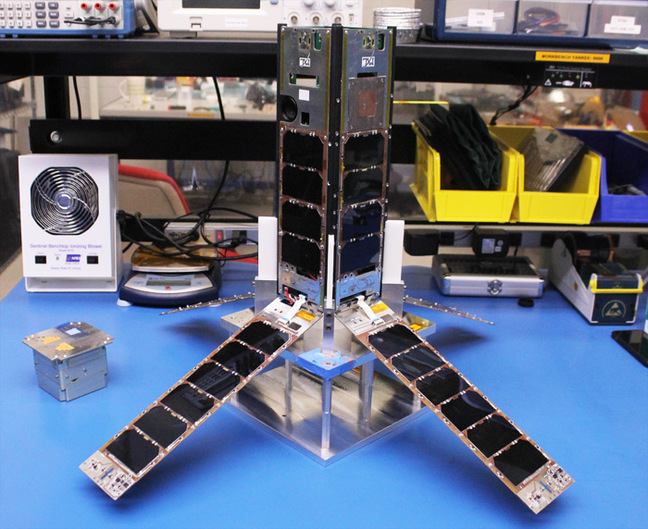 CADRE with its solar panels deployed. Pic: University of Michigan
The aim is to improve computer predictions of how satellites respond to these changes in the thermosphere, where variations in drag "can change their orbits and cause them to collide with other satellites or fall back to Earth".
MinXSS, meanwhile, will "study solar flares, active regions, the quiescent sun, and their impact on Earth's upper atmosphere".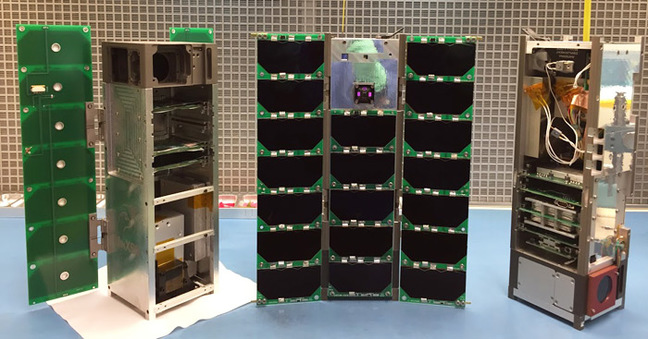 MinXSS: Tape measure antenna. Pic: NASA
The University of Colorado is to be applauded for MinXSS's decidedly garden shed engineering metal tape measure antenna, demonstrated here in an overview vid:
CubeSats are generally comprised* of either a single basic 10×10×11.35cm unit, weighing no more than 1.33kg, or up to three units connected lengthwise to form a 3U ensemble. Yesterday's launch was achieved using the NanoRacks CubeSat Deployer (NRCSD) system - "a stackable, modular, ground loaded dispenser".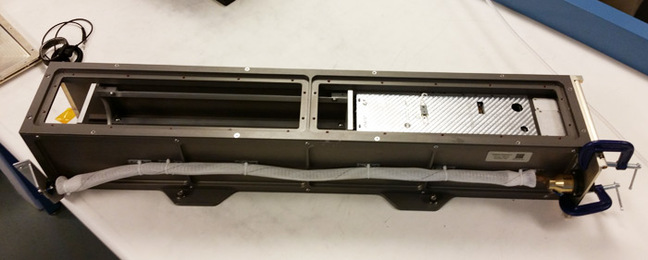 The University of Colorado's MinXSS inside the NanoRacks deployer. Pic: University of Colorado
NASA explains: "Astronauts on the space station stack the NRCSDs into an eight-dispenser configuration, which are then mounted on the Japanese Experiment Module airlock slide table and moved outside of the station. The Kibo arm captures the table and positions the entire facility toward Earth.
"Upon the approval to proceed from NASA and JAXA, the NRCSDs are commanded one by one, allowing the dispenser doors to open and the large internal spring to be released, deploying the CubeSats."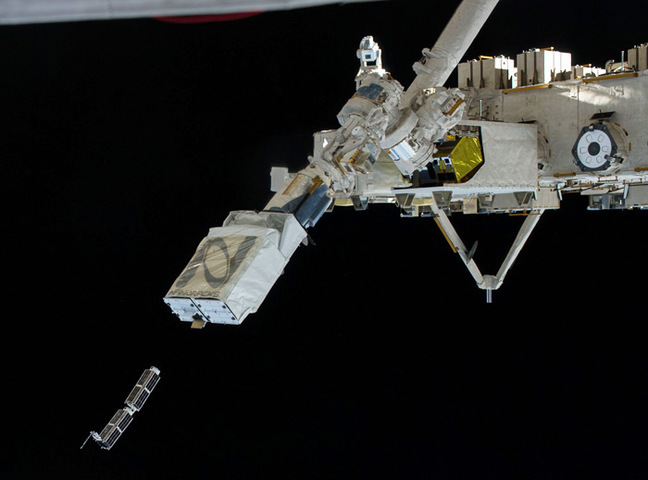 CubeSats exit the NRCSD. Pic: NASA
The life of a CubeSat is around 120 days, after which it burns up in the Earth's atmosphere. ®
Bootnote
*Other options include 0.5 units, allowing 0.5U, 1.5U and 2.5U satellites, and here's NASA's 6U CubeSat: