This article is more than 1 year old
Queen's Speech: Digital Bill to tackle radicalisation, pirates
But relax, Shed Bloke. That really doesn't mean you.
Exclusive A new Digital Bill due to be announced in the Queen's Speech tomorrow will contain a new 10-year maximum sentencing guideline for online copyright infringement, The Register has learned.
Plans for a portmanteau bill were first revealed here back in January. The Bill gathers together a range of unrelated provisions on spectrum, child protection and digital copyright.
The move to bring criminal penalties for industrial scale online piracy of software, movies, or music in line with criminal physical sentencing has the backing of Culture Minister John Whittingdale, and is viewed by creative industries as long overdue.
Currently, operating a piracy website carries a maximum penalty of only two years, under the 1988 Copyright Act, while running a DVD pressing operation (for example) carries a maximum of 10 years. In practice, this means that serious online pirates tend to be prosecuted under fraud laws, rather than copyright law.
The IPO consulted on last year on bringing the two in line, and after strong backing from UK business, recommended an increase in the digital maximum. The IPO was obliged to discount robo-emails from individuals that were generated via the Open Rights Group website (see here), as the ORG incorrectly led people to believe a 10-year penalty would be slapped on home users who'd downloaded the odd file.
That was misleading, as it fundamentally misunderstands how the criminal justice system works: only after a trial and guilty verdict – and the threshold remains unchanged – can a judge decide what length sentence to impose. The odd locker site download does not merit the expense of a full trial, and rights-holders need to obtain the individual's identity in the first place.
"This is not about private prosecutions, but serious criminal offences" a source familiar with the plans told us. "Nobody's going to go after a teenager in their bedroom, unless that teenager is operating a serious scale pirate site. Just as with physical goods, nobody goes after the small fry."
Wording in the new recommendation will make clear that it only applies to "egregious" operations involving infringement at scale. The government said as much in its recommendation that the new maximum is for hard-core operators only: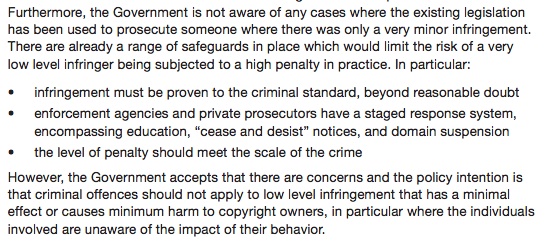 The Government made clear that casual infringers won't be ensnared. But unsurprisingly, that didn't stop anti-copyright activists from claiming the sky was going to fall.
In reality, because serious online piracy operations receive only a gentle wrist-slap under current law, prosecutions of pirate sites have been via fraud law, rather than copyright law, so stronger deterrent sentences can be handed out.
Examples include Anton Vickerman, who received a four-year custodial sentence under conspiracy to defraud after operating the SurfTheChannel website. Vickerman was generating more than £35,000 a month at the site's peak. In a more recent case, five members of a release group received 17 years in total, again under fraud law.
Vickerman's jury trial took eight weeks to conclude.
The Queen's Speech is scheduled for tomorrow. ®