This article is more than 1 year old
Flying filers and Game of Thrones: Jon Snow? No, latency is dead
Production house on how acceleration sped up FX
Cache me if you can Special effects for season 6 of Game of Thrones were created by Spanish video special effects (VFX) house El Ranchito, which explains how it solved its classic scaling problem below.
El Ranchito, which was founded in 2010 in Barcelona, has an office in Madrid. It has done work on movies including The Homesman and it also did some special effects work for Game of Thrones's season 5.
The production house faced the now-typical issue facing VFX firms that need to staff up with VFX artists for a large but relatively short-term project. It has an IT infrastructure geared to feeding files to, say, 20 VFX artists who need to fetch large video clip files, work on them, render them and re-work them in real time, and now needs to support 50 VFX artists, without extending latencies out to multiple minutes.
It can do this by replacing its filer estate with faster filers, utilising more and faster CPU cores, SSDs to replace some disk drives and faster network pipes, but this is costly and the kit remains in place to be supported and maintained after the project is finished with no guarantee of replacement project work
Or it can decide that the classic dual-controller disk-based array approach is inherently screwed because it is disk-based and needs replacing with 100Gbit Ethernet-accessed all-flash filer storage.
Unfortunately this is only to be found at the in-your-dreams fantasy store, especially at a reasonable cost. The only practicable option is to use a filer accelerator - in this case it went for Avere, which has multi-tiered FXT products.
El Ranchito has found what other VFX houses, like RVX, have found before, and that is that dedicating different tiers of DRAM, NV-RAM, flash, and disk to differentially cache random and sequential long and short IOs, works so well it's like having a 2X or 3X speed-bumped filer.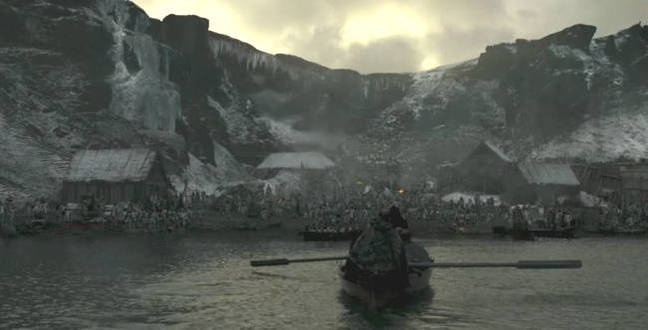 It doesn't seem like a cold Irish coastal scene, but that's VFX magic
Game of Thrones season 6 and work for A Monster Calls threatened to bring El Ranchito's filers to a crawl. IT manager Fran Andreo was quoted as saying: "It was not possible for the artists to work, it was a nightmare. With latency mainly due to the sluggish render farm performance, the artists couldn't work as the files were just not available fast enough for them."
We've heard it before, Fran. El Ranchito needed to staff up to meet project deadlines but its filer estate couldn't support the number of VFX artists needed. Yet you can't delay Game of Thrones. What Andreo did was work with local VAR Trigital to move TBs of storage to Linux servers. Then he stuck a cluster of Avere edge FXT nodes in front of them. The FXTs serve hot, active files to the artists. This turbo-charge band aid meant El Ranchito could staff up and meet its project deadlines.
Andreo said: "El Ranchito is [now] in a very good position, with a reliable and scalable environment able to handle bigger and more demanding projects. As a small VFX studio, we can now compete with the big players and produce top quality visuals with no delays in production." ®