Galileo satnav fleet waxes orbital
Satellites 13 and 14 launch tomorrow from French Guiana
---
Europe's home-grown Galileo satnav system will take another step towards a full constellation tomorrow when satellites 13 and 14 head heavenwards from Kourou in French Guiana.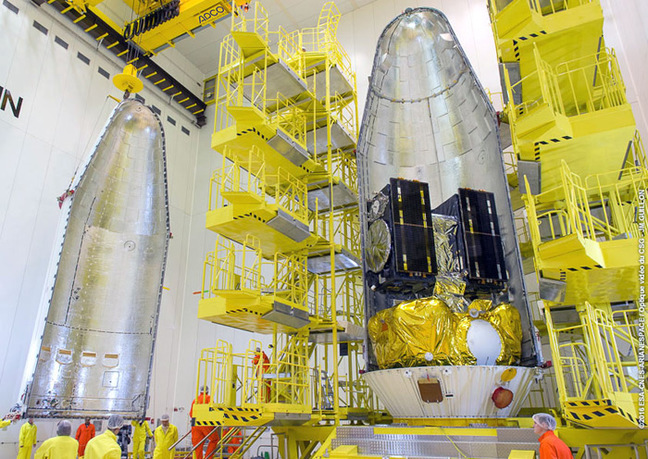 Galileos 13 and 14 during encapsulation at Kourou. Pic: ESA / CNES / Arianespace – JM Guillon
The pair is scheduled to depart the launchpad at 08:48:43 GMT atop a Soyuz lifter. The European Space Agency (ESA) will be providing live coverage.
Once in their final orbit, Galileos 13 and 14 will undergo testing prior to becoming operational later this year. ESA recently fired up Galileos 11 and 12, and said of when we can expect to enjoy metre-accurate satnav: "Initial services will be made available by the end of 2016. Then as the constellation is built-up beyond that, new services will be tested and made available, with system completion scheduled for 2020."
There's more on the system's current status in this Galileo 13/14 overview vid:
This autumn, ESA will attempt to lift the next four Galileos in one hit using a customised Ariane 5 ES. Ultimately, there will be 24 operational satellites, with six in-orbit spares. ®
Bootnote
Since we know you like some hot blokes in chem suits with hazardous fuels action, here are a couple of chaps charging Galileo 13's hydrazine propulsion system: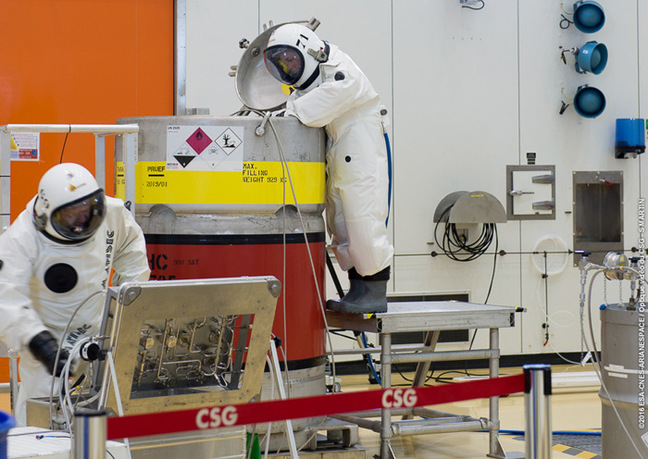 N2H4: Nasty stuff. Pic: ESA-CNES-Arianespace / Optique video du CSG – S Martin