This article is more than 1 year old
HP Inc-eption: Our new 3D printers print themselves, says CEO
And with possible job cuts looming in 2017, how about money – can they print money?
Just like Leonardo DiCaprio and his photogenic pals crafted dream worlds out of dream worlds in the hit flick Inception, we're told HP Ink prints its 3D printers using its 3D printers.
Take one of HP Ink's new and expensive 3D printers, and you can print out half of the components needed to build another one, CEO Dion Weisler said on Wednesday.
"Fifty per cent of the bill of materials of our 3D printers are printed by our 3D printers," Weisler told analysts on a conference call El Reg tuned into.
"So our printers are printing themselves. It's a perfect example of short-run manufacturing. We're not doing this to make a point, we're doing this because it's more economically advantageous to print these products in 3D than it is to use traditional manufacturing."
Weisler was extremely enthusiastic about his new printers, describing them as "incredible innovation." SpaceX was not available for immediate comment.
If only these 3D printers could literally print money for HP – kinda like in the old days, when people still used paper and printers knocked back ink cartridges as fast as bankers drained London's champagne bars on a Friday night. (And compared to the ink, the champagne was cheaper, too.)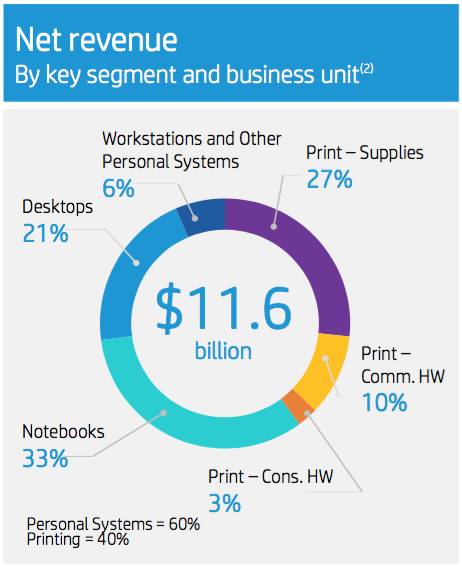 HP Inc – the half of Hewlett Packard split that drew the short straw and sells PCs and printers – could do with the dosh, given the financial figures it published yesterday. With declining sales across the board, a change in tack is needed.
"We're marketing to stimulate printing demand. We're shifting our marketing efforts from marketing printers to marketing printing," said Weisler.
If HP Ink were a brewery, it would be telling investors: "We're not advertising how hoppy our ale is, we're telling people how marvelous it is to be drunk."
Here's a roundup of HP Ink's figures for the second quarter of 2016, which ended on April 30:
Net revenue stands at $11.5bn (£7.8bn), down 10 per cent on the year-ago's $12.9bn (£8.7bn). A chunk of that is blamed on unfavorable foreign exchange rates.
Net profit stands at $629m (£427m), down 37 per cent on the year-ago's $1bn (£680m).
Operating margin is down 0.4 points to 7.3 per cent. Gross margin stands at 19.4 per cent, down 30 basis points.
GAAP diluted net earnings per share from continuing operations comes to $0.41, better than the predicted $0.35 to $0.40, and a couple of cents or so better than analysts' expectations.
As expected, people still aren't buying PCs: personal systems sales fell 10 per cent year-on-year to $6.9bn, but operating profit from the division rose six per cent to $242m – largely thanks to laying off staff. Revenues from biz PCs fell seven per cent, and consumer machines fell 16 per cent. Notebook units dropped six per cent, and desktops are down 10 per cent.
Printer sales fell 16 per cent from this time last year to $4.6bn, and operating profit from the division fell 18 per cent to $801m. Printer units and supplies revenue fell 16 per cent each. Commercial printer units were down 12 per cent, and consumer units dropped 18 per cent.
Weisler said his company is "on track to reduce our cost structure by more than $1 billion in 2016," adding that 1,200 people have lost their jobs at the business in the past twelve months. Chief financial officer Cathie Lesjak said "approximately 3,000 people will exit by the end of the year" as part of the layoffs announced in 2015. At least 800 were shown the door in the second quarter alone. More cuts may follow in 2017.
"We are continuously seeking efficiencies and we believe there are incremental actions to take beyond this fiscal year," she warned.
As for later this year, Lesjak continued:
We expect year-over-year revenue declines to moderate for personal systems and printing. Also in printing, the progress we are making on our cost structure as well as some price disciplines gives us the opportunity to place more units. Hardware unit declines will moderate, although we still expect low double-digit declines year-over-year.

Supplies revenue, in constant currency, will continue to decline, but is still expected to stabilize by the end of 2017. Productivity initiatives and accelerated restructuring actions across the company are expected to improve overall profitability as compared to the first half of the year.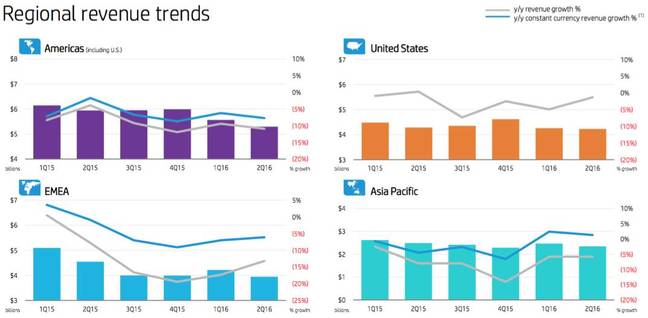 Finally, Weisler isn't keen to spin off his PCs or printers divisions a la Hewlett Packard Enterprise hiving off its enterprise services to CSC: "As far as our major franchises go, we're very committed to both our PC and printing portfolios," he told investors.
HP Ink's stock price nudged up 1.39 per cent in after-hours trading to $12.37. ®