UK eyes frikkin' Laser Directed Energy Weapon
Bolted to a shark Gatling Gun? Why Not?
---
The UK's Defence Science and Technology Laboratory (DSTL) is considering several contenders to supply a Laser Directed Energy Weapon (LDEW) for evaluation as part of a programme which could "ultimately could see the MOD fund a full-up programme to buy defensive laser weapon system".
According to this report, companies including Lockheed Martin, Thales and Rheinmetall (manufacturer of the "HEL on wheels") responded to an invitation to tender, with UK outfit Babcock leading a consortium of Raytheon, QinetiQ and Italy's Leonardo-Finmeccanica, whose cunning plan is to fit a LDEW to an existing Phalanx CIWS (close-in weapon system).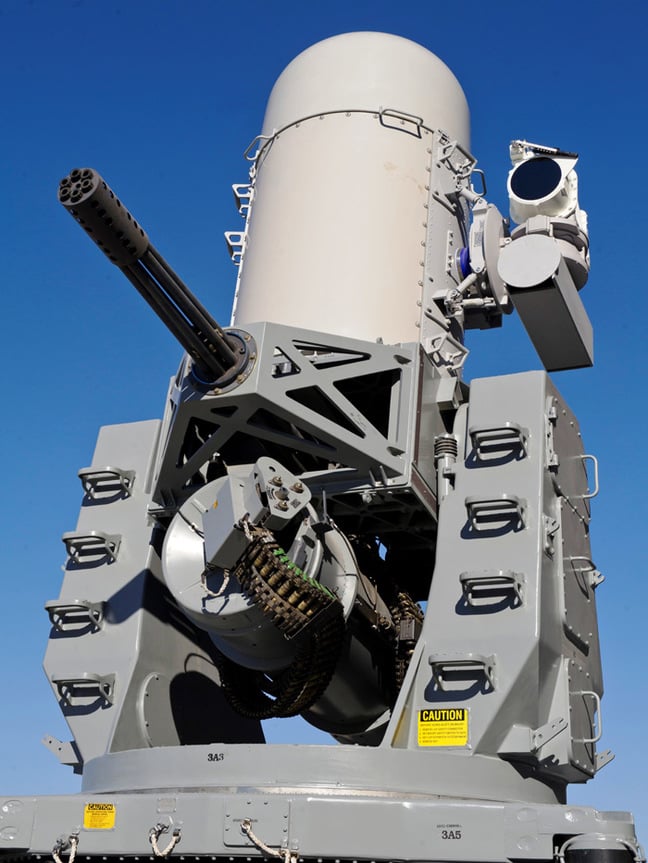 Phalanx, without a frikkin' laser. Pic: Raytheon
Raytheon's radar-guided Phalanx, packing a six-barreled 20mm M61 Vulcan Gatling Gun, is already in service worldwide "on all US Navy surface combatant ship classes and on those of 24 allied nations", including some sailing with Her Majesty's Royal Navy.
The advantages of bolting a laser to Phalanx are the system's "proven track record of acquiring, tracking and engaging targets", and the availability of the Gatling capability should atmospheric conditions affect the laser's performance.
Andy Rhodes, Raytheon UK's business development manager, said: "Having it co-mounted on the Phalanx - such that you have an alternate channel of fire - is infinitely preferable than having it instead of."
Raytheon has already proven its credentials with the successful deployment of its Laser Weapon System (LaWS) aboard the USS Ponce. The US Navy has more here.
Whichever system is finally selected for DSTL evaluation, tests "are likely to include both land- and sea-based trials with a UAV being used as the target". ®
Bootnote
Here's Raytheon's Phalanx vid, for those of you with an appetite for destruction: