This article is more than 1 year old
Flash. Arrrgh. Nimble sales down
Revenues decline Q-on-Q as late flash array entry takes toll
Hybrid array and recent all-flash array supplier Nimble Storage shows the effects of its late AF-Series flash array market entry and hyper-competitive market with its first quarter-on-quarter revenue decline.
Revenues of $86.4m in its first fiscal 2017 quarter were 21 per cent higher than a year ago but down 4 per cent sequentially. There was a thumping net loss of -$42.7m, 47.2 per cent worse than a year ago and 31.8 per cent more than a quarter ago. Although it did better than it had expected for the quarter, Nimble's progress to profitability seems to have taken a knock.
Suresh Vasudevan, Nimble's CEO, was keen to stress all-flash array progress: "All-flash arrays accounted for 12 per cent of our total array bookings during the first quarter after launch [and] deal sizes [were] substantially above our overall average."
The customer base grew 48 per cent year-on-year, with 580 new customers, to 8,160, with 55 all-flash array customers added.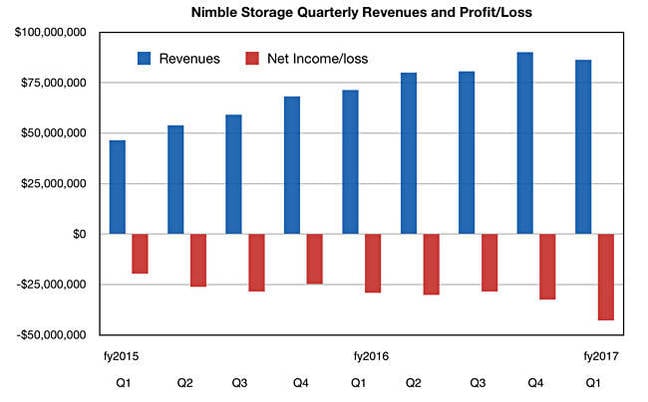 In a shareholder letter (PDF) Vaudevan wrote: "We believe that the storage industry will consolidate to just a few large systems vendors and next generation storage vendors, resulting in an opportunity for us to leverage the competitive advantage we derive from our Predictive Flash Platform (new all-flash array)."
Nimble's stock price rose from $7.40 to $8.76 after the results came out, as investors took heart from the increased revenues.
Comment
Well, what do we think? With Pure growing at 90 per cent, EMC and HPE at triple-digit growth in flash arrays, and NetApp growing its flash business at least in high double digits, then Nimble looks like the walking wounded. At least it's doing much better than Violin, which saw its flash business decline 20 per cent year-on-year in its latest quarter.
We could be pretty brusque about this, observing that Dell-EMC, IBM, HPE, NetApp and Pure have the all-flash array market pretty much locked up, leaving only niches and scraps for Kaminario, Tegile, Tintri, Nimble and, indeed, Violin. Which makes Vasudevan's opportunity rather limited.
Also the next-generation array connectivity architecture is appearing, with NVMe over fabric-connected arrays of NVMe drives, witness EMC's DSSD, Apeiron, Mangstor and E8, with Pure having a stake in the NVMe ground. Unless Nimble gets on to this track its competitive advantage will evaporate, particularly as its InfoSight system monitoring and managing predictive analytics are being copied by its competitors.
Vasudevan writes that he believes Nimble's all-flash array "delivers a substantially better value proposition than other all flash arrays in the market." All flash array vendors say the same thing.
Stifel MD Aaron Rakers said: "Nimble's F1Q17 results should be as a positive ... [but] we believe the company will remain a show-me story."
William Blair's Jason Ader wrote: "Key metrics to watch going forward will be product revenue growth (reacceleration expected in the back half), product gross margin (hit a roughly three-year low in the first quarter), and operating margin (leverage expected in the back half). Despite the recent product gross margin slide — which we suspect is largely a function of cutthroat storage pricing — management believes the current level of 66 per cent is sustainable."
He says Nimble's execs have a four-point strategy to get growth back on track:
New customer acquisition (aggressive investments to deepen sales coverage and channel leverage)
Diversification of the customer base (with a particular focus on international markets and the service provider vertical)
Larger transactions (driven by new AFA products, scale-out features, and Fibre Channel support—taken together, these should get Nimble into more large deals and lead to higher win rates)
Higher levels of repeat business from the installed base of over 8,000 customers
Like Rakers, he is hesitant on Nimble's prospects: "While we are cautiously optimistic on the initial traction of the AF-series, and downside to the shares may be limited at current levels, we prefer to take a wait-and-see approach given the intensity of competition in the AFA segment and the impact of ongoing investments on the operating model."
His summing up seems fair: "We will wait to see if the AF-series is able to fully right the ship, but its introduction removes a sizable hurdle for Nimble in what has become a ruthless storage landscape."
Next quarter Nimble expects revenues between $93m and $96m, $94.5m at the mid-point representing a 20.5 per cent growth rate year-on-year. Steady as she goes, Captain V, and show us what you can do to speed the ship later in the year. ®