NetApp shrinky-dinks ONTAP 9: Will support 4:1 data reduction
Never mind our latest results, gaze at our petabyte-gobbling flash racks
---
NetApp has re-engineered Data ONTAP, its main, FAS array operating system, to make better use of flash storage, and operate across software-only and cloud deployments to form what NetApp calls a data fabric.
The upgrade from Data ONTAP v8 is called ONTAP 9, and NetApp says it is a simpler system to operate, claiming it can be deployed and serving data in as few as 10 minutes.
NetApp says that ONTAP 9 is for mixed workload environments, from primary block and file data, to nearline and longer-term retention. It retains its scale-up and scale-out (clustering) features.
ONTAP 9 was mentioned in NetApp's latest earnings call. NetApp has shown us the main picture and know customers will be able to consume ONTAP 9 in three ways:
On-premises (NetApp-engineered) FAS array use
ONTAP Cloud for public cloud use (AWS we understand with Azure following)
In SW-only form as ONTAP Select, described as cost-effective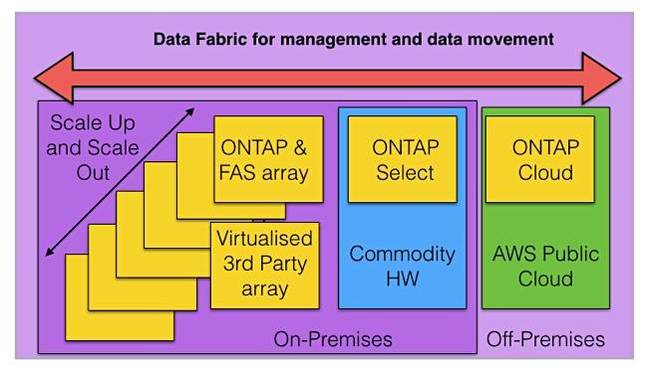 Basic Data Fabric ONTAP 9 scheme
ONTAP 9 supports 15TB SSDs, which hold half as much data again as the largest disk drives available, the 10TB drives. NetApp says it is the first flash array provider to support such large capacity flash storage; surely only a temporary advantage.
The new OS also features a guaranteed data efficiency reduction of 4:1, effectively turning a 15TB SSD into a 60TB storage space. On our calculations a 2U drive tray filled with, say, 24 x 15TB SSDs will hold 360TB. The 4:1 data reduction takes that to 1,440TB or 1.4PB. NetApp mentions more than 1PB of data in a single shelf of storage.
The capacity calculating mind boggles; a rack of 20 such trays will hold 28.8PB, which makes today's data centre disk-based storage estates look grossly bloated in physical space terms, and in power and cooling needs.
The data reduction comes with a FlashAdvantage 3-4-5 program, and is based on new and patented inline data compaction, which is better than, NetApp says, existing compression and deduplication. It makes its all-flash FAS arrays "extremely cost-effective compared to hard disk drive-based systems" which we understand to mean having at least a lower total cost of ownership (TCO), and possibly lower priced on a $/TB acquisition basis after data reduction as well.
The 3-4-5 aspects mean:
3X guaranteed performance – increase performance by at least 3X with NetApp all-flash storage (over disk we assume)
4:1 guaranteed efficiency – reduce required usable storage capacity by at least 4:1 with NetApp all-flash storage
5 ways to get started – a range of ways to make it easier for customers to adopt flash including a free risk trial, free controller upgrade program and extended warranties
ONTAP 9 has improved system monitoring, and users can centrally manage performance, capacity and data protection across their (ONTAP) IT environment, which includes third-party arrays virtualised by ONTAP, and FlexPod systems.
The RAID capability has been upgraded to triple-parity, NetApp saying customers "can achieve up to 100 times greater security against drive failures." ONTAP 9 also has expanded encryption and compliance features.
We look forward to SolidFire announcing 15TB SSD support and, perhaps, using the same data compaction technology as ONTAP 9. El Reg also wouldn't be surprised if ONTAP 9 clustering has, or will get, greater scale-out capability than its predecessor.
FAS arrays will surely receive processor upgrades in some coming refresh and they will make even better use than current FAS arrays of the expanded flash capacity in ONTAP 9. NetApp customers will surely look at ONTAP 9 and all-flash FAS with happy anticipation and NetApp sales reps and channel will have something to make them happy too. ®