Surface Book nightmare: Microsoft won't fix 'Sleep of Death' bug
How a weird system crash has plagued expensive lap-slabs for months
Microsoft asleep at the wheel
I first contacted Microsoft technical support about my issue after my first week using the Surface Book as my primary work system, having experienced multiple "unplanned shutdowns" per day and an overheated laptop bag, including an embarrassing crash in front of a conference audience. In the course of the three-hour call, nothing functional happened. Eventually the technical support representative took remote control of my desktop, checked that all updates were installed (they were), reset my power settings to the defaults (useless), and rebooted, saying that was as much as could be done that day, and that I should follow up if I still had problems.
The next day I emailed that I still had problems and asked what the next steps were. After no reply, I reached out twice more by email, and once on Twitter, specifically asking for a refund. (I admit my tweet was snarky: "@SurfaceSupport New Surface Book still sleeps like a bad drunk - doesn't remember where it was when woken. Support no help. Need to return.") Neither my tweet nor my three emails got any reply.
Eventually I contacted Microsoft again by online chat, demanding a refund on my balky product. Some 90 minutes later, the deed wasn't done. I asked them to email me next steps. Nothing. Again, my follow-up emails went unanswered.
When I next called to ask for my refund, I was told that I couldn't have one, on the grounds that I was now outside the 30-day window for returns. I didn't care for that logic, but Microsoft representatives are emphatic on two things: their point-of-sale (POS) system doesn't allow refunds after 30 days, and the POS system cannot be questioned. Still, I insisted that my case be escalated. After another hour on the phone, they promised they'd follow up within 48 hours.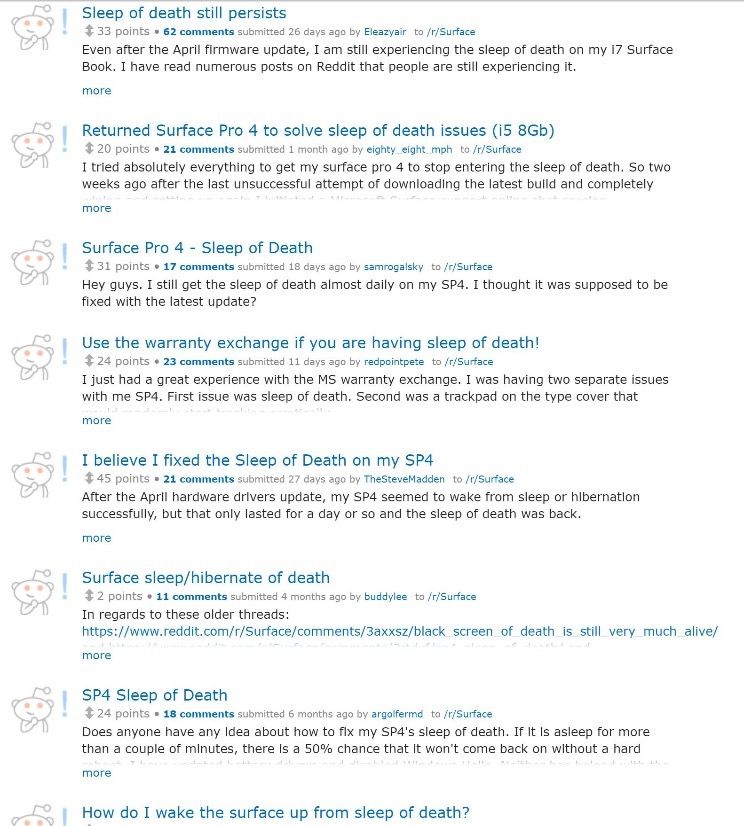 A few of the fifty current threads on Reddit related
to Sleep of Death on Surface (click to enlarge)
Roughly 46 hours later, I did get an email from Microsoft, saying my case was still under review, and that they would need another 48 hours to reply. That was nearly a month ago, and that's the last I ever heard from them.
Following the advice of some folks in various forums, I decided to tilt at one last windmill, bringing my Surface Book into a nearby Microsoft store. The customer service representative there was friendly and welcoming but immediately took the same stance of sympathetic ineptitude I got elsewhere: "I'm feelin' you, bro. That sucks. I'm sorry I can't help you. The POS system just doesn't let us do it."
Still, he was an initial sales contact, in the flesh, and I was interested in his views on the Sleep of Death bug. He was completely aware of it, but dismissive of its seriousness, saying, "Eight times out of ten, it's just the drivers need to be updated." But mine are up to date. What about the 20 per cent who, like me, need more than up-to-date drivers? "Yeah, then you need a new system."
My Surface Book still suffers from Sleep of Death about once a day on average, and I'm far from alone. No one seems to know what exactly what causes the Sleep of Death bug or how to work around it. One interesting theory is that the Intel hardware or Windows drivers are not gracefully losing chipset context when entering sleep power state S3, but I'll leave that to Microsoft engineers to figure out. In the meantime, I cannot recommend the Surface Pro nor the Surface Book to anyone who needs a reliable system, or a supported one.
Barred from a refund, I'm not sure what I'll do from here. I think I'll sleep on it. And I bet I'll still remember this experience when I wake up. ®
Bootnote
On May 24, Microsoft released another driver update for Surface, but it appears not to have fixed the Sleep of Death issue. In a recent comment on one of the support forum threads, one Surface Book owner posted: "I updated last night, closed the SB and this morning found it had crashed and restarted. I too am starting to think it might be hardware related, in which case MS should just own up to it instead of keeping silent."
The Reg asked Microsoft for help via its PR team. If we get any answers, we'll publish them here.
Updated to add
After this article was published, Microsoft contacted me to discuss the issues I was having with my Surface Book. After I declined their offer for additional technical support, they agreed to honor a refund, which I had originally requested within 30 days.
On June 20, Microsoft released another set of Windows 10 updates for the Surface line, and judging from responses in the Microsoft forums, these updates seem to have fixed or improved Sleep of Death issues for many but not all users.
Addison Snell is the CEO of Intersect360 Research, an industry analyst firm focused on high-performance datacenter markets, including high performance computing (HPC), cloud, big data, and hyperscale. He is a contributing editor to The Next Platform, a partner publication to The Register. His weekly podcast, This Week in HPC, can be found on iTunes and Stitcher.