Disk death: Three-quarters of PCs will run SSDs by 2020
At least, that's what the analysts say...
Total disk drive shipments are going to plummet by 2020, with raw SSD cost getting cheaper than disk and SSDs taking over from disk in notebooks.
Analyst haus Stifel Nicolaus's MD, Aaron Rakers, has taken a close look at Gartner's HDD and SSD projections over the next few years.
He writes: "Gartner is currently forecasting HDD industry shipments to decline at a seven per cent compound annual growth rate (CAGR) from 2015-2020, while revenue is expected to be down two per cent over this timeframe."
Gartner and Stifel Nicolaus have both consistently scaled back their projections over the past few years, from revenue growth to decline, and then increasing decline. Disk capacity shipped is still growing but the rate of growth has been steadily reduced.
Here is a chart showing its sequence of projected total HDD revenue growth changing to decline from 2012 out to 2020, and how the forecasts have been systematically scaled back.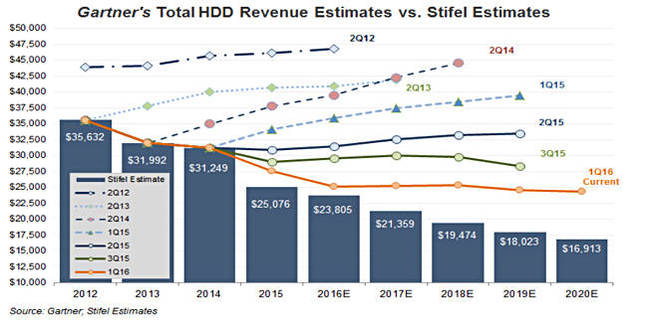 Here's a chart showing how HDD shipped capacity estimates have changed over the same period, moving from high to low growth rates.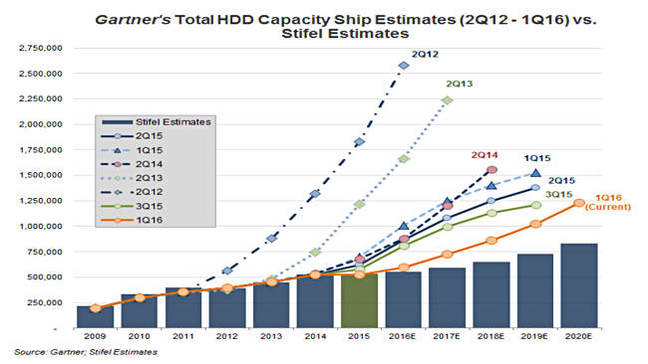 Rakers said:
Total industry capacity shipped is expected to grow at an 18.5 per cent CAGR
PC-related capacity shipped is expected to grow at a five per cent CAGR
Mission-critical (performance-optimized) enterprise HDD capacity shipped is expected to decline at a 12 per cent CAGR
Business-critical (high-cap / nearline) enterprise capacity shipped is estimated to grow at a 41 per cent CAGR
Gartner now thinks total SSD PC penetration rates will increase from 15 per cent and 22 per cent in 2014 and 2015 to 64 per cent in 2019 and nearly 76 per cent by 2020. Tellingly: "SSDs in mobile and ultramobile premium PCs are estimated to grow from 34 per cent penetration in 2015 to 83 per cent penetration by 2020."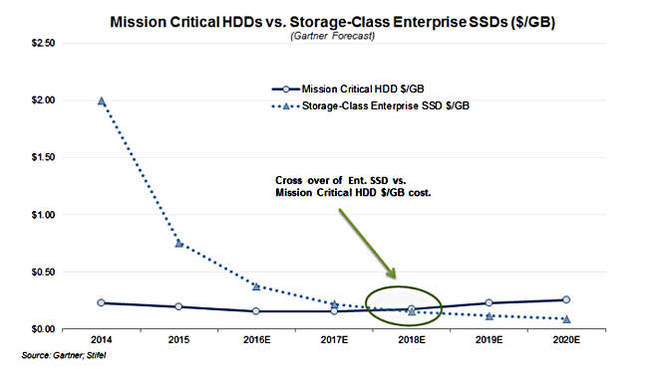 SSD HDD raw cost cross-over
Gartner expects a cross-over $/raw GB cost for enterprise SSDs vs. Mission Critical HDDs occurring in 2018. This excludes the effects of compression and deduplication in raising effective from raw capacity.
With 3D TLC and the potential for QLC (quad-level cell or 4bits/cell) flash lowering cost/GB even further then the nearline disk manufacturers need to throw HAMR, helium and shingling technology at their disk drives to keep a cost/GB advantage. If QLC flash can be made enterprise class then disk drive manufacturers face a world of hurt. ®