Juno yields to Jupiter's gravitational embrace
Spacecraft drawn to July rendezvous with gas giant
---
NASA's Juno spacecraft last week crossed the Sun/Jupiter gravitational boundary and is now firmly in the gas giant's embrace.
Rick Nybakken, Juno project manager at the space agency's Jet Propulsion Laboratory, said on Friday: "Today the gravitational influence of Jupiter is neck and neck with that of the Sun. As of tomorrow, and for the rest of the mission, we project Jupiter's gravity will dominate as the trajectory-perturbing effects by other celestial bodies are reduced to insignificant roles."
Juno launched back in 2011. The hefty spacecraft tips the scales at 8,000lb (roughly 3,640kg) and is described by NASA as "basketball court-sized".
On 4 July, it will arrive at Jupiter and perform an insertion burn of its main engine to achieve an elliptical polar orbit.
NASA explains: "Once in orbit, the spacecraft will circle the Jovian world 37 times, skimming to within 3,100 miles (5,000 kilometers) above the planet's cloud tops. During the flybys, Juno will probe beneath the obscuring cloud cover of Jupiter and study its auroras to learn more about the planet's origins, structure, atmosphere and magnetosphere."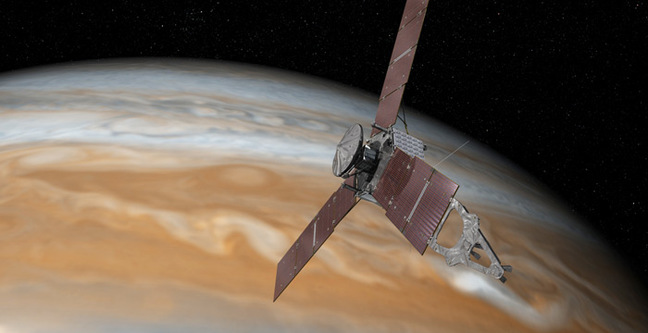 Juno: Coming soon to a gas giant near you. Pic: NASA / JPL-Caltech
The orbital path is designed to dodge Jupiter's radiation belts - "analogous to Earth's Van Allen belts, but far more deadly" - although the vehicle's sensitive bits are contained in a "radiation shielded electronics vault".
The orbit will also keep Juno's solar panels continuously in sunlight, feeding the spacecraft's "modest" power needs. The science instruments draw full power "for only about six hours out of each 11-day orbit" as Juno makes its closest approaches to Jupiter.
NASA has an overview of said instruments here.
Juno is named after the wife (and sister) of Roman god Jupiter, who "drew a veil of clouds around himself to hide his mischief", although his missus was able to "peer through the clouds and reveal Jupiter's true nature".
In February 2018, once it has hopefully laid Jupiter bare, Juno will be deorbited into the planet. ®