Orbital ATK fires up revamped Antares rocket
New non-exploding RD-181 engines a success
---
Orbital ATK yesterday took a significant step towards getting its Antares lifter back in the air with a successful test fire of the rocket's revamped first stage propulsion system.
The Anatares' new RD-181 main engines were subjected to a 30-second full-power burn on the pad at Virginia Space's Mid-Atlantic Regional Spaceport (MARS).
The RD-181 powerplants replace the venerable Russian-built Aerojet Rocketdyne AJ26s responsible for the explosive ending to Antares' last flight in October 2014, which was supposed to deliver a Cygnus resupply vehicle to the International Space Station (ISS).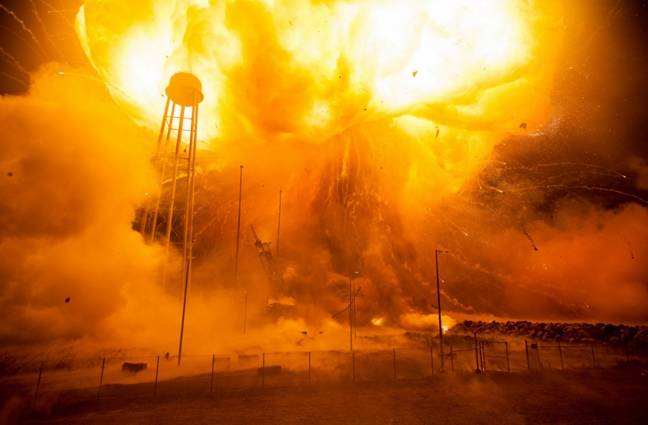 Antares destroys the pad at Wallops Island, Virginia, in 2014. Pic: NASA
The failure was caused by a manufacturing defect in the liquid oxygen turbopump of one of the two AJ26s, prompting Orbital ATK to turn to Moscow's NPO Energomash for an alternative form of propulsion.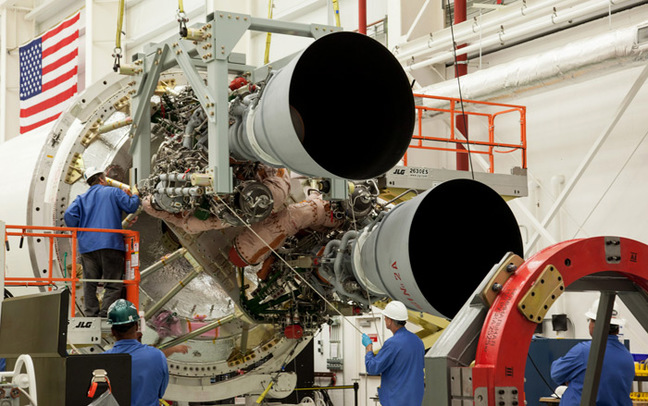 A pair of RD-181s being bolted to Antares. Pic: NASA
Mike Pinkston, Orbital ATK General Manager, said of yesterday's burn: "Early indications show the upgraded propulsion system, core stage and launch complex all worked together as planned. Congratulations to the combined NASA, Orbital ATK and Virginia Space team on what appears to be a successful test."
Orbital is now prepping an Antares for its Cygnus CRS (Commercial Resupply Services) OA-5 mission to the ISS, slated for lift-off this summer. The flight will feature the "enhanced Cygnus spacecraft" which has already flown twice to the orbiting outpost - in December last year and March 2016 - albeit requiring the services of United Launch Alliance Atlas V lifters to slip the surly bonds of Earth.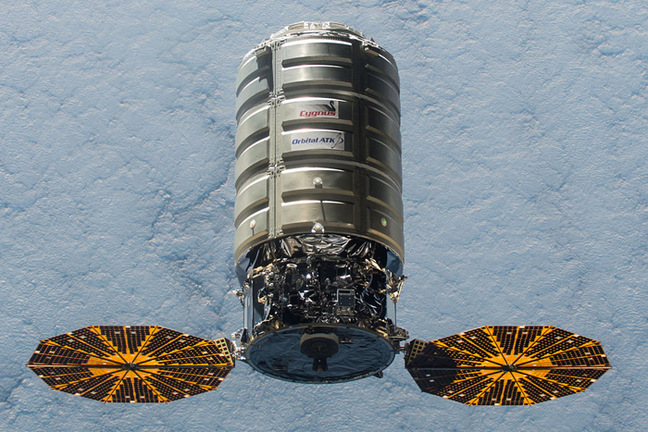 An enhanced Cygnus creeps up on the ISS in December 2015. Pic: NASA
Commercial Resupply Services rival SpaceX, meanwhile, has continued its CRS activities with a certain aplomb. In April, it carried out its eighth resupply mission, delivering the Bigelow Expandable Activity Module (BEAM) pump-up space podule to the ISS.
In the process, it managed to land its Falcon 9 lifter's first stage on a drone barge for the first time - a feat it has since repeated twice in May. Here's a sped-up vid of the last landing for your viewing pleasure: ®