This article is more than 1 year old
Three's company: Micron intros first 3D and triple-level cell SSDs
Not that massive a capacity – they top out at 2TB
Micron has announced its first 3D NAND SSDs, triple-level cell (TLC pr 3bits/cell) 1100 and MLC 2100 products.
Intel, its flash foundry partner, introduced its own 3D SSDs, MLC (2bits/cell) ones, in March with the DC P3320 and P3520, with maximum capacity of 2TB. These had an NVME interface whereas Micron's 1100 has the slower 6Gbit/s SATA interface.
The 2100 is a PCIe NVMe device with better performance than the 1100.
The 1100 is a 6Gbit/s SATA product coming in 2.5-inch and M.2 SATA formats in 256GB, 512GB, 1024GB and 2048GB (2.5-inch only) capacity points. The actual process size isn't being revealed but we do know it uses 32-layer TLC NAND with 384Gb dice.
Here are the 1100's speeds and feeds:
To 92,000 random read 4K IOPS
To 83,000 random write 4K IOPS
530MB/sec sequential read
500MB/sec sequential write
Latency - read/write 85μs/40μs typical FOB
Endurance - 120TB written - 256GB, 240TBW - 512GB, 400TBW 1 & 2TB (=224GB/day for five years)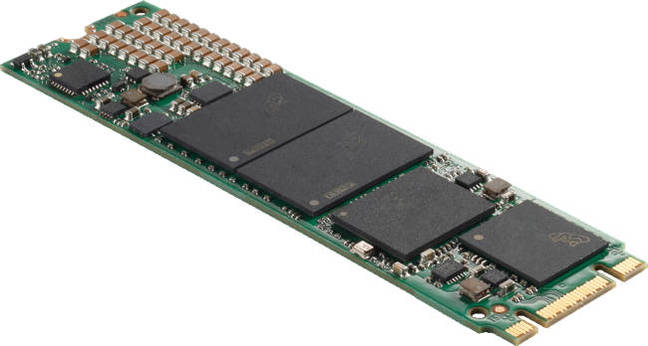 Micron 1100 3D NAND SSD in the M.2 form factor
The only available Intel 3D SSD performance comparison is with the P3320:
To 365,000 random read 4K IOPS
To 22,000 random write 4K IOPS
1,600MB/sec sequential read
1,400MB/sec sequential write
It blows the 1100 away except for its random write performance.
It is instructive to compare the 1100 with 128GB - 1TB SATA Micron's M600, launched in September 2014, using 16nm process MLC flash with 128Gb dice;
To 100,000 random read 4K IOPS
To 88,000 random write 4K IOPS
560MB/sec sequential read
510MB/sec sequential write
Endurance - 100TB written - 128GB, 2000TBW - 256GB, 300TBW - 512GB, 400TBW 1TB
Knowing that TLC has inherently less endurance than MLC NAND and is a slower performer, Micron has done a creditable job with the 1100, it being not that far behind the M600 performance-wise, although it is, of course, slightly slower in every respect.
The 1l00 product has what Micron calls DEVSLP, an extreme low power mode, with less than 2mW needed with the 256GB and 512GB products when in DEVSLP mode. The 1TB product needs 4mW and the TB product needs 25mW.
Like the M600, the 1100 has dynamic write acceleration. Its uncorrectable bit error rate (UBER) is <1 sector per 1015 bits read. The product features encryption and secure erase capability. It has a 1.5 million hours MTBF rating.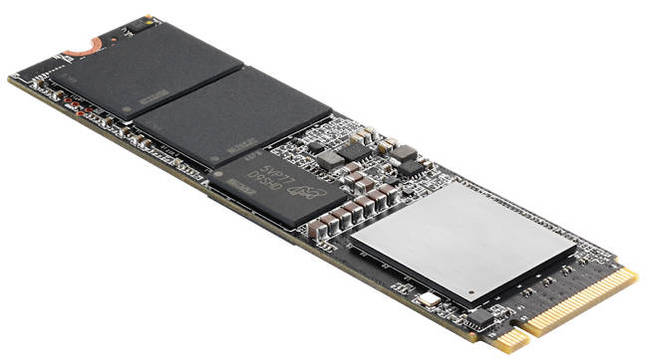 Micron 2100 PCIe NVMe flash drive
The 2100 information is so sparse as to be near invisible, making it akin to 3D NAND SSD vapour ware for the time being. It is a client device SSD with up to 1TB capacity in an M.2 form factor. We're told it has four times the bandwidth of SATA SSDs and a low latency. Really? With NVMe? Who would have thought that!
Micron introduced 7100 and 9100 planar MLC NVMe drives in April, so the 2100 should benefit from that NVMe work.
Actually the 2100 should be much faster than the 1100, and comparable to Intel's P3320. Looking at Intel and Micron's 3D NAND SSDs it looks like they are aiming them at different market segments.
Read a Micron 1100 SSD datasheet here (pdf). There is no 2100 datasheet available, nor pricing for either product. Expect the 1100 and 2100 to come out in the third quarter, with the 1100 first. ®