This article is more than 1 year old
The least stressful job in the US? Information security analyst, duh
That's not a typo, we've checked and checked again
Everyone knows that being an infosec analyst is a cushy job – but did you know quite how much? Because according to job website CareerCast, it is literally the least stressful job in the country.
The company measured 11 stress factors, including the amount of travel, deadlines, competitiveness, physical demands, risk to your life, and being in the public eye and concluded that the best of all possible worlds was in infosec.
"The proliferation of sensitive content stored online, as well as the growing importance of cloud computing, is fueling the demand for more information security analysts. Job prospects and competitive pay make this new addition to the Jobs Rated report one of the best jobs for 2016," CareerCast argues.
Nestling among the other cozy jobs were sonographer, university professor, hair stylist, librarian and jeweler.
The rankings were conjured by math heads at Statista; no poll was taken. Ipsos MORI this is not.
In fact, CareerCast seems to have a thing for infosec analysts, putting it not only bottom of the stress league but also listing it as the third best job to have in the United States, with a median salary of $89,000 and a healthy 18 per cent growth outlook. It's beaten only by statistician and data scientist.
We wonder whether that love may have something to do with the fact that it currently has 7,631 job listings for information security analyst, whereas other jobs average around 1,000 openings (although if you want to be a truck driver, you're in luck with more than 10,000 jobs available).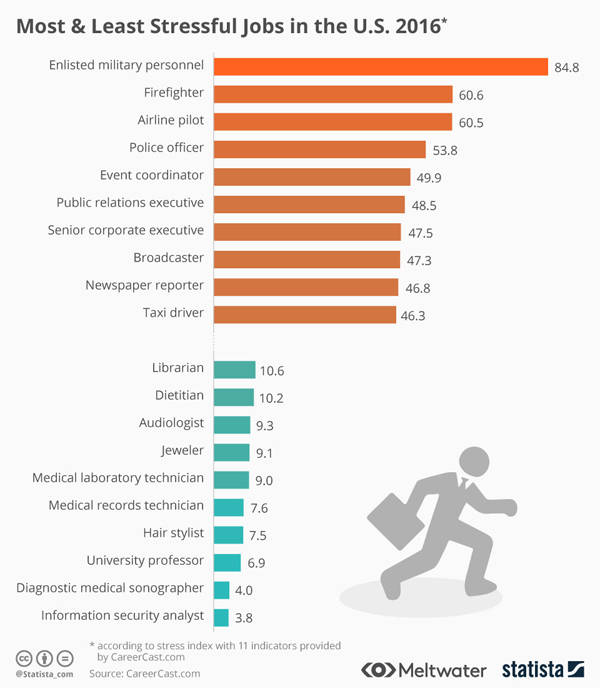 Take it easy infosec bods. Except yours truly writing this, who apparently has the worst job in America
And at the other end of the scale? Newspaper reporter.
That's right, being a newspaper reporter is literally the worst job in America, according to CareerCast. And the ninth most stressful.
Although being in the military is right up there, since it is listed as the most stressful job in the United States – presumably something to do with the likelihood of being shot at – and the fourth worst job to have. Sure it's dangerous, but it's stable. ®