NetApp's SolidFire unit has announced a new appliance, an operating system refresh, and a software licensing change separating its software from specific hardware products.
NetApp and Cisco FlexPods will get a SolidFire array option for existing systems and a SolidFire-based FlexPod configuration will be announced in the coming months.
Version 9 of its Element OS, named Fluorine, the ninth element in the table of elements, adds VVOL support integrated with SolidFire's Quality of Service guarantees so that noisy neighbours at VVOL level (per-VM) can be controlled, with settable min, max and burst IOPS levels.
It has a new GUI, consolidating storage system data into a single dashboard.
SolidFire says v9 doubles the amount of FC node connectivity in a cluster to four, allowing users to scale out to 40 storage nodes. Fluorine also increases the limit of IOPS per FC node from 300,000 to 500,000 IOPS, resulting in two million IOPS in a four-FC-node cluster.
Multi-tenancy is improved as customers can use overlapping IP addresses on VLANs via separate routing tables (VRFs), preserving IP address resources.
FlashForward licensing scheme
SolidFire is separating its software licence from specific hardware products by making it apply to a set amount of capacity in an enterprise-wide pool of SolidFire storage arrays. The scheme is called FlashForward Capacity Licensing and comes after customers expressed strong interest in software-only licensing.
CEO Dave Wright said software-only licensing schemes are okay as far as they go, but customers still have lengthy and complex hardware selection and qualification processes for storage chassis and add-in cards.
The Element OS licence is perpetual and based on maximum provisioned capacity, applying to, say, a 100TB of pooled raw storage in any enterprise location. There is a capacity tier volume discount. Software and hardware can be ordered together or separately. There is no need for a new licence when new hardware is bought, unless capacity rises above the licensed amount.
Although SolidFire does not offer a cloud-based system, with the Element OS running on public cloud-based hardware, the way is clear for that to happen should SolidFire adopt a cloud hardware scheme. You would license, say, 100TB of Element OS capacity running in, for example, AWS.
NetApp may or may not adopt the same scheme for ONTAP and SANtricity, the E-Series OS. We might view SolidFire's FlashForward scheme as a test or trial in overall NetApp terms. If it is successful then it may be adopted elsewhere in NetApp.

Four node SolidFire SF19210
SF19210
The all-flash SF19210 cluster node, termed an appliance, has ten 1.92TB SSDs, giving it 19.2TB of raw capacity and up to 80TB of effective capacity after data reduction. This compares to the existing range-topper, the SF9010, with its 960TB SSDs and 9.6TB raw capacity. SolidFire has, by the way, been using 3D NAND (Samsung) SSDs for some time.
System memory rises to 384GB from the SF9010's 256GB. The SF9010 is rated at 75,000 IOPS while the SF19210 offers 100,000. It doubles capacity while offering a third more performance.
The new box can be slotted in to existing SolidFire clusters, and SolidFire says it has a 30 per cent lower $/GB than its existing appliances.
SolidFire's product positioning on a time/capacity axis looks like this: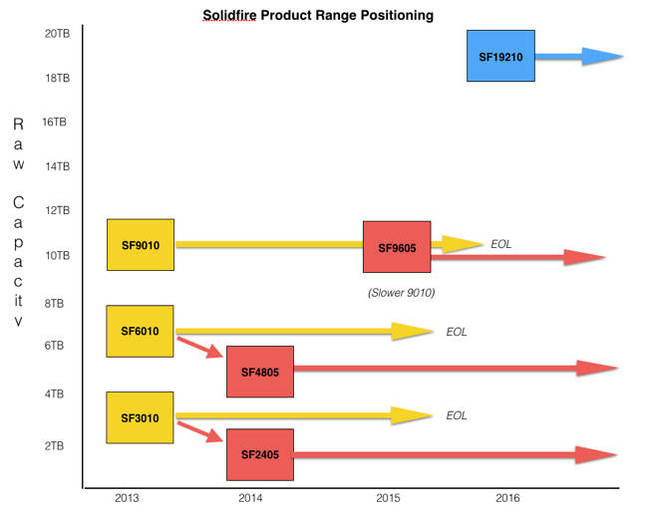 SolidFire appliance range June 2016
With the coming of the SF19210 the SF9010 is heading for end-of-life.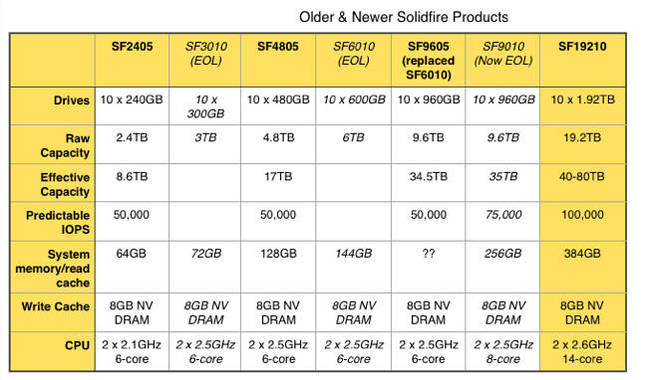 The SF19210 is currently available for order through SolidFire and its global partner network. It can cost $84,588.82. ®