Winston Churchill glowers from Blighty's plastic fiver
£5 polymer PM marks death knell of paper banknotes
---
The Bank of England today unveiled the UK's first plastic banknote - a polymer fiver featuring Winston Churchill.
Speaking at a ceremony at Churchill's birthplace, Blenheim Palace, the bank's governor Mark Carney declared: "The New Fiver will commemorate the achievements of the only Prime Minister to win the Nobel Prize for literature and one of the greatest statesmen of all time – Sir Winston Churchill. As he himself said, 'a nation that forgets its past has no future'. Our banknotes are repositories of the United Kingdom's collective memory and like Churchill, our new polymer notes will stand the test of time."
Getting into the "blood, toil, tears and sweat" spirit, Carney added: "It is stronger than paper and can better withstand being repeatedly folded into wallets or scrunched up inside pockets. Polymer notes can survive a splash of Claret, a flick of cigar ash, the nip of a bulldog, and even a spin in the washing machine afterwards to boot."
Churchill's gruff likeness on the new note is taken from Yousuf Karsh's famous 1941 portrait of the wartime leader. Karsh legendarily relieved Churchill of his cigar just before pressing the shutter, hence his somewhat indignant expression.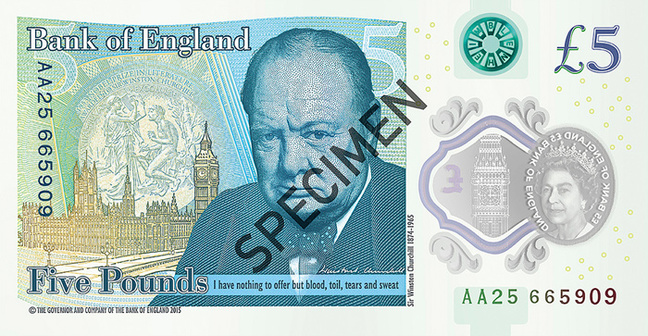 Relieve this man of his cigar at your peril. Pic: Bank of England
The £5 note will hit the streets on 13 September, followed by the Jane Austen tenner in 2017, and a JMW Turner £20 in 2020.
The switch to polymer currency - already packing wallets over 30 other countries, including Oz and Canada - will offer "enhanced resilience" against counterfeiting, the Bank of England assures.
Paper fivers will continue to be legal tender until May 2017, after which they'll no longer be accepted in shops and banks, although the Bank of England will continue to exchange them after that date. ®