IDC, IDC, o crystal ball. Who's storage's biggest cheese of them all?
Good news for some, and bad for hyperscaler folk
IDC's number crunchers have crunched their quarterly enterprise storage numbers and found HPE has done very well, while the storage market has declined somewhat and ODM supply to hyperscalers has plunged downwards.
The overall enterprise storage market was worth $8.2bn in the first 2016 quarter, down seven per cent on a year ago.
HPE and EMC tied for top place with HPE nominally ahead at $1.42bn, up 11 per cent year-on-year, with EMC garnering $1.35bn, down 11.8 per cent year-on-year; cue a monster smile on HPE's collective storage face.
Dell was third with $845.5m, down 5.8 per cent year-on-year, and NetApp fourth with $645.5m, down 15.6 per cent. A Dell-EMC combination would have had revenues of $2.27bn, almost double HPE's revenues for the quarter and more than three times NetApp's revenues. That's a potential indicator of things to come.
The largest supplier category was "Others" with a $2.28bn revenue number, up 5.3 per cent on the year. IDC's Liz Conner, research manager, Storage Systems, had a canned quote: "Spending on server-based storage was up, spending on traditional external arrays continues to decline, while the nature of hyperscale business leads it to fluctuate heavily with that market segment seeing a heavy decline in 1Q16."
No word there on why EMC declined so abruptly quarter-on-quarter or year-on-year, or why NetApp declined 15.6 per cent year-on-year. Possibly price-cutting was a factor as legacy vendors and products tied to repel all-flash and new hybrid array vendors and products.
Hitachi and IBM tied for fifth and sixth positions, both down year-on-year, as can be seen from IDC's table: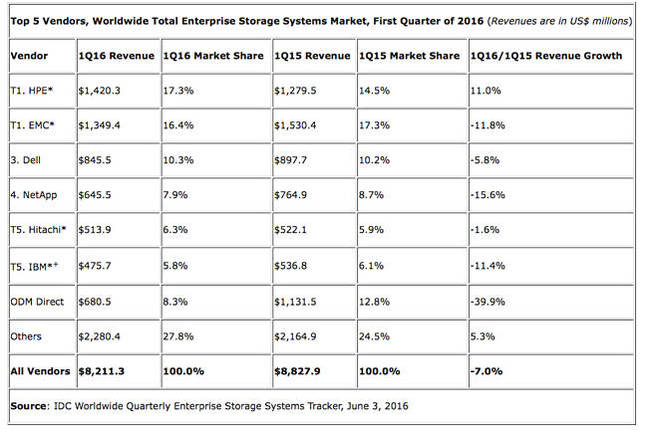 Here's a chart to show the changes more clearly: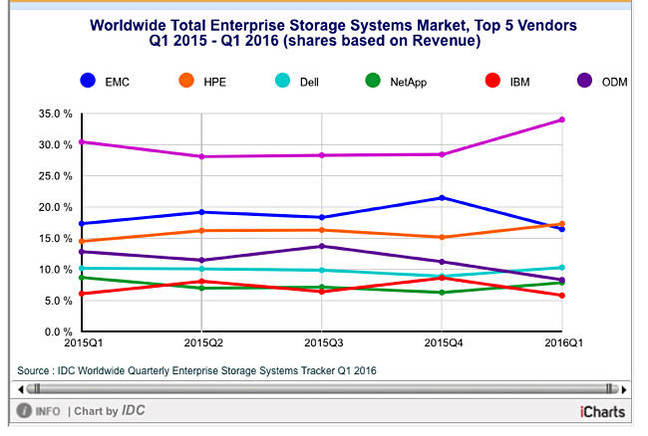 Looking at externally-attached storage alone then EMC, as expected, is the grand fromage, with NetApp cheese number 2, and HPE and Hitachi tied for cheeses three and four, and IBM and Dell tied for cheeses number five and six. The external storage market was worth $5.4bn and declined 3.7 per cent year-on-year.
Here are IDC's tabulated numbers: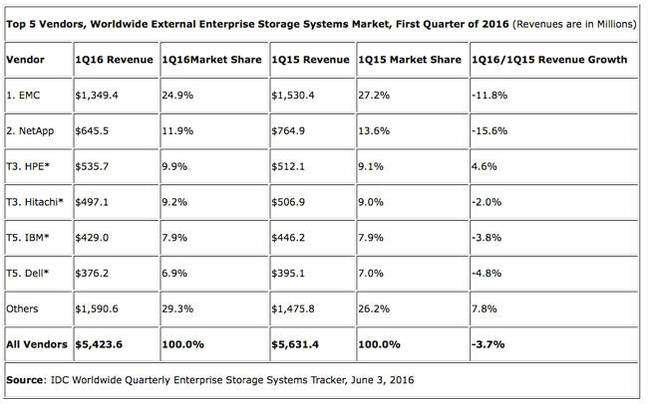 The IDC folks say the total all-flash array market generated $794.8m in revenue during the quarter, up 87.4 per cent year over year. The hybrid flash array segment of the market saw $2.2bn in revenue with a 26.5 per cent market share. ®