This article is more than 1 year old
Who's to blame for the NHS drug prices ripoff?
The Times wants to put the horse before the cart
The NHS has been hit by a new scandal – overpaying for generic drugs. It's a cracking story, and all credit to The Times for breaking it.
The Thunderer reports how the NHS buyers continued to acquire drugs at eye-gouging prices, using prices set by the marketing middleman, when much cheaper alternatives could have been acquired.
It's shocking because of the freeze on NHS drug spending. Overpaying in one area of the drugs budget means someone who would expect a particular prescription will go without.
And the sums are substantial. We learn that the price of Welldorm, an insomnia drug, rose from "£12.10 a pack to £138.56 between late 2014 and this month, an increase of more than 1,000 per cent. In the same period, Gynest, a hormone replacement cream, went from £4.67 to £24.98."
The drugs then lost their brand names and were instead sold under their generic names.
But somewhat problematically, however, The Times seeks to pin the blame on the opportunistic supplier, Atnahs, and absolves the NHS from any blame. The paper informs us of what it calls a "loophole". Branded drugs are more expensive, but the price is regulated. Generic drug prices are negotiated on the open market, and as a huge buyer, you might think that the NHS was in a position to drive a hard bargain. But negotiation is just what the NHS failed to do.
Instead of calling for a public enquiry into the incompetence of NICE and the NHS drug acquisition system, The Times implies price regulation of the generics is needed. This would apparently "plug" the "loophole".
This seems to be putting the conclusion before a proper enquiry into the problem has taken place. How much is Atnahs really to blame? Let's use the example of another drug, we'll call "Polo Mints". The street price of this drug is around 60p in a small, packet-sized prescription. But what if my newsagent asked me for £10 for a packet of Polos, and each time he did this, I agreed? I would in effect be setting the price, because I'm a complete mug. I haven't checked for alternatives, and am accepting the first price the seller offers. Would we really need to bring plug the "Polo loophole" by passing a new regulation? It doesn't really follow that we should.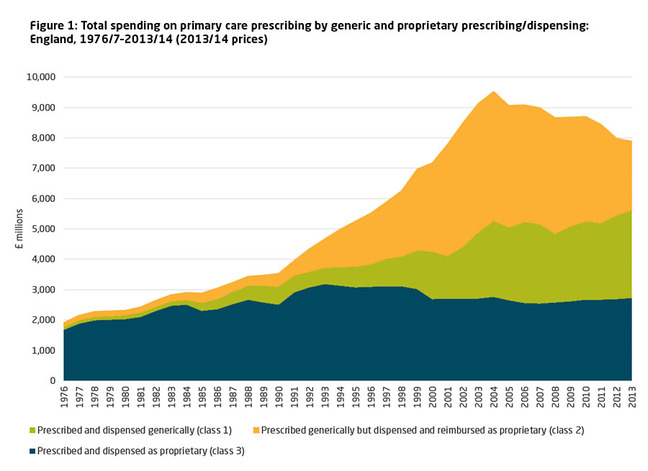 The problem, explained in depth here by the King's Fund, is the reimbursement of generic drugs as proprietaries. That's the orange portion of the graphs on their page. And while it's falling, it essentially represents an overpayment.
The Health and Social Care Information Centre publishes in depth statistics on the cost of NHS prescriptions, which you can find here.
Your comments are most welcome. ®