Windows 10 market share jumps two per cent
This doesn't mean the nagware is working: selling PCs running anything is now a slog
---
Microsoft's sometimes hard-ball tactics to get people running Windows 10 look like they're working.
All three of the desktop OS market share data sources we track report a nice bump for Win 10 in May.

Desktop OS market share March to May 2016. Click here to enlarge
There's the tale of the tape, across three months of data from Netmartketshare, StatCounter Global Stats and the Windows traffic to US government web sites.
All three sources report around two per cent jumps for Windows 10, which is nice for the Windows 10 team.
It's harder to say if the jump is good news for Microsoft. The world runs about 1.5 billion PCs but sales aren't growing , with 2016's annual sales looking like landing somewhere near 250 million. A two per-cent jump in OS market share therefore isn't much more than a month's sales of new PCs.
And selling even the 20-million or so PCs that ship every month is tough these days.
I've just spent a few days at Computex, Taiwan's annual PC-centric trade show. One of the things I saw there was the "Intel Experience Store", an Intel-run "shop" full of PCs doing all the things PCs can do these days, like driving virtual reality rigs or sit-in racing games rigs.
"Shop" is not the right word because it doesn't sell anything. Intel's opened the store for a few months just to ensure locals can get their hands on new PCs, to prod them about good reasons to upgrade. This isn't just a Taiwan thing: Intel's created similar experience zones in US electronics retailer Best Buy.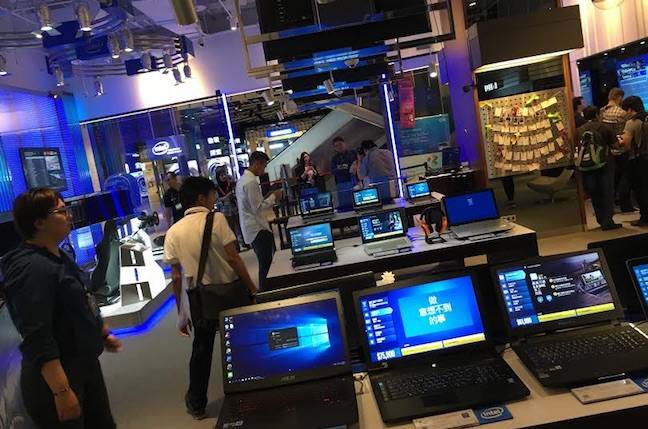 The Intel experience store in Taipei
There was a time when PCs sold themselves and upgrades were compelling. Now refresh cycles have blown out to four or five years and other devices compete for personal and business buyers' attention. For the latter market, 2016's PCs offer a few nice tweaks and better manageability, but not many reasons to upgrade. Meanwhile, Intel is backing those who would deliver graphics-intensive applications to virtual desktops or stream them from the cloud.
Intel's staked a lot in the CPUs-for-clouds market. But even though Microsoft's cloud, including Office 365, is going gangbusters, it's failure with Windows Phone and the declining PC market mean it no longer commands the majority of end-user computing devices. So enjoy this month's Windows 10 market share bump, Microsoft. And keep the nagware running: you probably need it. ®