Flashy startup Apeiron wipes Splunk floor with XtremIO... says Apeiron
IO-bound Big Data apps love NVMe over fabrics
All-flash array startup Apeiron claims it blows EMC's XtremIO away when it comes to Splunk speed testing.
Splunk's software searches and analyses Big Data. Apeiron has an ADS1000 NVMe over fabrics-connected flash array built from NVMe flash drives. It does not use Fibre Channel or iSCSI switches to connect to accessing servers.
Apeiron has just completed Splunk testing, using both Bonnie++ and SplunkIT. Apeiron's Jeff Barber, EVP for sales and alliances, told us: "Because Apeiron was built from the ground up for NVMe, and we do not have the latency of any external switches, our numbers are 45 times the published EMC benchmarks for reads and 33 times EMC for writes. The footprint reduction is 80 per cent, and the server count is reduced 60 per cent."
The Apeiron Splunk performance numbers are detailed in a white paper (PDF), and here is a table of Apeiron's raw data and EMC XtremIO Splunk data from that white paper: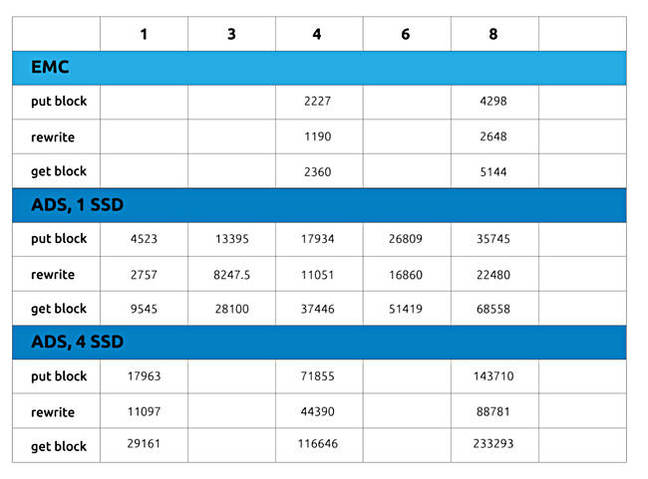 Apeiron raw data for its own and EMC XTremIO Splunk runs with from 1 to 8 servers
EMC's documented Xtremio Splunk validation using Bonnie++ can be found here (pdf). And here is a graphic from that: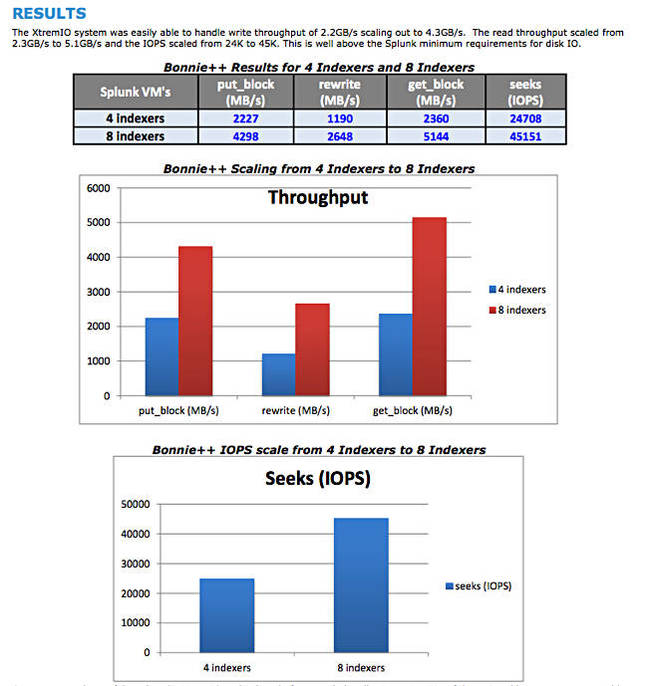 EMC XtremIO Splunk validation run using Bonnie++
Find out more about XtremIO and Splunk here (pdf).
Apeiron has graphed its Splunk performance relative to that of Xtremio: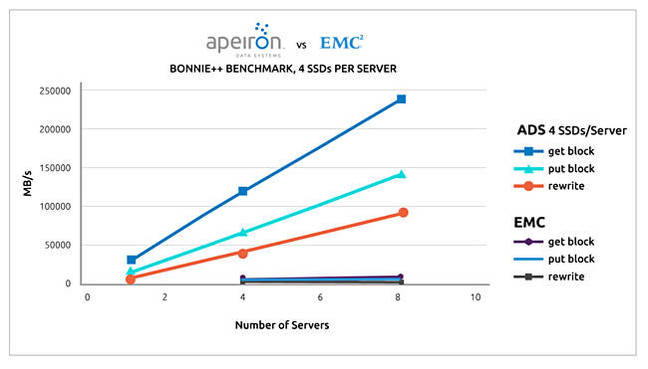 Jeff Barber, in typical sales guy mode, said: "The numbers are beyond compelling, eclipsing the EMC-published figures by 8x per server. This means Apeiron can accommodate years of data on NVMe SSDs, and provide real-time SLAs for any type of query."
It seems to us that a comparison between EMC's DSSD and Apeiron would be pretty compelling, as DSSD also uses an NVMe over fabrics approach to connect application servers.
With the huge network latency reduction reduction such arrays exhibit – circa 50 microseconds versus 700 microseconds or more – comparisons against Fibre Channel or Ethernet-connected all flash arrays are almost like comparing disk and tape access latencies.
We understand Apeiron will GA its product in a few weeks. The pricing comparison with XtremIO is going to be interesting. ®