This article is more than 1 year old
HDS freezes high-end storage hardware investment
But challengers to its high-end dominance should BRING IT, says Hitachi bloke
According to IT Pro Nikkei, Hitachi is freezing further investment in its VSP high-end storage because it is a low-profit business and Hitachi wants to increase its operating margin.
The report quotes Keiichi Shiotsuka of Hitachi, Ltd, the Executive Officer Senior Managing Systems & Services Business Vice President. He said Hitachi is "freezing the investment in the high-end model of the storage business" and "... [is proceeding] with structural reforms of hardware development business of low-income, in the year ended March 31, 2019 [to] increase the operating margin of the "Systems & Services business," up to 10 per cent."
This is translated from Japanese text, so bear with the wording of the rough translation.
The idea seems to be that high-end storage is a low-profit platform business and a problem area. Hitachi wants to achieve a 10 per cent operating margin, and the high-end storage part of the business will be reduced. Hitachi will focus more on its Lumada Internet of Things activities, which includes Pentaho analytics.
That means the VSP (Virtual Storage Platform), which it upgraded in April. This competes with EMC's VMAX and IBM's DS8000, and is moving to all-flash.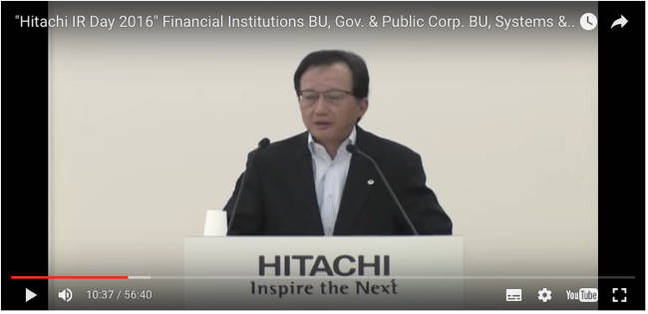 Keiichi Shiotsuka's presentation at Hitachi on June 1 (Investor Relations Day). Click image to play the video and jump to 10.37.
HDS will concentrate its storage developments on flash and Big Data IoT storage management, according to slide 13 in Shiotsuka's June 1 presentation at the Hitachi Investor Relations Day on June 1: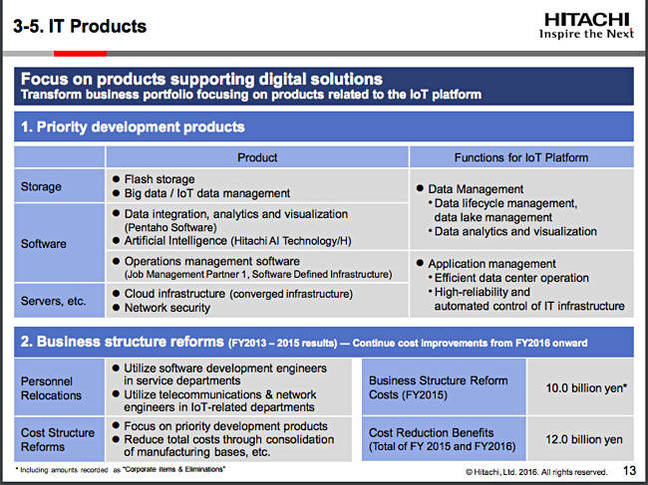 Slide 13 from Shiotsuka's deck.
In January, Hitachi/HDS introduced an all-flash array HFS A series separate from its existing storage platforms.
It will concentrate servers and storage on products that support services. The focus is on the Internet of Things and the focus for storage and software is to provide functions for the IOT platform, meaning Data Management with data lifecycle and data lake management, and data analytics and visualisation. Hitachi is shifting towards having a more services business focus.
Chris Drago, director of Global Corporate Communications at Hitachi Data Systems, told us: "Hitachi is absolutely committed to shifting investments from disk based hardware to flash storage, our Storage Virtualization Operating System (SVOS) and increasing automation and management options for our customers."
He enlarged on this, saying:
Any "freeze" of investments does NOT mean SVOS functionality investments stop (works from entry to mainframe), flash improvements stop (leadership FMD capabilities span G200 to G1000) or innovation is done. It means the investments in stand-alone high-end hardware are no longer a priority – especially since (and not included in that analysis) there are new hardware and system capabilities already developed that have yet to launch which will carry our platform forward for the next few years, and once again push the industry with our innovations.
In his view: "Since most users don't push a G1000 to near its performance potential, making that our driving priority for the next few years would be silly. There are other innovations that will advance our customers digital transformation journeys faster and that's where we are prioritizing our investments."
Drago maintained: "We believe we out-invest and outperform all others in the high-end enterprise space already. Gartner rates high-end storage systems in a Critical Capabilities document, and we've been the highest rated platform for every single version of the analysis. We have also won more Storage Magazine Quality Awards (as voted on by users) than anyone else in the industry and by a wide margin. Our high-end credibility is very difficult to question."
Our understanding here is that Hitachi is beginning to retreat from high-end monolithic array hardware, but not from SVOS, turning instead to fast flash storage products and massive, petabyte-scale content storage for IoT data, and its subsequent search and analysis. This re-directed set of storage hardware and software will provide the IoT storage and analytics needs for Hitachi's various business units.
In effect, Hitachi sees the dawning of the end-period for monolithic array hardware. It's not the end of them but it sure seems like it may be the beginning of the end. ®