Picture this: Live 'net congestion maps for sysadmins
So you can know, before Twitter does
---
The Center for Applied Internet Data Analysis (CAIDA) is getting closer to giving the world live 'net congestion maps and alerts.
It's outlined the current state of its development here.
The effort, ongoing since 2014, will eventually provide a "real time" view of congestion events around the world – something that might look like this:
It's the sort of thing that will, if successful, get posted interminably on social recyclers like IFLS, just like Telegeography's maps do (even though they've existed for more than a decade).
But it's also a worthwhile endeavour, because frankly at the moment, outages are all-too-often mysteries – submarine cable companies, for example, try to avoid announcing cable breaks if they can get away with it.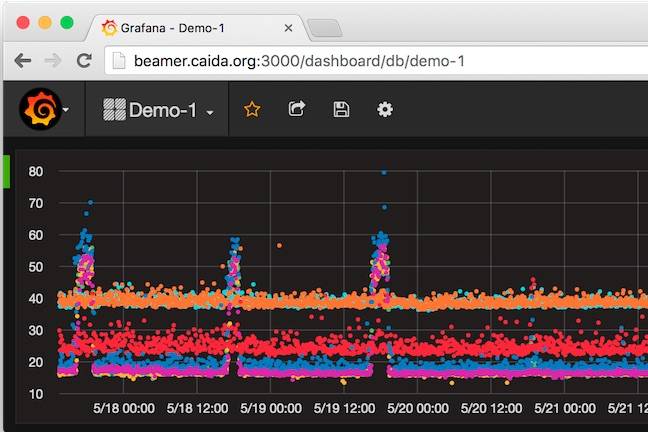 CAIDA's congestion map
It sounds easy, surely? – if, for example, you wanted to check congestion in OzEmail's network from a Sydney vantage point, a probe to the nearest router and one to the furthest (in Perth, for example) should tell you whether there's an unexpectedly big change in latency.
The change in latency was what CAIDA hoped to use as a proxy for congestion – but things turned out to be more complex (don't they always?).
It turned out to be hard to identify a network's interdomain links – network owners don't follow any standard for internal IP address assignment, ISPs maintain unadvertised IP address spaces, and traceroute isn't a particularly reliable probe mechanism.
The CAIDA boffins decided in the end that their best approach was to create their own probing tool, called bdrmap, and since 2014, they've put increasing effort into sucking that data into a suitable back-end, scaling up the measurement system, and improving the visualisations.
Next on CAIDA's list is to add alarms, so sysadmins can have their lives made hell by the question "what happened to the Ballarat CDN link" when a video goes unexpectedly viral.
As the team notes: "The major piece that remains is continuous analysis of the TSLP data, generating alarms, and pushing on-demand measurements to the reactive measurement system".
Amogh Dhamdhere, Matthew Luckie, Alex Gamero-Garrido, Bradley Huffaker, kc claffy, Steve Bauer, David Clark are the core team in the development.
CAIDA is also the outfit behind this Internet topology map. ®