This article is more than 1 year old
US military tests massive GPS jamming weapon over California
Aircraft warned to stay out of area
The US Federal Aviation Administration (FAA) is warning aircraft to stay a few hundred miles away from the Naval Air Weapons Station at China Lake, California, because the military is testing a new gizmo that disrupts GPS – and may also mess with flight control systems.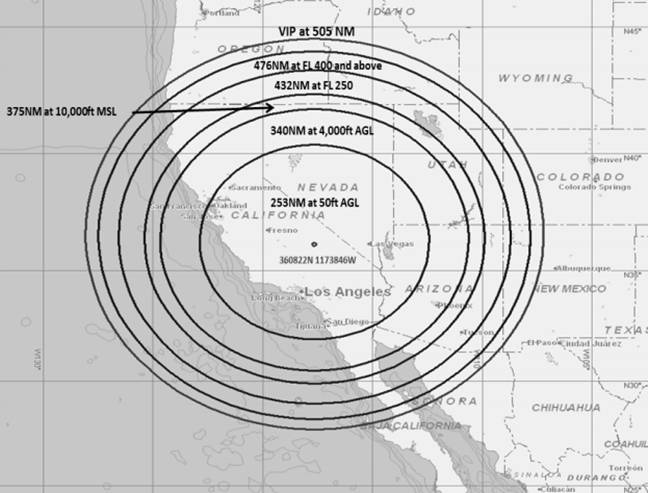 Like Bob Marley, the US military is jammin'
The FAA has issued a Notice to Airmen (NOTAM) warning [PDF] that on June 7, GPS readouts will be unreliable or nonexistent for 253 nautical miles (291 miles) at 50 feet above sea level, for 340NM (391 miles) at 4,000 feet, and for 375NM (431 miles) at 10,000 feet, covering a huge area of very busy airspace. The above map shows the Los Angles Basin, the San Francisco Bay Area and Las Vegas in Nevada are among the areas affected in some way.
In addition, the FAA is warning pilots flying the Embraer Phenom 300, one of the world's most popular executive jet aircraft, that the testing could interfere with flight stability controls and has said extra care should be taken in the area.
The jamming will take place between 0930 and 1530 Pacific Time and more tests are planned. Further GPS jamming will take place at the same time on June 9, 21, 23, 28 and 30, bringing more disruption for travelers.
The US is not alone in this. The UK communications regulator Ofcom has issued an advisory that aircraft-based GPS jamming exercises will be held over the Scottish Hebrides at 0900-1100 and 1300-1500 local time for the entire month of July.
GPS jamming is nothing new – even the North Koreans have it – but this latest testing does look unusual. The lack of ground jamming could indicate that the device is airborne, but the FAA only concerns itself with airspace, so ground based jammers can't be ruled out.
It's also possible that the jamming is, in fact, just a testbed for some new anti-jamming technology under development and being flown overhead. With the ability to jam GPS getting easier and cheaper each day, the military is keen to develop new systems that would still allow aircraft, drones, and missiles to defeat jamming signals.
There's been no word from China Lake as to what the hardware used for the tests actually is (and we're not exactly holding our breath expecting an answer), but for the meantime avoid flying these unfriendly skies. ®