This article is more than 1 year old
Digital ad biz is fraudulent by design, complain big brands
How do I defraud thee? Let me count the ways
Global trade body the World Federation of Advertisers (WFA) has produced a useful guide to the digital ad industry's toxic sludge. The WFA represents the biggest spenders on digital advertising, such as Unilever and MasterCard, and they're not happy.
Advertisers lose out from ad fraud, and firms need to clean up their own act by demanding transparency and devoting resources to fighting the fraud, the WFA recommends [subscription needed]. But it also urges publishers to be less desperate in chasing clicks and pennies.
Desperate publishers are able to buy dodgy traffic to bump up their numbers. But until the ad biz can clean up its act, they should be careful spending anything at all:
"Until the industry can prove that it has the capability to effectively deal with ad fraud, advertisers should use caution in relation to increasing their digital media investment, to limit their exposure to fraud," warns the report.
At the current rate of growth, fraud will exceed $50bn annually by 2025 "on a conservative basis." Nine out of ten WFA members believe the "structure and systems in the digital media ecosystem" are to blame for fraud.
There are many shady practices at work, falling into three categories, the report explains.
Website fraud is where the operator is an ad network affiliate, such as in conversion fraud schemes.
Platform fraud includes social network and user-generated-content hosting sites.
Data fraud includes fiddling the numbers, for example by using a botnet.
Website fraud can be identified because the site sends more traffic to an ad exchange than its size suggests it should – so it could be bumping up the numbers. Website fraud encompasses a range of schemes including hidden ads, cookie stuffing, clickjacking and cloudbot traffic. The latter is where a hosting company's IP addresses generate traffic.
Spam sites are a particular problem for programmatic advertising trades. Programmatic advertising is a real-time auction where an ad is placed based on various characteristics (including your behavioral history) all within a fraction of a second, as the page is being loaded.
"We have seen many individual publishers with 100 per cent non-human activity, and some major (premium) publishers with +70 per cent of non-human traffic. Although some publishers might directly engage in purchasing traffic via botnets, nonhuman traffic on premium publishers is mostly because of low-quality sourced traffic, web crawlers and scrapers," says Ehsan Mokhtari, Sentrant CTO and a WFA board member.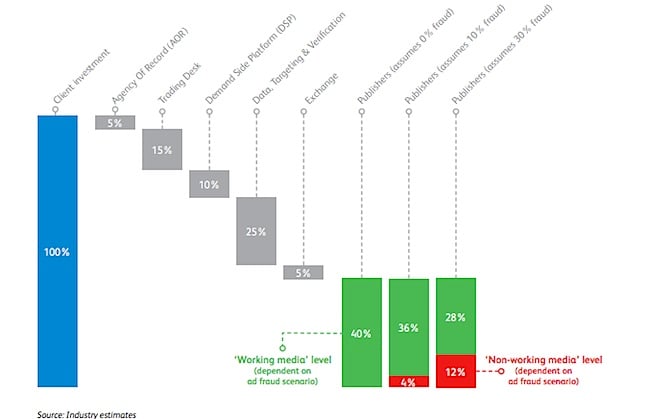 The graphic illustrates where a pound of digital advertising spending actually goes. Note that in a world with zero fraud, the various ad biz intermediaries would take their cut. The green part is the real media buy an advertiser gets.
Cleaning up the house isn't going to be quick. The advertisers own trade body this week published guidelines by the Joint Industry Committee for Web Standards (JICWEBS) on measuring the "viewability" of video advertisements. Many types of ad fraud ensure that an advertisement is never seen by a human. Agreeing on a common measurement benchmark is a milestone in agreeing how to measure fraud – but shows how far the business has to go. ®