Comment An IDC all-flash array (AFA) supplier numbers table, forwarded to us by EMC, appears to contain a few oddities, such as the exclusion of Dell, HDS, Kaminario and Violin products. We asked IDC and it has explained its reasoning.
Our question to IDC was this: "The table doesn't mention Dell, HDS, Violin or Kaminario. That's odd. Is IDC doing a Gartner and excluding certain AFA products because they are not exclusively AFA product lines, or for some other reason?"
IDC said: "This is taken from the Q4/15 IDC Enterprise Storage Tracker, and EMC (the vendor that forwarded you the excerpt) has modified it from the form released by IDC."
Ah, OK. Some selective extraction going on, perhaps? IDC expanded:
As of Q4/15, Dell and HDS did not have any storage arrays that met our definition of an All Flash Array (even though they have all–flash configurations of arrays that we consider to be Hybrid Flash Arrays or HFAs) so they are not in the this table of AFA vendor revenues. They would appear in the HFA Vendor Revenue chart.
So we have a Gartner-like exclusion policy operating to classify AFAs that can have disk in their configurations not to be AFAs. This is like classifying a French speaker who also speaks Spanish as a non-French speaker. It's damn hard working out AFA array vendor revenue shares here.
Moving on:
In January 2016, HDS released the A Series product which is considered by IDC to be an AFA but that product did not generate any revenue in Q4/15 – HDS will have some revenue contribution to the AFA market going forward though. As a public company, Violin is in the table that IDC published (but was apparently removed by EMC before they sent this chart to you) with revenues that are much higher than Huawei (you have stated the appropriate revenue comparison between the two below*).

Kaminario has much larger revenues than Violin but we are not releasing those publicly (they are still a privately held vendor that does not want us to share that data) so we collect the data from them to make the overall market revenue accurate but they are not broken out separately – their revenues appear in the "Others" category.
Thanks for the explanation, IDC.
An EMC spokesperson responded to this: "In regards to the comment from IDC about EMC removing Violin from the table before sending it to you, the chart we sent you was based on IDC's Enterprise Systems Quarterly Tracker dated March 2016 which takes a look at Q4. According to the IDC report pivot tables made available to EMC, Violin was not a listed vendor."
He added this point: "Last week, IDC published its latest Enterprise Storage Systems Quarterly Tracker dated June 2016. With the publication of IDC's June Tracker, IDC broadened its definition of all-flash arrays. This change in taxonomy resulted in the inclusion of some new AFA vendors and increased the revenue of some of the vendors that were already ranked (primarily NetApp.)"
Here is the data in question, tabulated by vendor revenue amount.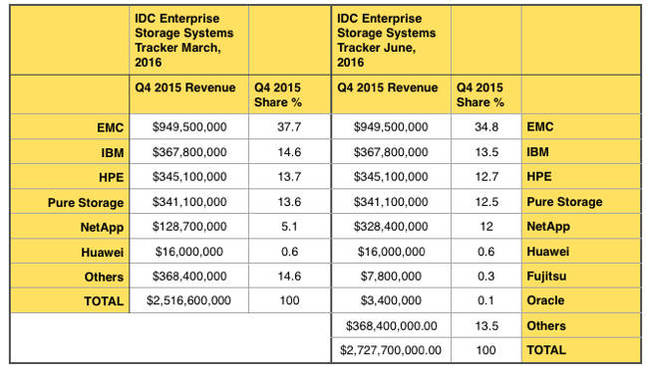 The right-hand table increases NetApp's revenue and adds Fujitsu and Oracle AFAs.
NetApp's AFA revenue has more than doubled, giving it a 12 per cent revenue share for 2015's fourth quarter, instead of the original 5.1 per cent. That puts NetApp in striking distance of Pure and wouldn't the Kurian clan be pleased, so truly, madly, deeply pleased, to pass Pure next quarter.
Fujitsu and Oracle revenues have been added, although the Others total remains the same, so this is new previously unrecognised revenue. ®
* Violin's lQ4 2015 quarter was a $10.9m one, indicating a $44m run rate.