Wikimedia boss scoops $100,000 payrise – after stepping down
You're going? Here, have 50 per cent more dosh
---
The former head of the charity that collects and dispenses cash from Wikipedia's fundraising secured a pay rise worth almost 50 per cent – after she stepped down as chief executive.
The details only emerged after the US-headquartered Wikimedia Foundation released its 990 tax form for 2014-15.
Gardner joined the WMF in December 2007 and revolutionised its shambolic fundraising efforts. The operating costs of the world's sixth biggest website are under £3m but the WMF brings home far more that that, with $75m raised in 2014/15.
Gardner's compensation rose to $320,057 after she stepped down as an executive. How come? Gardner agreed to stay on as a "Special Advisor" until a new chief exec could be found, earning an extra $165,000 on top of her $200,000 basic salary.
Wikipedia volunteers questioned the deal.
@SuePGardner Ta for the time when you can. Position was never listed on "staff & contractors" page, never mentioned until Form990 published.

— Liam Wyatt (@Wittylama) June 6, 2016
Before she stepped down as chief exec, Gardner admitted that some of the surplus has been "frittered" away, questioning the wisdom of doling out of large amounts to regional WMF chapters, and acknowledged that the windfall created "sometimes difficult dynamics" between unpaid volunteers and the new class of paid bureaucrats. A decade ago the Foundation employed just three people.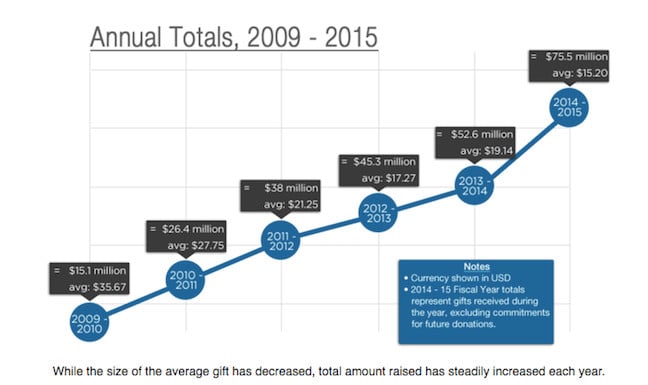 The Wikmedia Foundation has so much spare cash floating about it has been able to create an endowment fund.
The 990 form also discloses that WMF spent $1.7m on legal fees to protect its intellectual property. Which is ironic. Unlike "neutral" encyclopaedias Wikipedia takes an activist stance on IP issues, having played a leading part in the campaign to kill Congress' attempts to strengthen intellectual property rights in 2012 and raising subsequent alarms, such as the "Freedom of Panorama" campaign last year. ®