This article is more than 1 year old
Scality waggles finger, shows off sixth RING
De facto is as de facto does and de facto S3 API is the object API
Scality's sixth RING object storage software version adds S3 compliance to Active Directory and AWS identity and access management support.
It says it's the object storage supplier with all this so you can have enterprise production deployments of S3-based apps. We're told object storage deployments have been limited to date, due to the lack of a standard API and the lack of integration with existing IT single sign-on systems.
Step forward S3, adopted by many other object storage suppliers, AD and the AWS equivalent. The enterprise app deployment can be on-premises, in the public cloud, or both – the Scality S3 Connector code is compatible either way.
This S3 Connector uses the S3 Server, a Scality-originated open source S3-compatible API server, available on Github. AWS introduces new S3 capabilities at its own rate. We're told that S3 Connector development is based on continuous integration fast delivery of features when ready, making it possible for Scality to introduce new methods in S3 shortly after their publication by AWS.
Apps can access any bucket or object from any Connector, enabling parallel and multi-user access to data, scaling to billions of buckets and objects. Scale out performance by adding more Connectors. The architecture is comprised of several key services delivered as Docker Containers for ease of deployment.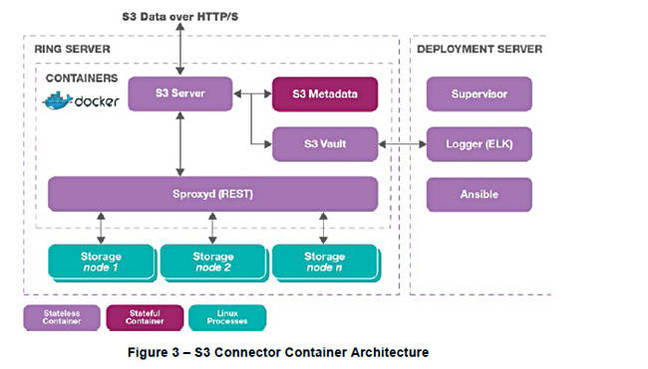 RING 6 can store files in a non-rewriteable, non-erasable format (WORM), per SEC Rule 17a-4. There are optional services for migration from EMC Centera and NetApp Snaplock.
Scality says it has enhanced file system support, including automatic failover, and improved parallel and multi-user write performance to the same file system directories. This helps backup, and media and entertainment applications.
Jerome Lecat, CEO of Scality, opened the quote tin and said: "The whole IT industry is going to be transformed by the economic transition to digital business and the technical disruption of cloud technologies. We are just at the beginning, perhaps one per cent penetration of 'cloud'. The winners will be those who can bring the benefits of the cloud to mission-critical enterprise workloads."
What does he mean by cloud? We think it's the public cloud, with Scality saying Amazon Web Services (AWS) with EC2 and the S3 service is the clear and far away leader among public compute and storage clouds.
Scality acknowledges many other ISV products are adopting S3 as their back-end storage API, including Cloudian, CommVault Simpana, Veritas Netbackup and emerging players such as Ctera. In essence, S3 is the de facto object storage API standard, analogous to SQL for relational databases, and NFS for NAS systems.
RING v6 is generally available. ®