Competition Spotify is spending a lot of money on original music-related video content. Some of it is dull and worthy, but some of it has the surreal desperation of Alan Partridge attempting to revive his career.
Inspired by this, we invited readers to come up with their own candidates for new music TV shows – and you didn't disappoint.
In fact, Reg readers came up with so much quality material we're milking it for all its worth narrowing the field down to the best five candidates – and you can vote for a winner.
Read on to discover the five finalists and what glittering prizes the winners can expect to receive.
But first a couple of honorary mentions. This one would grace any music channel...

... and this one came close, only to be sidelined on a technicality: of being in appalling taste:

Taniwha12 offered "Hugh Grants Huge Grants" in which "Hugh Grant travels the country visiting students from underprivileged families, handing out grant money to the most needy"
... while reader I am the liquor offered us "Queen's Peach", where "Brian May and Roger Taylor compete for glory in the soft fruits category at the Stoke Poges Horticultural Show".
Sean Ellis' suggestion "Jean-Michel's Jars" is self-explanatory. Unfortunately this had to be excluded from the final five when we noticed that the star is French.
So onto the nervous finalists, then, making small talk off-camera to Ant and Dec...
This idea has the merit of being cheap and filmable close to London:

While it's amazing that this great TV show hasn't actually been done yet.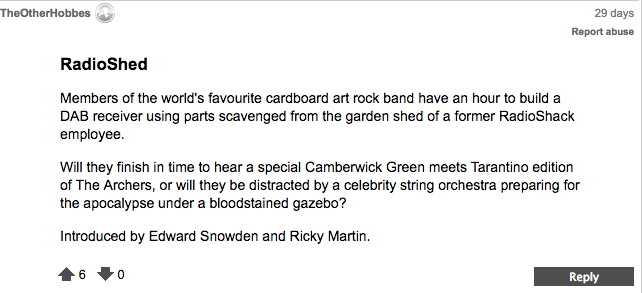 And the next two would lively up any TV schedule:


This personal favourite has the merit of being topical...

The papers reported at the weekend that "pop stars including Mike Skinner of The Streets and Damon Gough, who is known as Badly Drawn Boy" put their money into an investment scheme subsequently ruled as fraudulent. Put this one down as the one most likely to happen.
As for prizes, well, we got 'em.
Prizes
We have literally drawers full of unsold tat highly distinctive merchandise. The winner and runner up will each receive a Reg T-shirt – specify whether you prefer white, black or LOHAN-coloured, and the desired shirt size – and a mystery bonus book prize, pulled from the Guru Shelf here at Reg HQ.
The Poll
The small print
Families of Register, MTV and Channels 4 or 5 employees are not eligible to enter. Readers can vote multiple times, using the names of fictional relatives who live ten to a room. Any rules on expenses shall be overlooked, or passed onto the Electoral Commission for an investigation that never, ever finishes. You can continue to vote after the polls have closed, we just don't care.
Now get clicking. ®