This article is more than 1 year old
Don't let the Barmy Brexiteers wreck #digital #europe
You call it a gravy train. We call it #disruptive #innovation
¡Bong! I have always considered myself an internationalist. Expensive Swiss private school. Los Angeles rehab clinic. East London loft workspace and incubator.
My assistant มาลัย (which means "Garland of Flowers" in Thai) is from somewhere in Indo-China. My refreshments are Colombian.
I am a borderless child of John Perry Barlow, of Lawrence Lessig, and of Ayn Rand. A three-parent digital nomad.
Digital, like capital, knows no borders. Digital is fluid, like water. Digital is also porous, like a PG Tips tea bag. Think of Digital like a liquid teabag, one that roams the world looking for disruption. It's a teabag that's ready to pick a fight with yesterday's vested interests. Then the gloves really come off. Digital doesn't have a care in the world, except perhaps for tax arbitrage opportunities and inconvenient extradition treaties. Digital is the future.
You know this is true, and the future belongs to me, and people like me.
But a teabag can't make tea on its own. (Was this Confucius or the Dalai Llama? มาลัย please check - sjb]. It hates solitude and seeks clusters of opportunity. Clusters of like-minded disrupters, ready to blow away outdated rules that hinder disruption.
What rules? Rules like corporation tax, labour laws, and intellectual property protection.
This is why I feel the need to intervene so strongly in the ludicrous panto currently underway in the UK.
"Europe may not be able to control its borders. But every web page cookie gets frisked on its way in. And that's much more important."
The UK is poised to turn its back on the lifeblood of digital entrepreneurs: taxpayer handouts. Entrepreneurs and investors just like me are appalled.
"There's a lot of money with a digital label on it – over €20bn," from the European Fund of Strategic Initiatives – possibly the shrewdest investor in the world.
Entrepreneurs need to be the best coding talent available in Europe, which means the cheapest coding talent in Europe, on a disposable zero hour contract. The wretched publication you are reading right now once criticised Neelie Kroes for turning Europe into some idiot clog-wearing clone of Silicon Valley.
As if that's a bad thing. Jesus.
Thanks to Neelie, Europe is leading the way in gamification workshops and pro-social learning, for example. This is where the real wealth will be created: advising future generations how to hunt down subsidies.
Keep crying into that hairdryer, James Dyson. Real innovation today is social. Europe may not be able to control its borders. But every web page cookie gets frisked on its way in. And that's much more important.
Look. I'm not pretending that everything in the EU is rosy. It's not. I am alarmed that the regulations that (justifiably) harass saddo e-cigarette users (so-called "vapers") could hinder future innovation in self-medication. And yes, Google has to pretend to look worried while the European Commission makes a big song and dance about investigating its business practices. But you know what the end result will be. After a few years Larry, Sergey and Eric will get a theatrical slap on the wrist from some posturing Frenchman along with a pathetic fine. And everything carries on as before. Phew.
When some EU jobsworth says something like "New actors have to respect the fundamental elements: consumer protection, and freedom of contract, and competition. What we demand in a way, it's not much," then just keep nodding and re-emphasising the key buzzwords. They'll keep on handing over the dosh.
You call all this a gravy train. Fine. But I call you an analogue dinosaur, and I win.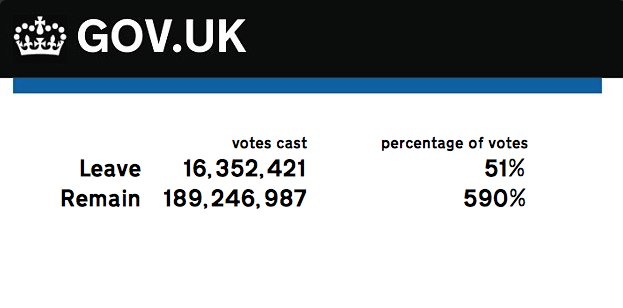 And in case I don't win, my friends at GDS will be counting the votes. ®
Editor's note
Steve Bong is the lead consultant on the European Commission's DSM (digital single market) strategy, a member of the European's Parliament's working group on sustainable innovation, and chairs the European Council's standing committee on Gamifying Transparency. His views are his own.