As part of its new five year plan, the Garda Síochána will up its efforts to tackle cyber crime after "a lack of investment in technology and resources has led to a widely reported back-log of cases".
"[T]o ensure Ireland can protect itself from cyber attack from rogue States and individual criminal elements an holistic all-of-government approach is required," said the nation's police force in its recently published Modernisation and Renewal Programme 2016-2021 (PDF)
At the moment, e-crims in the Emerald Isle are pursued by the Computer Crime Investigation Unit (CCIU), which is subordinated to the Garda's fraud investigation team. It works to detect crimes "such as computer-related fraud, online paedophilia, and illegal trading over the DarkNet".
According to the Garda, specialist cyber security units "will be set up to liaise with international partners on current and emerging threats, and to provide cyber and forensic tools to support front line policing and State security."
We will also work with Government agencies to protect national infrastructure. On cyber crime, we will expand our capabilities in this area through training with academic partners, increased investment in technology and people, and regionalisation of the Computer Crime Investigation Unit.
The CCIU is now being "restructured", which will see the appointment of a superintendent and two detective inspectors – one to look after cyber crime while the other is responsible for the forensic examination of computers.
Regional CCIU units will also be established, following the successful operation of pilot units, to provide local computer forensic services. In addition, the Garda will be developing and supporting a cyber-first responder and triage capability nationally. The cyber-first responders will support the regional units and offer a tiered level of capability, with the CCIU as the top tier of support and capability.
According to the five-year programme publication's attempt at management speak: "We will also work with the FBI, who are leaders in this field, to leverage best practice in this area."
The programme will only last until the end of 2017 for cybercrime.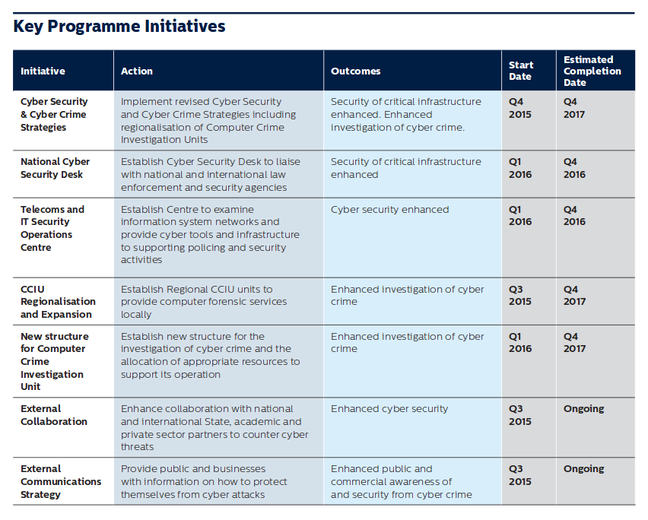 Currently the nation's approach to cybercrime is headed by Ireland's National Cyber Security Centre (NCSC) and its Computer Security Incident Response Team (CSIRT), both of which were established by the Department of Communications, Energy & National Resources (D/CENR) and worked to develop the National Cyber Security Strategy for Ireland.
At the moment, e-crims in the Emerald Isle are pursued by the Computer Crime Investigation Unit (CCIU), which is subordinated to the Garda's fraud investigation team and works to detect crimes "such as computer-related fraud, online paedophilia, and illegal trading over the DarkNet."
Garda commissioner Nóirín O'Sullivan said: "The next five years will see An Garda Síochána become a 21st Century police and security service the people of our country can be proud of and our people can be proud to serve in." ®