This article is more than 1 year old
NVMe over Ethernet is the future. And that's how we roll – Tegile
Hyperconvergence? Pfft, whatever, sniffs CMO
Comment Yesterday, at a TechLive event in London, Tegile said connecting arrays to servers across low-latency NVMe over Ethernet was the way forward.
Chief Marketing Officer Narayan Venkat said shared storage arrays had a future and represents a better way of consolidating data than hyper-converged systems.
Networked arrays need to get faster. Tegile would make that happen in several ways.
It intends to use Intel/Micron 3D XPoint storage memory, with its 5-7 microsecond latency to provide a faster tier of non-volatile memory than flash, even NVMe flash drives. Initially Tegile is likely to use XPoint DIMMs, as they are scheduled in the first half of 2017. XPoint SSDs will arrive after that and Tegile could well use them too.
If some other post-NAND non-volatile technology becomes viable, such as resistive RAM (ReRAM), then Tegile will examine its use.
Tegile controllers will start using NVMe flash shortly. We can potentially expect T4000 series product with dual-ported NVMe drives in the July-August period. These T4000 systems could have a fast NAND tier and a slower, capacity-oriented flash tier; hybrid or multi-tier flash.
In the future Tegile intends to support NVMe over Ethernet to connect its arrays to servers. Venkat said NVMe over Ethernet is winning over alternative NVMe fabric interconnects such as InfiniBand or Fibre Channel.
This fabric will provide memory-to-memory transfers at close to the speed of a server accessing its own direct-attached NVMe flash drives, effectively banishing network latency as an issue in accessing shared storage.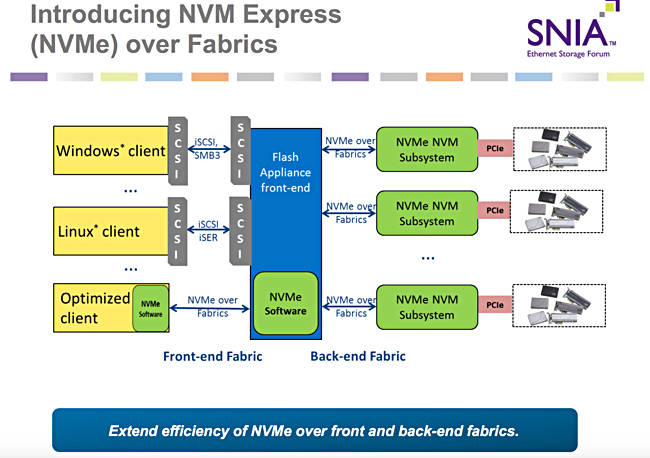 SNIA NVMe over fabrics slide
The capacity tier in Tegile's arrays could move to TLC (3bits/cell) flash, with the company looking at Samsung 3D drives. It will select a 3D NAND supplier which can provide the most cost-effective, reliable and enduring flash. TLC NAND support is fairly definitely coming.
The company will provide support for the S3 object access protocol in the future. It is also looking to extend RAID parities level beyond its current single and double parity options, so as to extend drive protection.
The IntelliCare intelligent support system currently has daily uploads if customer array performance data. This will move to hourly uploads to improve the granularity of its problem detection and alerting processes. The Treemap reports will gain more features, such as monitoring snapshot space against performance and managing clones better.
With NVMe over fabrics support coming, Tegile validates this technology, which has also been chosen by EMC's DSSD, Aperiron, E8 and Mangstor, as the way to lower networked array access latency. El Reg anticipates that all networked array vendors offering performance data storage will follow suit, with Fibre Channel and iSCSI falling back to connects for capacity-orientated arrays. ®