Gartner's magic quadrant-producing gurus have awarded Commvault the data centre backup and recovery Iron Throne.
They have also added Veeam to the Leader's quadrant and severely pruned the niche player section, following a market criteria review, in "response to Gartner client requests to focus more on backup and recovery software for the upper-midsize to large enterprises that protect data centre workloads managed by data centre personnel."
So in other words the 2016 "Magic Quadrant for Data Center Backup and Recovery Software" is same but different than "Magic Quadrant for Enterprise Backup Software and Integrated Appliances" that was last published in June 2015.
Here is a handy digest of latest data centre backup and recovery MQ for your delectation: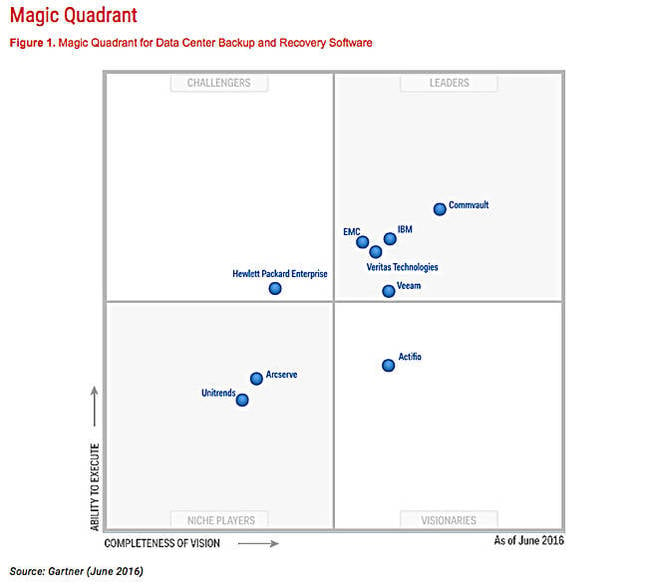 And now, the year-ago equivalent;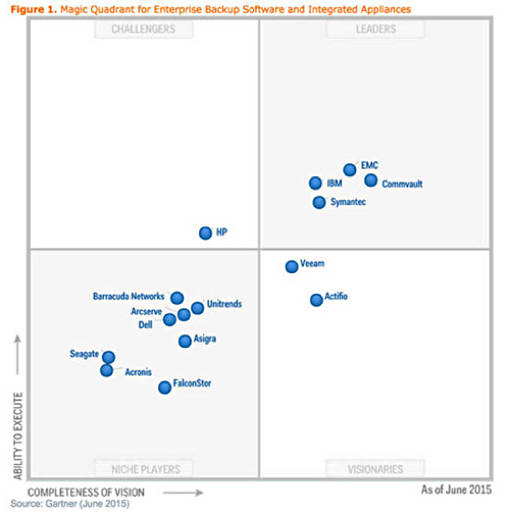 You can see there are a lot of changes, many due to updated market criteria;
Veeam shoots up from the Visionaries' quadrant to the Leaders' quadrant
Barracuda Networks is removed
Dell is removed
Asigra is taken out of the MQ
Seagate is removed, having sold off eVault
Acronis is removed
So too is FalconStor
Arcserve and Unitrends swap positions in the Niche Players' quadrant
Symantec is renamed Veritas, following the Veritas spin-off from Symantec
IBM has overtaken a weakening EMC in the Leaders' quadrant
Gartner's notes about the 2016 Magic Quadrant vendors included in 2016 mention that;
Actifio is facing competition from other emerging vendors with a similar architecture and from traditional vendors that continue to improve performance.
Arcserve now approaching the two-year mark after the split from CA Technologies, sales are improving, and the vendor is seeing greater traction from the UDP solution, with almost half of its active customers having migrated to the new platform. Arcserve has particularly strong presence in EMEA and Japan.
After achieving success with its bundles and responding to market pressures, Commvault has completed a second stage of pricing revision to get rid of its reputation as an expensive vendor, and convert to a customer-friendly, net-price maintenance model. Customer support and satisfaction feedback remain very favourable, and over the past year, Commvault has again made product enhancements that further its ability to scale into very large environments.
In the past year, EMC delivered a major revamp of NetWorker, whose client can leverage either Avamar deduplication for remote offices or Data Domain Boost deduplication for enterprise applications. However, customers implementing multiple products in a DPS edition need to use multiple user interfaces to perform different operations. Dell's pending acquisition of EMC may have an impact on product development and product focus.
HPE; While 2015 saw progress, there would seem to still be room for greater improvements, as customers and prospects report field activities with backup competitors. For data centre workloads, a new bundle called the Data Protection Suite includes Data Protector, Backup Navigator for operational analytics and Storage Optimiser for unstructured data management. Data Protector offers snapshot integration with HPE, EMC and NetApp storage arrays. References comment very favourably on HPE's Data Protection Suite's administrative experience and cite recent improvements in customer support. In February, 2016, HPE acquired Trilead and its VM Explorer product for VM protection and a mid-market backup offering.
IBM appears to have recommitted to product development, with a strong future roadmap for cloud exploitation and integration. IBM will have delivered four releases of Spectrum Protect in just over one calendar year. New Spectrum Storage Suite pricing allows customers to freely mix and match deployments of any of its storage software products at any time.
Unitrends was early to the market with cloud capabilities, and has weathered the limited cloud backup adoption rates better than some other competitors. Unitrends completed a product consolidation, and has released a major revision interface for the Unitrends Enterprise Backup (UEB) product to focus on usability and click count optimisation, as well as to prepare for more unification. Unitrends is strategically expanding its sales presence outside of North America, and throughout 2015 expanded cloud geographies in North America, Europe and Australia to bolster its Unitrends Cloud coverage.
Veeam has increased its deployments on enterprise VM backup and penetrated 70% of global enterprises. Veeam's success is largely based on its focus on solving VM-specific issues during the data protection process, and its effort to make its architecture easier to scale. The company's marketing has been very effective, and its sales momentum has been stronger than most of the competition.
In January 2016, the new Veritas Technologies completed its separation from Symantec, bringing in new executives from outside of the company to serve as CEO, chief information officer (CIO) and chief marketing officer (CMO). A comprehensive global marketing campaign was used to launch the new company. With the new organisational structure, Veritas has now increased its dedicated sales resources tenfold.
Additionally Gartner's authors note that, according to Gartner reference surveys and conference polling, Veritas' NetBackup is the most evaluated enterprise backup solution, the most deployed for organisations with 5,000 or more employees, and the second-highest response to the question of which provider would be respondents' primary backup vendor in the future.
We're told Arcserve grew its worldwide market share by 28.3 per cent year-over-year.
Gartner's MQ is published here. ®
Similar topics