Steven Appleton, the long-time CEO at memory chip maker Micron Technology, died this morning in a crash of an experimental plane in the company's hometown of Boise, Idaho. He was 51 years old and one of the youngest CEOs and chairman in the Fortune 500.
According to a statement released by Micron, Appleton died at Boise Airport "in a small plane accident." The company did not elaborate on the accident, and said that it would release more information later today.
"Our hearts go out to his wife, Dalynn, his children and his family during this tragic time," the statement read. "Steve's passion and energy left an indelible mark on Micron, the Idaho community and the technology industry at large."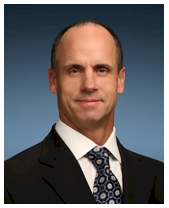 Former Micron CEO and
chairman Steven Appleton
A report in the Washington Post says that Appleton died while piloting a single-engine, fixed-wing Lancair, an experimental kit plane often used by stunt fliers like Appleton.
A National Transportation Safety Board investigator told the Associated Press that Appleton tried to take off in the Lancair but had trouble and immediately landed the plane. After going back to the hangar for a few minutes, he tried to get airborne again, got several hundred feet in the air, stalled, and crashed between the two runways at the airport.
Appleton punctured a lung, sustained head injuries, and broke many bones while stunt flying in 2004 – injuries that were not fully revealed until years later, according to the Post.
His death comes at a tough time for Micron, since the memory market is under pressure from flagging PCs sales, and president and chief operating officer, Mark Durcan, was set to retire in August of this year.
Appleton received a BA in business administration from Boise State University in 1982 and joined Micron the next year. He started out as a production manager and then rose to be director of manufacturing and then vice president of manufacturing. In 1991, he was named president and chief operating officer, and in 1994, at the age of 34, he was named president and CEO of the company – the youngest CEO on the Fortune 500 list. In 2007, he gave up the president title to Durcan and took over the chairman position. ®