This article is more than 1 year old
DataCore drops SPC-1 bombshell
Benchmark blows record to hell and gone
The Fort Lauderdale boys have struck again, with a record-breaking run of 5 million IOPS, and maybe killed off every other SPC-1 benchmark contender's hopes for a year or more.
DataCore Software, head-quartered in Fort Lauderdale, Florida, has scored 5,120,098.98 SPC-1 IOPS [PDF] with a simple 2-node Lenovo server set-up, taking the record from Huawei's 3 million-plus scoring OceanStore 18800 v3 array, which needs multiple racks and costs $2.37m. The DataCore Parallel Server configuration costs $505,525.24, almost a fifth of Huawei's cost.
It is astonishing how SPC-1 results have rocketed in the past few years, as Huawei and Hitachi/HPE and Kaminario have sent results above the 1 million IOPS mark.
What seemed ground-breaking at first is now viewed as ordinary; a million SPC-1 IOPS? Okay, move on. Five million, though, is more than the previous top two results combined and comes from just a pair of hybrid flash/disk servers, not a super-charged all-flash array.
DataCore's 2-node Parallel Server configuration used a pair of Lenovo X3650 M5 servers, each with:
Two Intel Xeon 2.30 GHz E5-2699 V3 processors each with 18 cores
1,536 GB RAM
Mix of SSDs and HDDs internal & external
RAID Controllers and Avago SAS HBA
Qlogic 16 Gbps Fibre Channel HBAs (host connections)
Brocade Switch
UPS
That's a huge amount of RAM – 1.54TB – for caching.
Here's a configuration picture: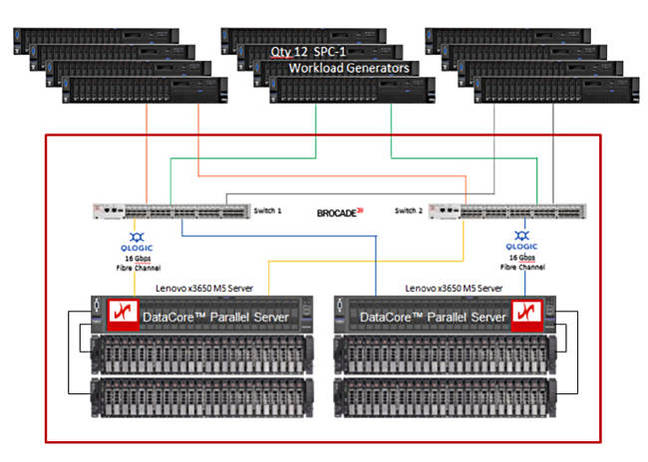 We tabulated the top SPC-1 results to see how they compare: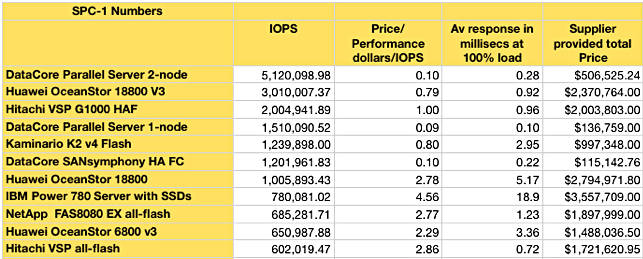 This is how the DataCore result compares to others when the SPC-1 IOPS values are charted: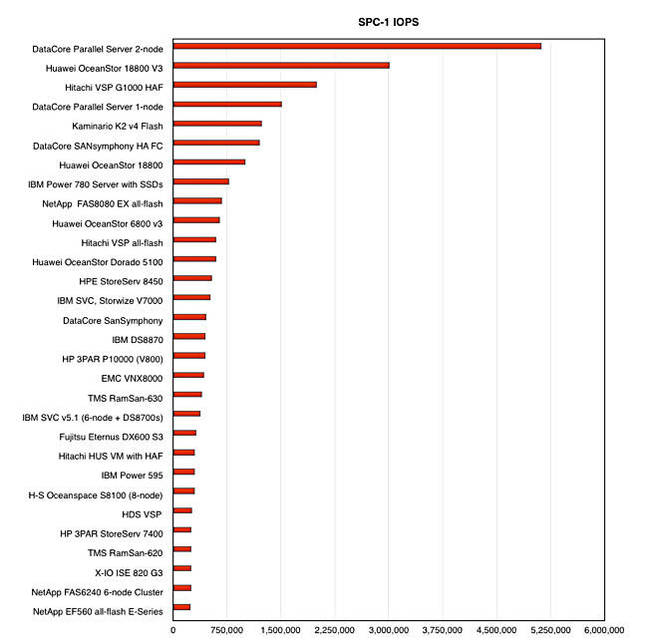 In price/performance terms, $/SPC-1 IOP, it's the same as DataCore's recent SANsymphony HA run, $0.10/IOP.
Comment
Is this DataCore series of wins so huge that other vendors will give up on the SPC-1 benchmark? DataCore chairman Ziya Aral said, "Momentarily, we may slow down the number of benchmarking vendors, but in the intermediate term, I expect the number to increase."
"Where the benchmark was stalled at was with giant million-dollar arrays which could only be built by the largest vendors. There have been no real innovations since flash. Now, people need to 'take the lid off' and prove that they are making headway towards new technologies."
Are DataCore customers pleased with the parallel server technology implemented as PSP4 until the latest PSP5 release, which was used in the most recent two SPC-1 runs?
CEO George Teixeira said, "PSP4 ... was the price performance leader and came in at 320 microsecond response times and 459k SPC-1 IOPS. The result when we did our surveys of 566 users back in April – prior to PSP5 – using Techvalidate is that our base of customers saw an effective increase of 3x or more ... not every user was on PSP4 which was released in November, so it was an average of some that included previous versions of PSP3, PSP2, PSP1 ... but even with that, 79 per cent of those surveyed showed a 3X or more performance improvement."
It's said that DataCore uses RAM caching with these SPC-1 benchmarks, and so is somehow not valid. It's hard to understand why this should be so. All the other vendors will be using controllers with DRAM inside them and caching too. They could use as much RAM cache as DataCore if they so desired and chose not to.
Aral said: "Everything is not 'run out of cache.' Our SPC-1 record run configured about 24TB of SSD and HDD to about 2.5TB of DRAM cache. Half of the storage was mirrored so that operationally the benchmark used about 12TB of capacity (of which it uses nearly all). At peak, we were consuming about half our cache so that the operational ratio was somewhere on the 8-to-1 or 10-to-1 mass storage to DRAM.
"That is not untypical and certainly not 'invalid.' Some vendors use a higher ratio and some lower. Virtually all high-performance vendors use very large caches and the benchmark tends to mediate this through cost (DRAM being more expensive, but the alternative being more devices), and because the benchmark's very high write ratio is 'cache unfriendly' (this was EMC's reason for avoiding the benchmark for more than a decade)."
And to ram the point home: "Having said that, there have been several all-cache systems benchmarked with SPC-1 over the years, without ever achieving the performance delta we have just demonstrated. The commentator is barking up the wrong tree: it is CPUs which are our secret sauce; not DRAM."
Even with its RAM caching, DataCore's servers still have to handle the IO and can do that better than other SPC-1 systems because they parallelize it. The point is that an SPC-1 result is an SPC-1 result and enables you to compare storage arrays on random IO with a generic business-type workload. Having done that, you can see that a DataCore Parallel Server delivers more performance for less money than other storage products. Maybe it would be a good idea to run a POC against other arrays on your shortlist to see which is better in your environment?
That point gets over another criticism, the one that says the SPC-1 isn't a realistic benchmark. It's a generalized storage system comparison tool using a generalized workload. As such, you can get broad indications from it; indications which you can then verify with your own workloads in your own IT center.
DataCore resellers can now be more or less assured that they can take kit into customers' sites that will just blow the competition away. They can remind customers that a small shop with ten checkout lanes can handle more customers than a larger store with just one checkout. What's hard to understand about that? ®