This article is more than 1 year old
When DIY is not enough: Web-snack firm Graze has an offline awakening
From hacking PHP to embibing ERP, Graze.com gets strategic
"Graze is doing the reverse of most companies," co-founder and chief technology officer Edd Read tells me.
"We started online and we are going offline. We started with bespoke home-made technology and we are beginning to adopt the opposite."
Started in 2008, Graze has done everything considered "normal" in today's startup world.
Graze is the British healthy snacks firm co-founded by a team that included software engineers from Amazon's Lovefilm business.
A £68m revenue business, Graze is almost virtual – just two offices, two distribution centres (UK and US), 31 IT staff.
Until recently – July 2015 – it was online, then it started selling through a traditional, high street, real-world retailer: Sainsbury's.
Technology-wise, Graze is about as by-the-book as startups get.
Compute, storage, analytics and data warehouse all on AWS. Open source software. A data-obsessed culture. Technology married to "the business". Graze's heart is data and it's digital – 11 different algorithms running on AWS employ more than 20 different, configurable strategies.
Those algorithms are shaped and informed by 300 million ratings from customers at a rate of 15,000 an hour, Graze claims.
Graze's team built everything that runs the business – its website, customer management tools, manufacturing planning, logistics and production systems.
The DIY route gave Graze a tremendous level of integration through the whole supply chain and the ability to tweak or test "customer experience".
Graze commissioned and hacked its own factory hardware, too: custom machines used to assemble the distinctive brown, paperback-book-sized boxes that deliver its snacks – assembled without glue, something the "experts" said couldn't be done – and that have been installed with Arduino-based counters.
And yet Graze is changing. July 2015 saw the web-based firm enter offline distribution through a partnership with Sainsbury's, putting its healthy snacks in 850 stores. Dealing with such traditional retailers is forcing Graze to re-assess its core IT architecture.
"The main thing for us has been recognising the need to change our architecture," Read told The Reg at Graze's Richmond-upon-Thames riverside offices. The leafy area around Graze's HQ isn't so much Silicon Roundabout, valley or even alley as Silicon Mews – across the Georgian-style quad are PayPal and eBay.
"Things like integration with Sainsbury's distribution system doesn't feel like something Graze needs to own, so we partner... but as we go into more channels and more partner experiences we need to really start embracing third parties for platforms services."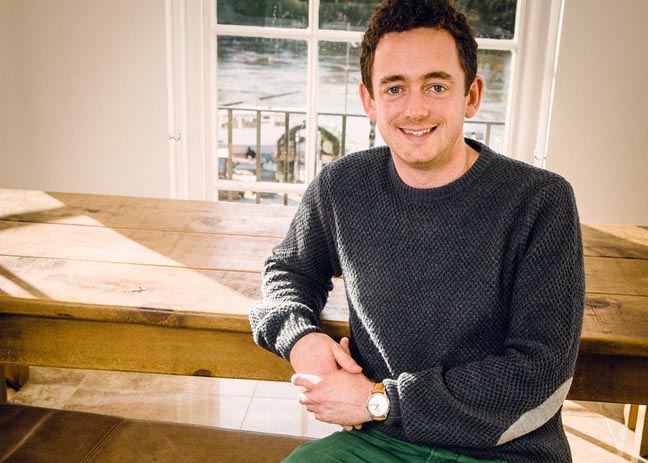 Read's challenge - long term thinking to help tactical action, photo by Graze
He reckons Graze will have adopted software from at least "some" of these firms within five years' time.
"I've spent a lot of time talking to ERP suppliers in the last few months," Read tells me at Graze's Richmond offices.
"Not because we are going to implement an ERP system but because it's helpful for me and my team to get a real understanding of what these platforms look like."
Driving the need to understand ERP has been that deal with Sainsbury's and, also in early 2015, Boots. The latter saw a 12-week trial of nine Graze packages at the pharmaceutical-toothpaste-perfume-'n'-stuff slinging chain.
Getting down with ERP
Increasingly, Graze's home-grown, best-of-breed apps and platform need to talk to systems and extract data from a host of third parties' software. That can mean systems from Oracle, SAP, Microsoft, IBM, NetSuite and many, many smaller, specialist retail and manufacturing software specialists.
"I've never fully appreciated the beset in breed versus ERP debate and I can see that now," Read admitted. "A lot of old-school manufacturing business put them in because they were able to see a huge benefit of integration that outweighed the specific nuanced features that people need in thin areas of business.
"Graze needs to find that now, but if [it] is to benefit from ERP in the future, we have to get to a place where we still have those benefits… there are a lot of clever people at Graze who do amazing things with Excel and there's no IT supporting them."
Getting there in the next five years means stepping up the way Graze views its technology systems to think about things in terms of architecture rather than APIs.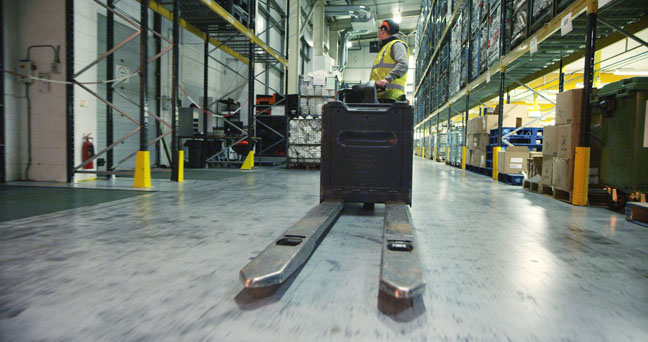 20 million possible combinations packed and distributed by Graze
"My challenge is to ensure everybody is thinking long term and that long-term thinking can help with more tactical, short-term decision taking," Read said.
He anticipates not a big ERP rollout or a big platform re-architecture, but rather something more modular and fitting with what Gartner has called post-modern ERP.
"The main thing for us has been to recognize the need to change our architecture – now is the time to realize how to integrate well with other things."
But what happens when that hitherto online only business extends into the offline world, when its customers are primarily the customers of partners like Sainsbury's and those partners' systems either don't capture the data you really want and would normally rely on or if the data you get is dirty and needs cleaning?
Snacking on data
To pack its brown-card delivery boxes, Graze depends on the data it receives from customers – via accounts. And it's attempting to not just pack them, but delight, surprise and satisfy – to make sure each customer gets the snacks they like, nice new things and – most importantly – does not receive things they'd hate or, worse, are allergic to.
Everything for Graze starts with 300 million customer ratings through their accounts, with click ratings for "try", "like", "love", "bin" or "send soon". Also incoming are web analytics, real-time customer data and – now – data from Sainsbury's EPOS and the Nectar loyalty cards. Then, there's data from the machines in the distribution centres feeding in information on line speeds of packing punnets – this is an IoT operation, according to Read.
Working from a kitchen in the roof at that Richmond office, Graze staff taste and mix snacks to produce around 500 product lines – they splice coconut shavings with chocolate bits and partner individual tea bags with squares of carrot cake. Foods are "natural", free of artificial ingredients, and each combo is packed into a tiny punnet and punnets going into that box. Mathematically this provides around 20 million possible combinations in a box holding four or eight punnets.
How are punnets picked and boxes packed?
That's where the algorithms running on AWS come in to play, specifically one called DARWIN - Decision Algorithm Rating What Ingredient's Next. DARWIN customises snack boxes based on those customers' preferences and on other patterns such as nutritional balance and customer variety. DARWIN runs tens of thousands of times a day and is re-run when stock levels change.
Snacks are packed and dispatched at one of two facilities, in the UK a 9,290m2 (100,000 ft2) facility and then another in New Jersey serving the United States.
The hard part is getting the contents of those boxes right. Yes, Graze's team started at Amazon's LoveFilm, but stuffing DVDs into envelopers is a world away from food, they reckon. Working from a list of films is one thing, but Graze is trying something more complicated – giving customers the "perfect" box every time.
"Graze is a data-fuelled culture," Read said. "We use it to make enormous decisions – we are incredibly inquisitive, almost obsessive on some things."
Careful data analysis drove Graze's 2013 launch in the US. In the UK, Graze's snack boxes are delivered using the Royal Mail to order within days.
The US, however, about 40 times times larger than the UK, with a postal network that's slower as it covers far greater distances.
"It became very clear, very quickly, that nobody – USPS or any other company we spoke to – had any good data about how mail travelled through the system – that's incredibly important to us, when you have food travelling through the system," Read said.
Graze built its own model with the US Postal Service that allowed it to factor in the use of carriers such as UPS and FedEx to deliver in the final 100 miles. Graze's model was built using data gathered from random mailings that were tracked, with Graze analysing where the USPS network was failing or where there were long delays. The data was run though Redshift and presented using the open-source Tableau.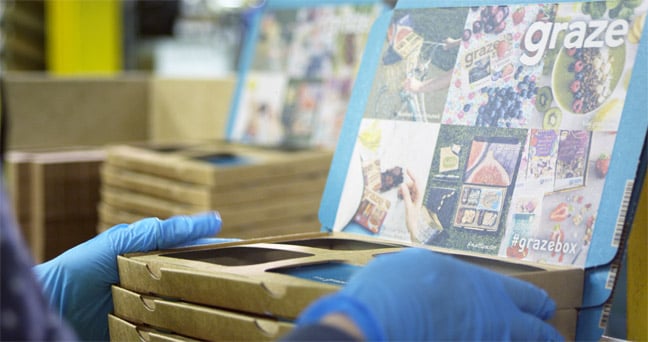 Thinking inside the box: 300 million customer ratings and 500 product lines go into this. Photo by Graze
But, Sainsbury's and the offline retailers also need to factor into their working.
"Where there are gaps at moment? There's a level of discomfort with the fact we have consumers we don't have a relationship with. We are filling that with EPOS data and what we can buy, beg, borrow and steal form the people we are working with," said Read.
Graze has a software team of 31 covering user "experience" (UX) and PHP development on the back end, architecture and operations. But data, analysis and forecasting sits at the centre of the business and atop IT.
Using this, Graze claims to monitor KPIs of its industry marketing campaigns in real time.
The answer is new technology to close the gap. Read points to Blippar, the visual-discovery application with $45m venture funding that combines augmented reality and machine learning. The app lets you scan objects to then down load content.
Data is in a MySQL database but it is put through AWS's Redshift – not because Graze has such a great volume – its volume is in the "low terabytes" range – but because its data analysis capabilities and its potential is far more sophisticated than what can be achieved using plain old SQL managing large amounts of data and complex joins.
"When you get into 10 joins across tables with many millions of rows in each, MySQL just falls over, but with Redshift, queries that would have taken hours to complete if not days are done in tens of minutes. The wave of innovation that was unleashed internally has been incredible," Read said.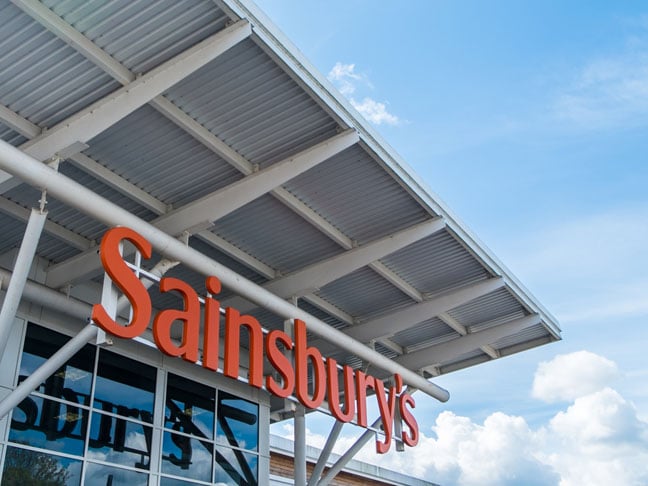 Sainsburys' EPOS data gets you only so far, photo: Darren Grove via Shutterstock
Read sees shoppers in Sainsbury's using Blippar with their Graze packet when the open it to receive things like nutritional information that would, of course, help Graze tag the user. "There's no QR codes, there's no competition entries or that rubbish from the old days – it's exciting and it's practical," Read said.
Before that, it comes back to work with systems used at retailers like Sainsbury's. "As we embrace more retailers and the US this year, we need to take more of a look around and understand how third parties are doing things," Read said.
Meanwhile, Graze needs to confront its legacy. That's not just technology legacy – something it has been tackling – but also its processes.
IT has to evolve from the DIY and building beautiful UIs and working at the API level on LAMP – Linux, Apache, MySQL, PHP/Perl/Python – on Ubuntu to thinking architecturally and more strategically as Graze works with more partners.
"DIY and fast iteration meant Graze could quickly build what it feels are efficient packaging systems with next to no wastage," Read said.
The P in Graze's LAMP stack was PHP with Graze using Zend Framework – relatively popular during the early-to-mid 2000s.
Before he moved on to other things, Read's predecessor and co-founder Tom Percival – now with toucanBox - confessed: "Zend Framework was transformative at the time and was great, but for us it's antiquated now, a dinosaur compared to Symphony and those more contemporary application architectures. We feel a strong need to stay fresh and modern."
Coming up to date, Read says the plan is for evolution not a revolutionary change.
"We are trying to avoid doing a 'big architecture'. Our plan is to have a regular conversation and get that debate out and re-cut it as often as we can in line with how the business is growing and use that to inform the direction of travel.
"It's not a big replatforming and architecture change it's a building of an architectural change but it is a building of a new understanding in the tech team," he said.
When the business's heart is 11 algorithms, changes are made cautiously. One wrong move in IT could have disastrous implications on business.
Changes are made on a small scale and rolled out gradually on a full test-driven stack. The point being to give Graze's developers freedom to make changes without stressing about the possibility that their actions might be responsible for a fatal crash.
"If we gave wide, sweeping controls and just turn it on, all our planning that is eight weeks in advance is suddenly wrong. So another thing the system can do is to roll changes in slowly so we impact the supply chain in a gradual way and you can test them on customers."
Graze's roots are online with a heritage that lies in building a custom business in code. The idea has been to build a system that reflect Graze's needs but as it makes more contact with outside systems, those needs are changing. Increasingly, it's less about looking up over the API parapet and the code hackers' manual to thinking strategic and working with third-party software to keep getting the data that is vital to its business.
It is a small, almost virtual firm acting more like an enterprise.
"A competence we need to develop is architecture and enterprise planning much more so than we have before because we need to understand how that will look in five years' time," Read said. ®