This article is more than 1 year old
Stopped buying Oracle's kit? You've literally decimated its profit
Big Red's net income tumbles despite mighty cloud push
Oracle is talking up soaring sales for its cloudy operations – while the IT giant's profit has taken a big hit over the past 12 months.
"We dramatically overachieved again in the cloud," gushed co-CEO Safra Catz in a conference call with analysts, putting her bruised revenue and net income figures aside. "As the business grows, the growth rates are continuing to increase."
For its fourth quarter of the 2016 fiscal year, ended May 31, Big Red reported today:
Revenues on the quarter were $10.6bn, down one per cent on the year-ago quarter but beating analysts' expectations by $130m.
Net income of $2.8bn was up two per cent on last year's quarterly haul of $2.75bn.
Earnings per share (non-GAAP) were $.81, just under analyst estimates of $.82.
Cloud revenues were $859m, up 49 per cent on last year's quarter.
On-premises software revenues were $7.58bn, down three per cent on the year.
Hardware revenues of $1.28bn were down nine per cent on the year-ago quarter.
Oracle also published its full-year fiscal returns:
Revenues on the year were $37bn, down three per cent from FY2015.
Net income was $8.9bn, down 10 per cent from last year.
Cloud revenues of $2.85bn were up 36 per cent.
On-premises software revenues of $26.1bn were down four per cent.
Hardware revenues of $4.67bn were down 10 per cent for the year. Hardware services revenues of $3.39bn were down four per cent.
Amid the slipping sales of traditional on-premises gear, Oracle's exec chairman Larry Ellison was quick to set a high bar for his company's SaaS operation, forecasting that Oracle will beat rival Salesforce.com to the $10bn cloud revenue mark on the strength of both its SaaS and PaaS offerings.
"We would like to accelerate our SaaS and PaaS growth and make sure we are are growing at least double the rate of our closest competitors," Ellison said.
Both Ellison and co-CEOs Catz and Mark Hurd went out of their way to take shots at Oracle's cloud competitors, particularly SaaS kingpin Salesforce.com.
"We are now growing faster than both Salesforce and Workday in every way," Catz boasted.
The execs did not touch on the allegations recently made about Oracle's cloud revenues in a whistleblower lawsuit accusing the company of inflating figures. Oracle has vigorously denied the accusations in court and has filed countersuit against former employee Svetlana Blackburn.
The breakdown of Oracle's revenues reveals why Ellison, Catz and Hurd are so keen on making the cloud sound great: there's less money coming in from new software licenses, no change on software updates and support, and hardware is continuing to dip. Cloud software and platform as a service continue to contribute tiny amounts to Oracle's money tin.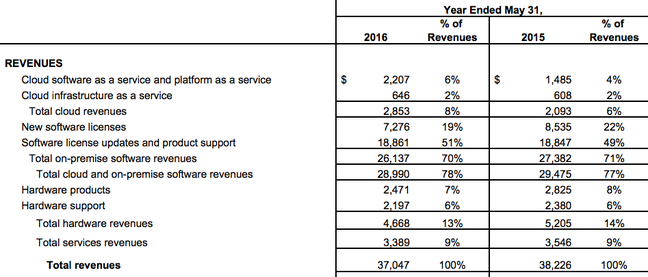 It looks like an airplane running out of fuel, with the pilot talking over the intercom about how great the restaurants are at the destination's airport.
Oracle's share price is up 1.9 per cent in after-hours trading to $39.40 following today's figures.
The database biz expects a two to five per cent year-on-year revenue growth in the next quarter. Software and cloud sales are hoped to be up five to seven per cent. Oracle even reckons its cloudy offerings will be up 65 per cent, year on year, in fiscal 2017, with a gross margin higher than this year's 56 per cent. ®