Fujitsu picks 64-bit ARM for Japan's monster 1,000-PFLOPS super
Sparc dumped in high-RISC maneuver?
ISC Fujitsu has signaled it will use 64-bit ARMv8 cores in the whopping exascale supercomputer it's building for Japan's boffins.
Back in 2014, the Japanese IT giant was hired by the RIKEN Advanced Institute for Computational Science to construct the Flagship 2020 machine – dubbed the Post-K super because it will succeed Japan's K Supercomputer. The K machine is the fifth fastest known super in the world, it crunches 10.5 PFLOPS, needs 12MW of power, and is built out of 705,000 Sparc64 VIIIfx [PDF] cores.
The Post-K machine is supposed to have 100 times more application performance than the K Supercomputer – which would make it a 1,000 PFLOPS beast – and is due to go live in 2020. The fastest known super in the world is China's 125.4 PFLOPS Sunway TaihuLight machine, which would be crushed by the Post‑K if it lives up to its performance hype.
It would also make the world's fastest known computer an ARM-powered system; there are no other ARM-powered supercomputers.
Today, at the International Supercomputing Conference 2016 in Frankfurt, Germany, Fujitsu revealed its Post-K machine will run ARMv8 applications.
Exactly how many ARMv8-compatible cores will be used and how they will be mixed with other chips, such as GPU-based accelerators, isn't known at this stage. However, a person familiar with the matter told The Register "ARM will serve as the architecture for Fujitsu's future HPC CPU."
In a presentation at the event, the tech goliath said its custom-designed supercomputer CPU powering the Post-K beast will run ARMv8 code, and that it has optimized the processor's design to accelerate math, and squeeze the most of the die caches, hardware prefetcher and its Tofu interconnect.
"ARMv8 brings out the real strength of Fujitsu's microarchitecture," the slide reads, suggesting Fujitsu has crafted its own high-performance processor that runs 64-bit ARMv8 software rather than taking an off-the-shelf ARM core for the role.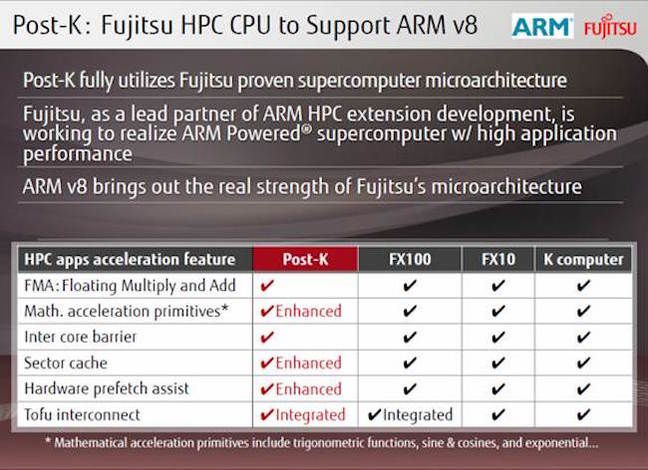 Fujitsu is an ARM licensee: like loads of other companies, it pays UK-based ARM Holdings for the rights to use its CPU blueprints in its chips. While this backing of the ARMv8 architecture may be seen as a snub to Intel – whose x86 processors power the vast majority of data center servers and supercomputers – Fujitsu appears to be a big fan of classic RISC architectures, stepping from Sparc64 to 64-bit ARM.
More details are expected to emerge tomorrow at a followup presentation at ISC '16. Dr Hisashi Yashiro of RIKEN will give a "brief introduction [to] the system and co-design items in the Post-K project."
The Flagship 2020 machine will be used to work on "scientific and social issues," according to RIKEN. "Weather and climate studies for disaster prevention and mitigation" will be a high priority for the system.
Spokespeople for Fujitsu and ARM were not available for immediate comment. We'll fill in with more information as soon as we have it. ®
Updated to add
A spokesperson for Fujitsu has been in touch to confirm that the new ARMv8-compatible chip "will be the main processor, not a coprocessor" in the Post-K machine. You can find Fujitsu's slide deck from its ISC '16 presentation about Flagship 2020 here.