Microsoft has published new research in which it claims that its Edge browser, bundled with Windows 10, can outperform the competition when it comes to battery life.
The lab rats at Redmond set up four identical charged laptops, each using a different browser to stream an identical video. The Laptop running Google Chrome ran out of juice after just under four hours and 20 minutes, compared with five hours and nine minutes for Mozilla and six hours 18 minutes for Opera – while Edge lasted for seven hours 22 minutes.
The laptops were then powered up again and put through a series of automated tasks, including opening websites, scrolling through articles, and watching videos, each in a new tab. Again Edge won out, although Chrome did better than you might expect and Firefox proved the worst in tests.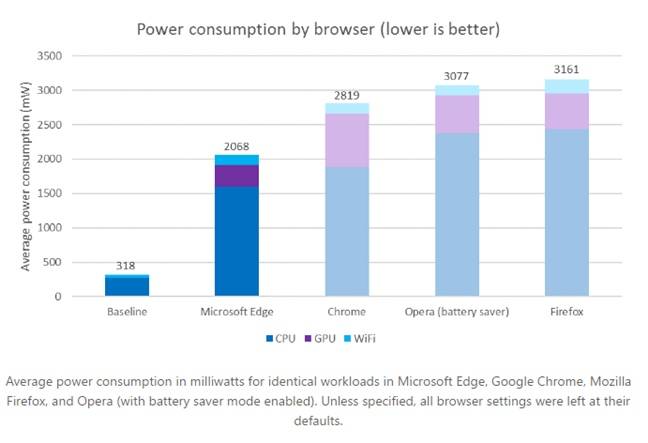 Edge wins out in prearranged tests
"For these browsing activities, our tests show Microsoft Edge is a more energy-efficient browser on Windows 10, with up to 36%-53% more battery life to get what you need done – whether you're studying at the library, researching dream vacation destinations, or checking in with your friends on social networks," said Jason Weber, director of the web platform team for Microsoft Edge.
Finally, Microsoft used its own user data from Windows 10 users that gets sent back to Redmond's servers for analysis. Here Firefox nearly held its own against Edge, with Chrome a distant third. Microsoft did not supply data for Opera.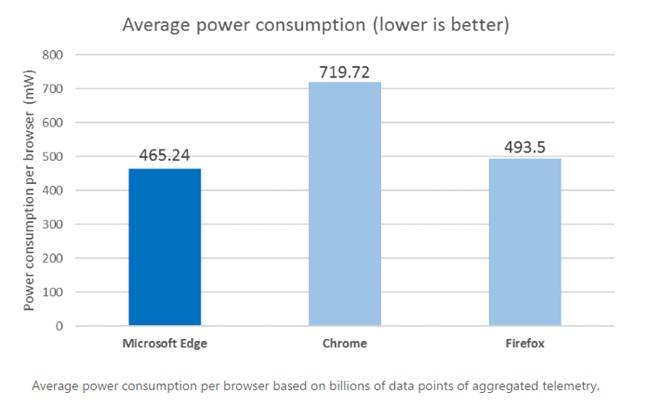 In the real world Edge fares slightly less well
So why is Microsoft making such a fuss about all this? Well, battery usage by browsers is the next big differentiator for the applications and Redmond wants some skin in the game.
Last month, Opera issued the first code for its battery-saving systems in the browser, claiming a 50 per cent power saving over some of the competition.
The big loser in all this is Google's Chrome browser. It may be the most popular browser out there, but Chrome is notoriously resource-hungry and can take up a lot of power and processing cycles. Other browser manufacturers know this and are increasingly using the issue as a stick to beat Google's browser with.
Will it work? That remains to be seen. It's too early to know if Opera's battery saving tech is pushing its market share out of the single digits, and while the latest stats on Edge look good, it's doubtful they'll be a big selling point for people considering upgrading to Windows 10 in the future. ®
Similar topics