This article is more than 1 year old
Datrium adds insane mode to boost speed
Will add replication and capacity next year to its single box Netshelf
Datrium, the startup disaggregating a SAN by having host-based controller SW and flash caches, has added an Insane Mode to turbo-charge performance.
The DVX system strips out virtually everything from an external array, leaving a single box with NVRAM and disk capacity (12 x 4TB 7.2K drives and 48TB raw/29TB usable capacity), while data services such as RAID 6 and always-on, inline dedupe run in VMware hosts – up to 32 of them.
A host should have at least 8 cores, and 20 per cent of them are reserved for Datrium's software, should it need them. This software maintains the host flash caches and provides read/write accesses, with writes going off to the shared DVX disk array's NVRAM.
Datrium has taken a leaf out of Tesla's marketing book and added an insane mode, on a per-host basis, with 40 per cent of the cores set aside for Datrium data serving, if needed.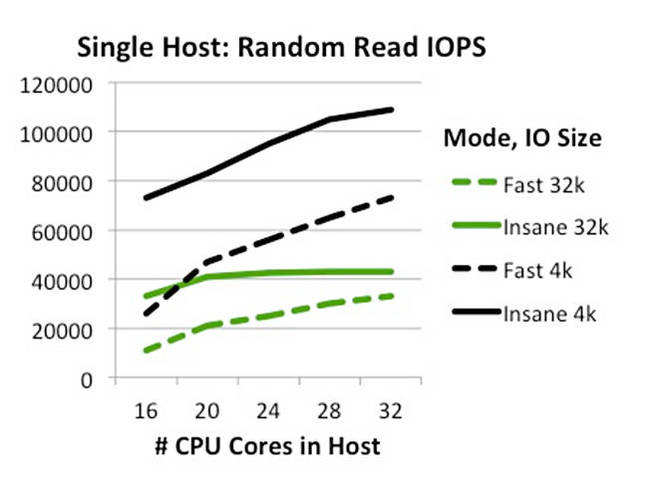 The result is to increase performance, as the chart shows.
Datrium started shipping its DVX kit and software in January and now has around 24 customers. National Physician Services found Datrium's equipment was one-third of the cost of the incumbent, 3PAR. VM-response time was cut in half and 25-30 per cent less time was spent managing storage.
Datrium reckons it is half the price of Tintri (T880) and Nimble (CS500-4P-72T-8TF) arrays.
The last funding round, a B-round, was in 2013 and CEO and founder Brian Biles says there will be another funding round. The company is on course to develop its product, with more VDI performance optimization this year, and replication and capacity increases next year.
A simple way to increase capacity will be to increase disk drive capacity from the present 4TB up to 6, 8 or 10TB. The 2U enclosure could be increased, but that would require hardware engineering work. Also NetShelves could be scaled out, but that would require extra federating/clustering software to be produced. El Reg expects simple drive capacity uprating. ®