Fedora 24 is here. Go ahead – dive in
The complete package?
Review Fedora 24 is here, packing not just the standard group of changes familiar to any distro update, but also changes to fundamental elements.
The biggest news in the default desktop version that I looked at – called Fedora Workstation 24 – is GNOME 3.20 and the continuing improvements to support for Wayland, the graphic stack intended to replace X.
Wayland is close to finished, but still not the default option in this release.
Fedora 24's default desktop for the Workstation edition features GNOME 3.20 and, if you're a Fedora GNOME fan, Fedora 24 is worth it for the GNOME upgrade alone. The GNOME application suite sees numerous improvements, particularly the Maps application and the greater control over location sharing privacy.
GNOME 3.20's Software app also supports Flatpak, previously called xdg‑app until earlier this year, and that offers tightly sandboxed applications for greater security and easier updates.
The main Flatpak app available to test at the time of Fedora 24's release is LibreOffice. The LibreOffice website has instructions on how to get it working. I had no trouble, but be sure to note the issues listed at the bottom of the page, several of which may be deal breakers.
That tight sandboxing has meant that Flatpak-based apps are not yet able to pass data to other applications. For example, the Flatpak version of LibreOffice can't automatically open links in your browser. The Flatpak version of LibreOffice also doesn't yet include a Java Runtime Environment (JRE), which means that any LibreOffice functionality that requires a JRE will not work.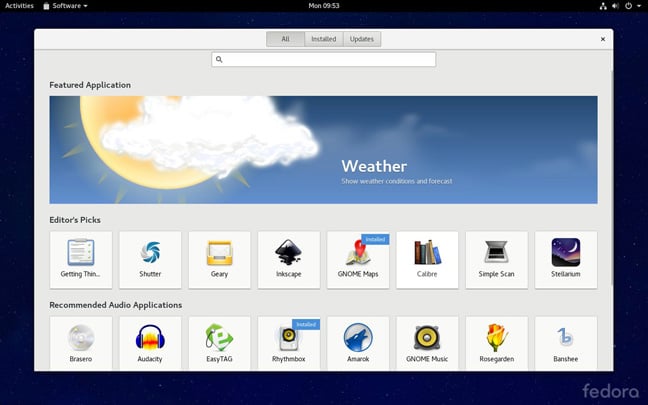 The GNOME Software app can now handle distro-level upgrades
Suffice it to say that although Flatpak apps (or possibly competing app packaging systems like Ubuntu's Snap package) look like the future of Linux applications, they're not there yet. The future of sandboxed apps looks bright, if somewhat distant.