HDS goes hyper with its latest pile of converged IT Lego blocks
Entry-level box joined by new hyper-converged product
---
Aiming to stem the Nutanix snd SimpliVity hyper-converged tide, HDS announced the UCP HC V240, its first hyper-converged UCP product, along with the entry-level converged UCP 2000, for its mid-market and enterprise customers.
Think of UCP (Unified Compute Platform) systems as being like EMC Vblocks (H-blocks?) and UCP HC boxen in the same product area as Nutanix, SimpliVity, and EMC's VxRAIL. Buy the systems, install 'em, switch 'em on, run VMs and scale them out like IT lego blocks.
The UCP 2000 is a pre-tested, pre-built converged infrastructure platform with all-flash configuration support and 4-node servers. It has modular building blocks of Haswell x86 compute, VSP storage and Brocade top-of-rack networking, that scale independently to run different application workloads. There is support for VMware, Microsoft and OpenStack virtualisation environments.
It is an entry-level system for general-purpose applications, virtual desktop infrastructure (VDI), databases, and test and development environments. HDS says it has tight integration with VMware operations and storage policy-based management (SPBM), plus HDS data protection products. Customers could be mid-market, enterprises, departments and MSPs.
The larger UCP 4000, 4000E and 6000 products are for enterprise-class, business-critical workloads. At the other end of the HDS convergence scale is the UCP HC V240.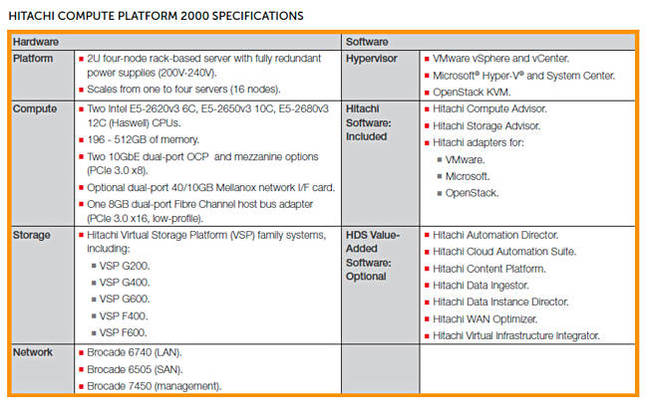 The scale-out and even more (hyper-) converged V240 comes with automated provisioning and orchestration. It is based on x86 hardware, VMware vSphere and VSAN, again, and additional HDS software. There are virtual machine (VM) centric pools of capacity, with consumption based on VM-level policies that can be changed on demand.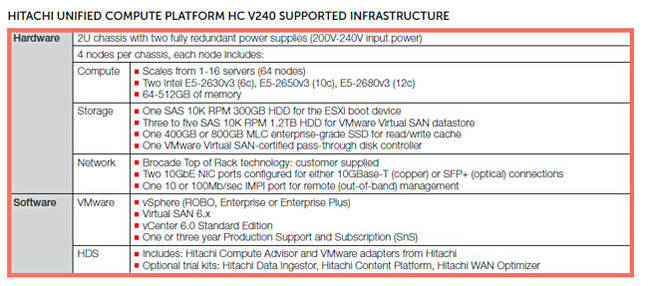 HDS says the V240 is designed for simplicity with only a few minutes need after power-on for VMs to be created. It is targeted at general-purpise applications, VDI, remote offices, and test and dev workloads for mid-market, enterprise, departmental and MSP customers. Small and medium businesses are not in this list
Pore over this charted table to position HDS' converged and hyper-converged products in your mental landscape;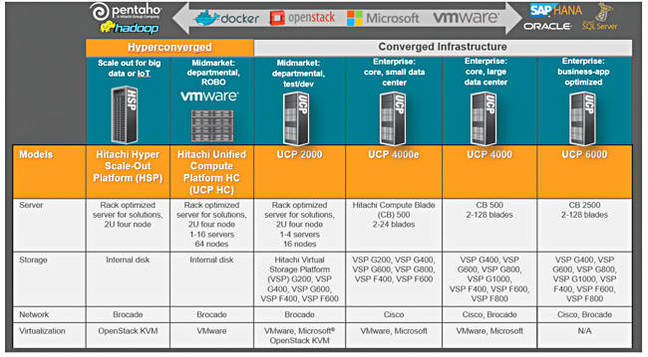 We can surely expect a broadening UCP HC range from HDS after this toe dip in the water. Find out more from an HDS partner. ®