No software changes needed to use E8's screaming fast arrays
NVMe fabric-attached all-flash array coming in August with 10 million 4K IOPS
---
Backgrounder If hero numbers are what you want then E8 Storage's 2U box filled with 24 NVMe SSDS can provide them; 10 million 4KB IOPS using RDMA over an Ethernet fabric connecting up to 100 servers.
The company provided more information about the product to an IT Press Tour in Silicon Valley, with CEO and cofounder Zivan Ori and product management VP Valentin Ossman revealing what they wanted to reveal. Back in May this year, we understood E8 was working with 2TB Intel NVMe SSDs. Now it is talking about 4TB ones (dual-ported), giving a raw capacity per system of 96TB.
There are 6TB SSDs coming with 8TB ones by the end of the year, and E8 is talking to both Intel and Samsung about NVMe SSD supply.
The company says that it gets 88 per cent utilization from its SSDs – it quotes 88TB usable capacity – and uses commercial off-the-shelf (COTS) hardware, unlike DSSD, its EMC-acquired competitor in the rack scale flash array area.
The SSDs have to be the same size for now, but could, in principle, be different.
Ori says: "With our enclosure we balance the bandwidth of the SSDs with the bandwidth of the network. We can saturate the SSDs and the fabric." He points out that: "NVMe allows you to retain IOPS density as capacity rises. We can move to larger SSDs and not lose performance." He thinks it will be the way forward for huge SSDs.
Accessing servers have an E8 driver that presents the array as local block storage. The driver communicates to the array using a proprietary protocol. There's no need for application software change. There is room for application software optimization to use the array better if customers wish.
The driver supports RAID 6, with Ori saying that IBM's FlashSystem does not do so.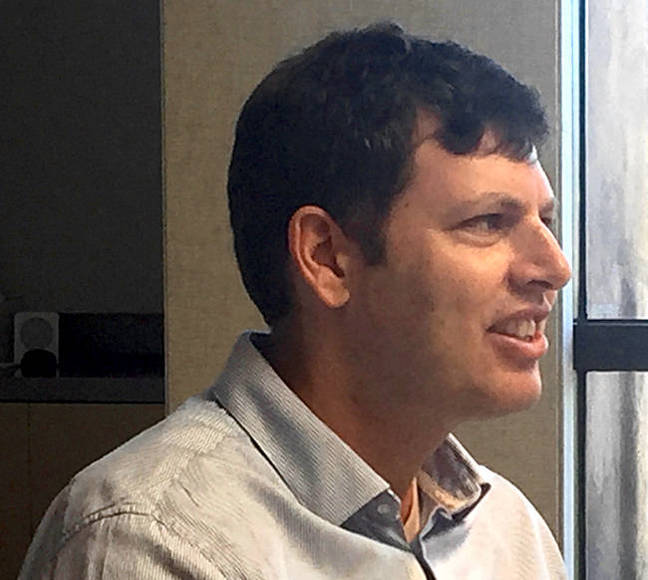 E8 cofounder and CEO Zivan Ori
Servers link to the E8 array across 40 or 100Gbit Ethernet using v2 ROCE (RDMA (Remote direct memory access) over Converged Ethernet), with no separate storage network needed. E8 can use a server's existing NIC with no separate Fibre Channel infrastructure. Such converged networking means simplicity and lower cost. It also provides access latency equivalent to that of local NVMe PCIe SSDs.
The E8 enclosures can be scaled out by racking. There is no communication among the boxes themselves; no clustering or federation, and no mirroring.
AN E8 chart positions it against all-flash arrays from Pure and XtremIO and against local SDDs in IOPS and TCO terms: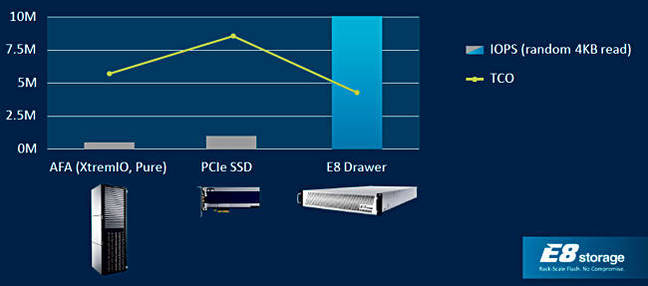 E8 claims 10x performance increase over existing AFAs from Pure and XtremIO, and lower total cost of ownership
There is no total cost of ownership scale on the chart, but E8 says its array will be affordable compared to the million dollar, 10 million IOPS DSSD array. Valentin Ossman said, "Our cost structure is better than DSSD's."
Officially it can support up to 100 accessing servers, but Ori said, "We can support 1,000 servers – it depends on the customer's Ethernet bandwidth."
E8 is aiming for the highest availability/reliability but does not provide a five "nines" or six "nines" availability number, as its sample of systems is too low to provide such a number.
Existing all-flash arrays could move to supporting NVMe over fabrics, as we understand Kaminario and Tegile are doing. Ori says incumbent AFAs will have controller limitations with NVMeF. They will only see slight decreases in latency unless they break/re-engineer their existing controller design, as we understand Kaminario is doing (and probably Tegile). With E8, the controller is not in the datapath, E8 having a clean architecture for NVMeF.
E8 says it has started receiving more inquiries since the DSSD launch, it being the only coming alternative – Mangstor not having the data services like thin provisioning and data reduction that E8 will supply. Customers needing rack scale flash are a relatively small proportion of the storage market. Ori says: "We want to start out in a niche and dominate it. The niche will grow as NVMe adoption grows."
Target customer areas in the niche are SQL and NoSQL databases, real-time analytics, high-performance distributed key-value stores, and high-performance computing.
This niche, for centralized NVMe flash, is separate from the market for existing AFAs. "As long as we're not stepping on Pure's toes I'm happy," added Ori.
E8 does not agree hyper-converged systems and server-centric storage will take over the world. Their use of replicas is wasteful on storage capacity. But hyper-converged systems do solve the problem of separate Fibre Channel/iSCSI storage networks, and big suppliers like EMC charging lots of cash for storage arrays.
Hyper-converged systems don't separate compute and storage capacity, Ori says. "I think we'll see hyper-converged product supporting JBODs."
With E8, Mangstor, Zstor, DSSD, Apeiron, Tegile and Kaminario signed up to NVMe over fabrics. This networking scheme's momentum is increasing at a rapid clip. E8 will launch its array at the Flash Memory Summit, August 8-11, in Santa Clara, California. Expect flash fireworks. ®