This article is more than 1 year old
Dev boss: What will Microsoft do with Windows 10 Mobile? Surprise – it's for work!
'Surface phone' will have challenging app gap
One of the puzzles about Microsoft's platform in 2016 is Windows 10 Mobile. In the run-up to the launch of Windows 10 in July 2015, the plan seemed to be that a unified operating system across PC and mobile, combined with applications developed for the Universal Windows Platform (UWP), would boost Windows Phone and create a strong ecosystem of applications delivered from the Windows Store.
That dream ended even before Windows 10 was generally available. In June 2015, former Nokia CEO Stephen Elop left Microsoft, presumably for reasons related to the announcement the following month that the company was writing off most of the value of its acquisition of Nokia's phone business along with the "reduction of up to 7,800 positions, primarily in the phone business."
It was a clear statement of no confidence in Windows Phone – and has been followed by further cuts - and the combination of Nokia's removal and Microsoft's negativity had the expected result: its small market share dwindled even further.
That said, Microsoft has not abandoned Windows Phone and is forging ahead with Windows 10 Mobile, with a significant update in preparation, aligned with the Anniversary update of the PC version.
What then is the company's strategy for Windows 10 Mobile? It was a question on the minds of developers earlier this month when Corporate VP of Windows Kevin Gallo came to London to present at the Build Tour, a recap of the Build developer event which took place at the end of March in San Francisco. "Can we get any update on what's happening in Windows Phone land?" asked an attendee.
Gallo did his best to downplay Microsoft's pullback. "Windows Phone is fully supported. We're fully behind it. We're not abandoning the phone," he said. "There's really no change in what our direction or strategy is with respect to releasing the Windows Phone software."
That said, he did admit to changes on the hardware side. "We're really aligned to what we've done on the Windows desktop," he said, "which is we'll lead with some high end and category innovation like we've done with Surface, and OEMs will go and build the breadth of the catalog."
At a later Windows developer user group event though, Gallo was more nuanced. The company will focus primarily on the Enterprise segment, he told attendees. Nokia's strategy of pushing out low-end consumer devices was never going to make any money, he explained, and the business segment is Microsoft's core strength.
While Gallo was careful not to make any announcements, everything he said chimed with the idea of at least one more Microsoft phone, aimed at the business market and perhaps branded Surface.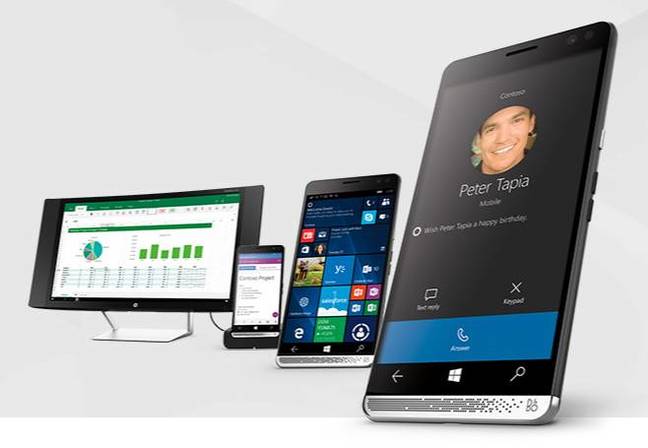 HP's forthcoming Elite X3 Windows Phone
The new strategy also fits with third-party devices like HP's Elite X3, shown at Mobile World Congress in early 2016, a business phone with support for Continuum, the ability to work like a PC when docked to a suitable keyboard and display.
The problem, though, is lack of third-party applications. That may not matter, if all you need is the built-in apps along with UWP Office and perhaps one or two internal applications built by your company. Many users though will find it frustrating if their phone does not run other applications, such as those for banking, travel, payments, and almost everything else.
If UWP applications on Windows 10 PCs take off, application availability could in theory improve, because the platform is designed so that developers can easily adapt their code to run well on the phone as well. In practice though it is not so easy, as developers noted at these events.
The truth is that Windows 10 Mobile is in an awkward spot, the victim of the company's frequently changing mobile strategy as well as competition from Android and iOS. Without it, the UWP concept hardly makes sense; yet it is hard to see anything other than a small niche for the operating system. ®