NetApp's flash marketeer, Lee Caswell, has resigned and joined VMware.
A NetApp statement said: "Lee Caswell has decided to leave NetApp. We are grateful for Lee's contributions to NetApp and wish him success in his new ventures. As we continue our market momentum — including our recent leadership position in flash as evidenced by IDC's Q1 2016 Worldwide Quarterly Enterprise Storage Systems Tracker — we are confident that we have a team of the best and brightest talent for the future."
Caswell is becoming VP for Products at VMware, where he will be "responsible for product management and product marketing, storage and Availability BU, according to his LinkedIn profile..
Joining NetApp in October 2014, he played a pivotal role in reviving the perception of NetApp's all-flash array prominence and prowess following on from the disappointing single controller, no-high-availability FlashRay unveiling in September 2014.
Caswell was most recently active marketing NetApp's flash prowess on a "Big Flash - Big Questions" article published on LinkedIn today, June 27, about 15TB SSDs. Interestingly, one of the three questions he says users should ask suppliers of all-flash storage about 15TB and other high-capacity SSDs is: "Does my all-flash array support the highest-capacity SSDs?"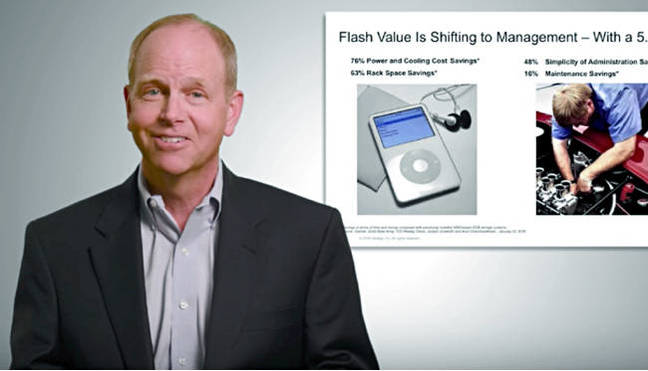 Lee Caswell
NetApp's SolidFire arrays do not, being currently capped at 1.92TB. Asked about that, SolidFire marketing director John Rollason has said: "Over time the combination of decreased cost, increased capacity demand, new form factors that aren't 10 drives per node, and Element OS work will converge to make bigger drives sizes useful and practical, but they just aren't a great solution for us right now."
Caswell's article is not immediately helpful for SolidFire. ®
Similar topics